Train
From Nookipedia, the Animal Crossing wiki
This article is about the form of transport. For the station platform where the train departs, see Train station.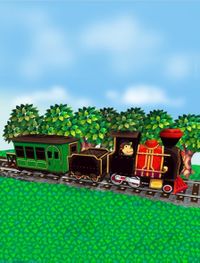 The train is a form of transport available in Animal Crossing and Animal Crossing: New Leaf. It is located in the train station. The train is replaced by the taxi in Animal Crossing: Wild World and the bus in Animal Crossing: City Folk.
Appearances
[
edit
]
Animal Crossing

[

edit

]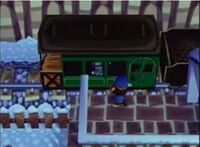 In Animal Crossing, the train is where the player starts the game. Rover appears and talks to the player for the first time, and asks for the name of the player, the name of the town, gender, and appearance. It is driven by a monkey that looks similar to Porter. When the player is finished speaking to Rover, the train will make a stop at the train station in the player's town, where the player will get off the train.
After the introduction, the train is used to transport the player to another town, by inserting a GameCube memory card with another town saved on it. This is the only form of traveling between towns available in the GameCube version of Animal Crossing. In Wild World and City Folk, the checkpoint was introduced as well as Nintendo Wi-Fi Connection (for the DS) and WiiConnect24 (for the Wii), which allows nearby devices to connect to one another, or to connect to the internet and Nintendo. This made using memory cards obsolete.
The train ride takes a few minutes. During the ride, special characters may come up to talk to the player. For example, Blanca will sit opposite and talk to the player, usually sparking a discussion about her lack of face and the player's reaction to it (as well as her reaction). This is when she will ask the player to draw her a new face. Joan will also make an appearance, sitting on the seat by the door drifting off to sleep and waking up suddenly.
Animal Crossing: New Leaf

[

edit

]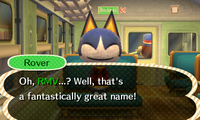 The train returns in Animal Crossing: New Leaf, which may be ridden to visit other players' towns. Like the original Animal Crossing, Rover yet again meets and introduces the player to the game as he takes the name, gender, and name of the town. A train appears in town every 3rd, 21st, 35th, and 49th minute per hour. The player must be outside and have their gates closed and have no visitors for it to appear. This train is used to bring realism to the game, although it does cause the railroad crossing next to the train station to lower the crossing barriers, temporarily blocking access to Main Street for several seconds until the train crosses the bridge out of town. Sometimes, instead of having a black stripe, the train will have an orange/red one.
Gallery
[
edit
]
See also
[
edit
]