Happy Home Network
From Nookipedia, the Animal Crossing wiki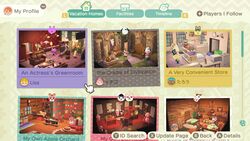 The Happy Home Network is an gameplay feature in Animal Crossing: Happy Home Designer since version 2.0 and the Happy Home Paradise DLC for Animal Crossing: New Horizons as an NookPhone app. The app is used to share and visit other player's houses, in addition to offline features only for Happy Home Paradise.
In Animal Crossing: Happy Home Designer, it can be accessed through the red computer at Nook's Homes. Before June 2017, Happy Home Network was also used to participate in design contests. It is available after completing the second facility. The player can score players houses by using the ratings 'Cute', 'Cool', 'Unique', or 'I'd live here'! The player can give a rating for each of them from 0–3. The player can also search for other players who have high point rankings. The player may also look at the newest uploaded houses and facilities. The player can take down anything they did not like that was theirs and may upload up to one hundred buildings.
In Happy Home Paradise, the app is unlocked by Lottie after completing two houses for Paradise Planning. Unlike its appearance in Happy Home Designer, the Happy Home Network also now allows navigation between each of the curated vacation homes in the archipelago, as well as any facilities already built. The player may not be able to use this app while outside their island or the archipelago, however only navigational features are available while present on the archipelago.
A Showroom feature that include all the online play features is unlocked after completing 13 houses, and will allow the player to visit other player's houses or facilities. The front page of the Showroom features random houses or facilities. After selecting a house or facility to visit, the player will be taken to said building by Wardell (Niko if the client is Wardell). The player can report any house or leave either by pressing the minus button or by talking to Wardell. The player can also follow a player for any of their house designs either before visiting a player or by Wardell. After following a player, the player can press the minus button at the main menu to view the followed users. The Showroom can also be used to share up to ten designs at once. Any designs will be listed under the player's profile, which can be customized to adjust its color or design.

This page could be improved with the addition of images.

This page could be improved with the addition of images.