Niko
From Nookipedia, the Animal Crossing wiki
"Hey! Good to see you. You should say hi to Lottie when you can."


Species
Gender
Gray langur
Male
Birthday
January 11th
Favorite saying
"The islands help those who try their best."
Role
Home designer for Paradise Planning
Main appearances


Other appearances
Niko is a gray langur[1] in Animal Crossing: New Horizons who appears in the Happy Home Paradise DLC. He works for Paradise Planning, a service that designs vacation homes for villagers.[2]
Characteristics
[
edit
]
Appearance
[
edit
]
Niko is a gray langur. His fur and teeth are white. His face, large ears (which have reddish-orange insides), and long tail are dark-gray. His big round eyes have brownish-orange eyelids, scleras, and big round black irises. He also has two hair tufts sticking out of his forehead, a dark-brown mouth, a brownish-orange tongue, and a small orange nose. His hands and feet are black.
Clothing
[
edit
]
Like Wardell, Niko wears a Paradise Planning aloha top. He also wears a yellow mini straw boater.
Personality
[
edit
]
Niko is enthusiastic, friendly, and energetic. He likes DIY, exercising, and ferrying the player to any vacation home.
Appearances
[
edit
]
In Happy Home Paradise

[

edit

]
When the player first arrives on the main Paradise Planning island, Niko redirects the player to the office to meet with Lottie. After introducing the player to both Lottie and Wardell, Lottie designated him to train and assist the player in handling the decoration of any new vacation homes. He also ferries the player to any vacation home whether that be for construction, visiting, or remodeling.
Niko expresses his interest in DIY, and occasionally builds DIY on the workbench in the upstairs room of the Paradise Planning office. After teaching the player the wooden pillar, low wooden island counter, and tall wooden island counter, he will ask the player to donate materials in a donation box next to the workbench upstairs in the Paradise Planning office. Once the donation is met, the next day the player arrives on the archipelago will result in him giving a new set of DIY recipes to the player.
In Pocket Camp

[

edit

]
Niko was added to Animal Crossing: Pocket Camp on October 28, 2021, where he is a guest judge for the Happy Homeroom in place of Digby.[3]
Villager information
[
edit
]
In New Horizons

[

edit

]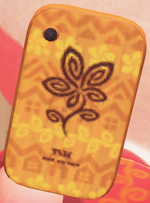 In Happy Home Paradise

[

edit

]
If the player chooses to design a house for Niko, his role will be taken over by Lottie.
Niko
Client's vision
Vacation-Home Concept
Unlocked items

Furniture:
Card profiles
[
edit
]
amiibo card
[
edit
]
Gallery
[
edit
]
Names in other languages
[
edit
]
ニコ


Niko
-

---

방글


Bang-geul
-

---

尼可


Ní kě
Niko

---

尼可


Unknown

---

Нико


Niko
Same as English/Japanese name.

---

Niko

Same as English/Japanese name.

---

Bono
-

---

Miko
Possibly from mico, a way to say small monkey (in Catalan, it is pronounced miku).

---

Gratien

-

---

Gilbertuccio

Pet name for the proper name Gilberto. Probably a word play with bertuccia (Barbary macaque).
References
[
edit
]