Wilbur
From Nookipedia, the Animal Crossing wiki
"Bellbottom <music genre> this is stovetop <object>, do you require assistance? Over."
— Wilbur, Animal Crossing: New Horizons


Species
Gender
Dodo
Male
Birthday
July 4th
Favorite saying
"Do an Immelmann move!"
Role
Pilot
Main appearances


Other appearances

Name in other languages

 

陆德里

 

Rodrigue

 

Rodri

 

Wilbur

 

陸德里

 

Rodrigue

 

Rodri

 

Уилбур
Wilbur is a dodo in Animal Crossing: New Horizons who works at the Airport. He flies the plane to other people's islands, as well as to the mystery tours (which require Nook Miles Tickets), Harv's Island, and Paradise Planning. Notably, he uses the phonetic alphabet when speaking—with the exception of "whiskey" for "W," replaced with "whisker." His name, along with Orville's, is likely a reference to the Wright brothers, the inventors of the airplane.
Characteristics
[
edit
]
Appearance
[
edit
]
Like Orville, Wilbur is a dodo with blue feathers, a yellow face, slightly oval-shaped white eyes with black irises, a large beak with a large brown upper tip and a brown lower lip, a nose being a part of his beak's upper part, a brown inner-mouth with a light-brown tongue, white fingers, a tail with three white and bluish-cyan feathers, and yellow feet with stripes (colors being orange and brownish-orange) and dark-brown nails.
Clothing
[
edit
]
Like Orville, Wilbur wears a pilot's uniform, which consists of a white shirt, a red tie, and a black belt with a small pouch. Unlike Orville, he also wears a headset with a pair of light-green earmuffs, and a pair of sunglasses.
Personality
[
edit
]
Like Orville, Wilbur is a hard-working flight worker.
Appearances
[
edit
]
In New Horizons

[

edit

]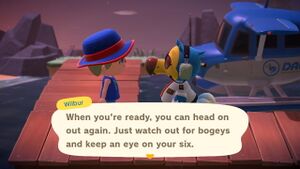 After the player lands on a random Mystery Island upon using a Nook Miles Ticket, Wilbur waits at the dock until the player is ready to head home or needs tools. The following tools he can give are: Flimsy Axe, Flimsy Shovel, Flimsy Fishing Rod, and Flimsy Net for

 100 Nook Miles each. If the player gets knocked out after being attacked by a Tarantula or a Scorpion, or stung twice by Wasps, he will take the player back to the dock; as soon as they recover, he will cancel the red alert that he sends a word to Orville and then allow the player to continue exploring afterwards.
Since the 1.2.0 April Free Update, Wilbur will allow the player to mail to their own house or sell items when on Harv's Island on or after June 1, 2020. The items that are delivered arrive the next day.
When the player wants to return to their island, Wilbur will refer to it by saying the players native fruit alongside the word 'town'. For example, if the players native fruit are pears, he will say 'Peartown' and so on.
Other appearances
[
edit
]
In Super Smash Bros. Ultimate

[

edit

]
Wilbur appears as spirit alongside Orville in Super Smash Bros. Ultimate.
Category
Class
Slot cost
Support Spirit
Ace (★★★)
1 (⬢)
Ability
Undamaged Attack & Speed ↑
Acquisition
Battle via Spirit Board (during the event "Animal Crossing Spirits! Yes, Yes!"; available normally once obtained or since July 21, 2020)
Battle information
Enemy fighters
Orange Falco
White Falco
Type
Grab
Power
9,500
Stage
Pilotwings
Rules
Item: Cucco
Conditions
The enemy has increased attack power
The enemy is easily distracted by items
Music
Plaza / Title Theme - Animal Crossing: City Folk / Animal Crossing: Wild World
Villager information
[
edit
]
In New Horizons

[

edit

]
Birthday
Gender
Species
July 4
Male
Dodo
Umbrella
DAL umbrella
NookPhone
   Black
Happy Home Paradise traits
Hobby
Education
Book
Novel
In Happy Home Paradise

[

edit

]
Wilbur
Client's vision
Vacation-Home Concept
Unlocked items

Furniture:
Card profiles
[
edit
]
amiibo card
[
edit
]
#405 Wilbur -

Series 5
| | |
| --- | --- |
| Star sign: | Cancer |
| Birthday: | July 4 |
Gallery
[
edit
]
Wilbur's birthday was said to be December 17th in the companion guide, and this was also included in the game's internal parameters. Since Version 1.1.0, this was changed to July 4th, which is the date on his amiibo card. Daisy Mae's birthday was also changed.

Wilbur's "old" birthday was also the date of the Wright Brothers' first flight in 1903, whom he and Orville are named after.
Likewise, he currently shares his birthday with Apollo.

If the player hacks the game, goes out of bounds at the Airport and talks to Wilbur, he will state dialogue identical to cranky villagers' dialogue.[1]
Wilbur has the voice of a cranky villager.
Names in other languages
[
edit
]
ロドリー


Rodorī
Probably from ロドリゲスドードー Rodorigesu dōdō (Rodrigues solitaire), a member of the dodo family.

---

로드리


Rodeuri
Same as his Japanese name.

---

陆德里


Lùdélǐ
From his Japanese name and 陸/陆 lù (land, referring to dodo's inability to fly; also a surname).

---

陸德里


Unknown

---

Уилбур


Uilbur
Transliteration of his English name.

---

Wilbur

Same as his English name.

---

Udo
Similar to dodo.

---

Rodri
Same as his Japanese name.

---

Rodrigue

Similar to his Japanese name.

---

Dodoardo

From dodo and Edoardo (Italian variant of Edward).
References
[
edit
]