Cranky
From Nookipedia, the Animal Crossing wiki
"He might seem scary at first, but he's actually a big softy, even if he tries to act all serious!"
— Isabelle, talking about a cranky villager, Animal Crossing: New Leaf
Cranky[1][2] is a male villager personality type in the Animal Crossing series. Cranky villagers are portrayed as bitter, rude, and stubborn.
As of the release of Animal Crossing: New Horizons, there are a total of 65 cranky villagers across the series;[nb 1] 57 appear in New Horizons.
Characteristics
[
edit
]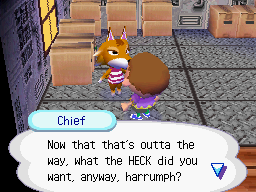 Behaviors
[
edit
]
Cranky villagers typically act quite bitter, rude, and stubborn, being angered easily if things are not going their way (hence the name "cranky"). They are also, generally, out-of-touch with social trends, making them generally unpopular with the peppy villagers. They are all deep-voiced (unlike every other villager) and many have frowns. In Animal Crossing and Doubutsu no Mori e+, the cranky islanders Flash, O'Hare, and Rowan, alongside Curlos, Frank, and Weldon in e+, act charming, polite, and gentlemanlike, if a bit arrogant, in a similar manner to the smug personality introduced in Animal Crossing: New Leaf. However, only Curlos and O'Hare return with this personality.
The cranky personality has softened significantly in New Leaf and New Horizons. Though their bitter, rude, and stubborn aspects remain, and they have the tendency to complain about aches and pains in their aging bodies, they gain an understanding and caring side, giving the player the impression that they secretly have a heart of gold. Instead of frequently raging at the player and other characters, and speaking in all-caps often, they give fatherly advice and are welcoming when the player enters their house. Though still being rather impolite, they have also traded in straightforward insults for lighthearted sarcasm, such as joking about their "sunny disposition" when the weather is nice outside. In New Leaf, cranky villagers gain a signature laugh, "Gahaha," which they usually exclaim after making a joke or sarcastic remark. However, in New Horizons, their signature laugh occurs noticeably less often.
In Animal Crossing, cranky villagers go to sleep at 5:00 AM and wake up at 10:00 AM. In Animal Crossing: Wild World and Animal Crossing: City Folk, they go to sleep at 4:30 AM and wake up at 10:00 AM. In Animal Crossing: New Leaf, they go to sleep at 4:00 AM and wake up at 10:00 AM. In Animal Crossing: New Horizons, they usually go to sleep at 3:30 AM and wake up at 9:00 AM. When trying to enter the house of a cranky villager before they wake, in older games, the player is greeted with an angry letter explaining that they are sleeping, "I'm catching some Z's right now, wake me and REGRET IT."
Relationships
[
edit
]
Cranky villagers find it best to get along with other cranky villagers, usually discussing trivial things such as food and the problems with unhealthy food. They also get along with normal and lazy villagers most of the time, but can still offend them if the wrong things have been said. They find it particularly difficult to get on with peppy and big sister villagers, but may get along with snooty villagers, who spread rumors. In the case with a big sister villager, due to both personalities being stubborn and opinionated, the two will clash with differing opinions. They can occasionally be good friends with a snooty or smug villager, but will still express their disgust. Thus, conversations between a cranky villager and a villager of one of these types will result in one of them depressed and occasionally cranky villagers will tell the player that things are getting boring so they are considering spreading rumors about another animal and 'watching the fun'. The usual response from peppy villagers is to call them an 'old man' or 'grandpa'.
Although they may appear unfriendly, if the player talks to them, does errands for them and sends them letters for long enough, they will eventually begin to open up and will be more friendly with the player. In Animal Crossing, a cranky character will often speak to the player about their niece after becoming friends. Also, in City Folk, they may say this to another cranky villager. When a cranky villager gets sad, they will say that they live in a cold world. They can usually grow to be close friends if the player meets them often and sends them letters with presents attached.
In Animal Crossing: New Leaf, the cranky villagers' unfriendly demeanor has been toned down, thus making them easier to befriend.
Below are some (not all) quotes made by cranky villagers.
Conversation between a normal villager and a cranky villager:
"So, <cranky villager>... Just the other day, I cooked up a batch of <dish> that was so sour, it hurt!"
"That sounds awesome! I didn't even know it was possible to make something that sour! What'd you do?"
"It was just something I added to give it a little kick, but I guess something went really wrong... Wait, did you just... You think that sounds good? Really?"
"You know it! I mean come on! Sour <dish>? Think of the possibilities! Nobody would suspect a thing until they took a bite, and then POW! Puckerface city! HAHAHA!"
"You're absolutely awful!"
The normal villager will walk off angry.
Cranky villagers
[
edit
]
Current
[
edit
]



Dialogue
[
edit
]
Discounting species that exclusively contain female villagers, no duck or ostrich villagers have ever had the cranky personality.

Additionally, no alligator, chicken, elephant, horse, kangaroo, lion, or sheep villagers initially had the cranky personality, but later installments did introduce villagers of those species with said personality. However, Curlos, the only cranky sheep in the series, would switch to a smug personality in Animal Crossing: New Leaf, meaning no sheep villagers currently have the cranky personality.
Names in other languages
[
edit
]
コワイ


Kowai
Frightening

---

무뚝뚝


Muttukttuk
Blunt

---

暴躁


Unknown

---

Капризный


Kapriznyy
Capricious

---

Miesepeter[3]
Grouch

---

Gruñón[nb 2][4]
Grouchy

---

Versatile[5]
Versatile

---

Burbero[6]
Gruff
↑ Beginning in Animal Crossing: New Leaf, three villagers who have the cranky personality in previous games had their personalities changed. If these villagers are counted, there are a total of 68 cranky villagers across the series.
↑ Picajoso (Picky) in the first edition of the book.
References
[
edit
]