Vladimir
Jump to navigation
Jump to search
"Trouble never comes alone."
— Vladimir, Animal Crossing: New Leaf
Vladimir
 

 

ガビ

 

곰비

 

嘉弼

 

Vladimir

 

Vladimir

 

Vladimir

 

Vladimir

 

Vladimir

 

Владимир

Birthday
August 2nd
Phrase
nyet

More languages

 やんけ
 참말로
 唉唷
 niet
 nyet
 nyet
 nastrovje
 njet
 ну не-е-ет

Clothes
Tiger Print
Animal Crossing
Lite Polka Tee[nb 1]
Prior to New Horizons
Striped Shirt (Purple)
New Horizons
Saying
Trouble never comes alone.


武士は食わねど高楊枝

Main Games
Other Games

Vladimir is a cranky, cub villager from the Animal Crossing series. "Vladimir" is a traditional Russian name, and "nyet", Vladimir's catchphrase, is Russian for "no". He was absent in Animal Crossing: Wild World, but reappeared in Animal Crossing: City Folk.
Characteristics
[
edit
]
Appearance
[
edit
]

Vladimir is a pink bear with bubblegum pink-tipped paws and muzzle. He also has a scruff of blond hair. His eyebrows are thick and meet in a unibrow. He has buckteeth as well. In Doubutsu no Mori, Vladimir has smaller pupils and a larger nose and mouth. He also notably lacks a muzzle.
Personality
[
edit
]
Below is a brief description of the cranky personality. For more information, click here.
Vladimir is a cranky villager, which means he is stubborn and easily annoyed when things are not going his way. He will appear rude and belittling towards the player, but will eventually warm up to them, considering them to be his only friend. He will find the usual hobbies of fishing, bug catching, fossil hunting, fashion, and furniture collecting considerably more interesting compared to other village types, adding more reason behind the hobbies than other villagers. He will get along with other cranky villagers and snooty villagers, who share the same interests and meaningful discussions. He will often suggest planting false information on peppy villagers when no interesting events are happening in the town, usually to the disgust of the normal villagers.
Preferences
[
edit
]
In City Folk

[

edit

]
Favorites
Clothing
Strange
Cute
Furniture Genre
Retro/Dignified
Furniture Series
Robo
Furniture Color
Yellow
Ideal Furniture for Vladimir – Yellow Retro/Dignified
https://dodo.ac/np/images/4/46/VladimirPicACNL.pngUnknownUnknownUnknownUnknownStrangeCuteYellowUnknownUnknownUnknown
In New Leaf

[

edit

]
Picture
Trouble never comes alone.
Biography
Siblings
Second of 6
Skill
Belly dancing
Goal
Movie Director
Fear
Skulls
Favorites
Clothing
Flashy
Basic
Color
Yellow
Coffee
Type
Mocha
Milk
Lots
Sugar
3
Ideal Gifts for Vladimir – Yellow Flashy
https://dodo.ac/np/images/4/46/VladimirPicACNL.pngSecond of 6Belly dancingMovie DirectorSkullsFlashyBasicYellowMochaLots3
In New Horizons

[

edit

]
Ideal Gifts for Vladimir – Yellow / Colorful Simple and Cool Items
Name
Image
Price
Available From

No results
https://dodo.ac/np/images/4/46/VladimirPicACNL.pngUnknownUnknownUnknownUnknownUnknownUnknownUnknownUnknownUnknownUnknown
In Animal Crossing: City Folk and Animal Crossing: New Leaf, he has various items from the Construction Theme, like the Handcart, Jackhammer, Iron Frame, Detour Arrow, Orange Cone and Steamroller. He also collects furniture from the Robo Series, such as the Robo-Bed. His Tape Deck plays "Agent K.K." He has the Chainlink Fence as his wall, and the Sandlot as his flooring, which only can be obtained from Saharah.
In New Horizons

[

edit

]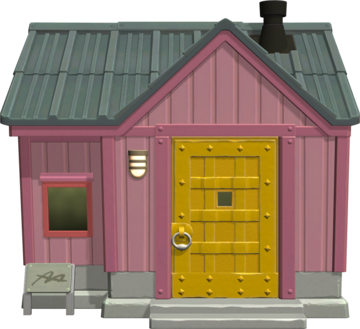 Style:
No style
Items:
Wallpaper:
 

Chain-Link Fence

Flooring:
 

Ramshackle Flooring

Music:
Agent K.K.
Other appearances
[
edit
]
In Happy Home Designer

[

edit

]
Happy Home Designer House Info

Vladimir

Type:
Cub
Client's Vision:
A way below ground.
Required Items:
Manhole Cover
Sawhorse
Favorite Song:
K.K. Milonga
Favorite Saying:
Trouble never comes alone.
Card profiles
[
edit
]
Animal Crossing e-Reader card

[

edit

]
Animal Crossing-e card

Card back

#108 Vladimir -

Series 2

Gender:
Male
Species:
Cub
Clothes:
tiger print shirt
Sign:
Leo
Phrase:
nyet
Password:
sRL8EUjXSmitWC
msJof4durpp7vM
Profile:

 
There's a reason Vladimir's so mean. Look at him! If you were all pink and stuff, you'd be mean too. Seriously, though, he's just tired of people nibbling on his head to see if he tastes like cotton candy.
Happy Home Designer amiibo Card

[

edit

]
Animal Crossing amiibo card

Card back

#132 Vladimir -

Series 2

| | |
| --- | --- |
| Type: | Cub |
| Star sign: | Leo |
| Birthday: | August 2th |
| Dice value: | 2 |
| Hand sign: | Scissors |
Gallery
[
edit
]
Names in other languages
[
edit
]
ガビ


Gabi

---

곰비


Gombi

-

---

多多

 (iQue)
Duōduō

Many

---

Владимир


Vladimir

From English name

---

Vladimir

Same as English name

---

Vladimir

Same as English name

---

Vladimir

Same as English name

---

Vladimir

Same as English name

---

Vladimir

Same as English name
ガビGabi곰비Gombi-多多DuōduōManyUnknownUnknownUnknownUnknownUnknownUnknownUnknownВладимирVladimirFrom English nameVladimirSame as English nameVladimirSame as English nameVladimirSame as English nameUnknownUnknownVladimirSame as English nameUnknownUnknownVladimirSame as English nameUnknownUnknown
↑ Called Lite Polka Shirt in City Folk