Bunny Day
From Nookipedia, the Animal Crossing wiki
Bunny Day is an event in the Animal Crossing series that occurs on a Sunday between March 22 and April 25. It is based on Easter and features Zipper T. Bunny, a rabbit who gives the player themed items in exchange for eggs. In Animal Crossing: City Folk and Animal Crossing: New Leaf, Bunny Day is the sole source of items from the Egg Series, and in Animal Crossing: New Horizons, it is the source of items from the Bunny Day Series.
Appearances
[
edit
]
In City Folk

[

edit

]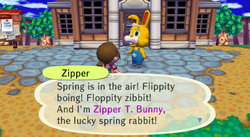 In Animal Crossing: City Folk, the Bunny Day event revolves around an Easter egg hunting competition. 30 Bunny eggs are hidden around the town, which can be opened to reveal either candy (18) or a Bunny foil (12). Zipper will exchange one Bunny foil for an item of furniture from the Egg Series. The villagers around town will not get involved in the events, but will talk about Zipper and finding mysterious eggs buried around the town. Each player character gets their own set of eggs.
In New Leaf

[

edit

]
In Animal Crossing: New Leaf, Zipper will ask players to find 6 kinds of eggs hidden around the town.
If a player brings one of each egg to him, he gives them an egg basket. Afterward, the player no longer has to give Zipper eggs for prizes—rather, they must eat the eggs to get either candy, a winning ticket, or a grand-prize ticket. He will accept winning tickets in return for items of the Egg Series. A grand-prize ticket can be exchanged for Zipper's pic. Winning tickets and grand-prize tickets cannot be sold; however, candy can be sold for 100 Bells each.
The odds of finding a grand-prize ticket within an egg change based on the player's good money luck. Below are the odds of finding a candy, winning ticket, or grand-prize ticket:
| Item | Chance (no money luck) | Chance (bad money luck) | Chance (good money luck) |
| --- | --- | --- | --- |
| Candy | 18% | 17.5% | 16% |
| Winning ticket | 70% | 75% | 60% |
| Grand-prize ticket | 12% | 7.5% | 24% |
It has been observed that, if all rocks which contain stone eggs are not emptied by the end of the day, the rocks will turn into regular unbreakable rocks.[citation needed] However, this is uncommon. Solutions, such as time-traveling to the day after the event, opening the game, and exiting without saving, have been suggested.
In certain years where Bunny Day falls on April 1, such as 2018, Bunny Day and April Fool's Day take place on the same day. If this occurs, both Zipper and Blanca visit the player's town at the same time.
In New Horizons

[

edit

]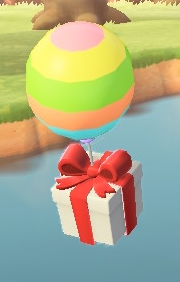 In Animal Crossing: New Horizons, the Bunny Day celebrations last for eight days (12 days prior to version 1.9.0) and end on Bunny Day itself, with Zipper appearing on the first and last days. Throughout the event, players can find eggs which can be used to craft Bunny Day Series DIY furniture and clothing.
6 types of eggs can be found around the player's island and on Mystery Island Tours:
All except the sky eggs have a higher rate on Mystery Islands.
At the start of the event, Zipper requests the player to construct all furniture items from the Bunny Day Series before giving them the recipe for the Bunny Day bed. If Zipper is first talked to after obtaining the Bunny Day Bed recipe, he will give the player a random DIY recipe they do not already have. If the player does not talk to Zipper while he is on the island and the day moves forward, he will send the DIY recipe via the mailbox.
The other furniture recipes can be found in unique Easter-themed balloons or message bottles along the beach or given to the player by villagers. Clothing DIY recipes are earned through finding a certain amount of one type of egg. In total, there are 17 furniture recipes, 22 clothing recipes, and 1 wand recipe to collect. Throughout the event, villagers will mostly talk about their excitement for Bunny Day over other topics, as well as give hints to the player about where higher dispense rates are (such as hitting rocks on Mystery Islands or harvesting wood from palm trees). In Nook's Cranny since version 1.9.0, several additional Bunny Day items are sold during the week leading up to and on Bunny Day, including the Bunny Day candy, Bunny Day garden flag, Bunny Day planter box, Bunny Day topiary, and the Bunny Day tree.
On Bunny Day itself, Zipper will appear outside of Resident Services, and villagers can be seen wearing Bunny Day-themed clothing. If talked to, Zipper will ask the player to bring him one of each type of egg. If the player does so, he will give them a Bunny Day basket, and he will let them trade 3 of the same type of egg for one egg of the player's choice. If the player has learned all 18 furniture items before the end of Bunny Day, Zipper will gift the player two unique recipes: a wobbling Zipper toy and a Bunny Day wand. When this happens, future Bunny Days will acknowledge the player has all recipes, as when spoken to for the first time, Zipper will give them the crafting missions normally, but when spoken to a second time, Zipper will immediately give the player a new Bunny Day wand.
In amiibo Festival

[

edit

]
In the Board Game mode in Animal Crossing: amiibo Festival, Zipper appears and all spaces turn into egg spaces. When a space is walked over, the player receives eggs, and after they stop moving, they receive a corresponding number of Happy Points. Green spaces give 1–2 eggs, silver spaces give 4–5 eggs, and gold spaces give 10 eggs.
Recurrence
[
edit
]
Recurrence
23rd April 2000
15th April 2001
31st March 2002
20th April 2003
11th April 2004
27th March 2005
16th April 2006
8th April 2007
23rd March 2008
12th April 2009
4th April 2010
24th April 2011
8th April 2012
31st March 2013
20th April 2014
5th April 2015
27th March 2016
16th April 2017
1st April 2018
21st April 2019
12th April 2020
4th April 2021
17th April 2022
9th April 2023
31st March 2024
20th April 2025
5th April 2026
28th March 2027
16th April 2028
1st April 2029
21st April 2030
Gallery
[
edit
]
Artwork
[
edit
]
Screenshots
[
edit
]
Names in other languages
[
edit
]
イースター


Īsutā
Easter

---

이스터


iseuteo
Easter

---

复活节


Fùhuó jié
Easter

---

復活節


Unknown

---

День зайцев


Den' zaytsev
Bunny Day

---

Eierstijl

Egg Style

---

Häschentag

Bunny Day

---

Caza del Huevo

Egg Hunting

---

Fête des œufs

Festival of Eggs

---

Caccia All'uovo

Egg Hunting
See also
[
edit
]
↑

Equivalent date of Easter Sunday in the real world

This article or section requires further research about Bunny Day's mechanics in New Horizons.

This article or section requires further research about Bunny Day's mechanics in New Horizons.