Tortimer
Jump to navigation
Jump to search
"Remember to consider your retirement plan!"
— Tortimer, Animal Crossing: Happy Home Designer


Species
Gender
Tortoise
Male
Birthday
December 31st
Role
Mayor[nb 1]
Island Tours[nb 2]
Main appearances
Other appearances
Name in other languages


 コトブキ
 고북
 Tortimer
 Törtel

 寿伯
 Tortimer
 Tórtimer
 Tortimer

 壽伯
 Tortimer
 Tórtimer
 Тортимер
Tortimer is an elderly tortoise who is the mayor of the town the player moves into in the Animal Crossing series prior to Animal Crossing: New Leaf, where that role is given to the player. He has appeared in every installment in the Animal Crossing series, with the exceptions of Doubutsu no Mori and Animal Crossing: New Horizons. His name is a portmanteau of 'tortoise' and the human name 'Mortimer'.
During town events, Tortimer can often be found outside celebrating, and will give away holiday-specific items on certain days. Players can only obtain one holiday-specific item from Tortimer per player, which means even if the same player talks to Tortimer next year on the same event, the player won't be able to receive another special item of that day (for example, the player cannot obtain another Cornucopia from Tortimer on next year's Harvest Festival if already received on that day). In Animal Crossing: New Leaf, Tortimer has retired from the role of mayor and now lives on Tortimer Island where he works as a tour guide.
Background
[
edit
]
Occasionally, Tortimer talks about his life previous to becoming mayor. He talks about being an expert gardener and once had a wife, Mrs. Tortimer, though she is believed to have died tragically. Some villagers speculate that he became incredibly rich on the turnip market, while others believe he gained money illegally and used it to build the town hall. This is backed up by the fact that there are no taxes in the player's town, and that Tortimer himself never has to face election. Also, according to the gossip of villagers in City Folk, his shell might be fake.
Appearances
[
edit
]

Tortimer, after being absent in Doubutsu no Mori, is introduced in Animal Crossing, Doubutsu no Mori's enhanced GameCube port. He is first introduced on the first day the Player moves to town, walking around the Wishing Well, and is required to be spoken to alongside the rest of the Townsfolk. Tortimer appears a very old tortoise and is the mayor of the player's town. At any events, like the Flower Festival, he will stand outside the town hall to explain the event, as well as a gift to commemorate the occasion. These include sparklers during the Fireworks Show, a Pink Tree Model during the Cherry Blossom Festival, or a party popper for New Year's Eve. The events he appears at are spread out at all different times of the year. In Doubutsu no Mori e+, Tortimer appears in the additional event Bonfire night.

Tortimer returns in Animal Crossing: Wild World, serving the same role as the previous installment, except he is now stationed at the newly added Town Hall, a replacement building for the Wishing Well in the previous game. As in Animal Crossing, the player is required to speak with him at the start of the game, and afterwards gives out special items to commemorate holidays. If no event is occurring, Tortimer can be seen napping at his desk in the Town Hall behind Pelly (Or Phyllis if it is night). During the Acorn Festival, Tortimer's alter-ego, Cornimer, is introduced as the mascot of the aforementioned event.

Tortimer's role in Animal Crossing: City Folk is virtually identical to his role in Animal Crossing: Wild World, with the exception of various new holidays being added.
Tortimer's role is greatly revamped in Animal Crossing: New Leaf, as he is no longer the mayor of the player's town. Instead, he has retired to Tortimer Island, a private resort home to various activities, known as "tours", while Isabelle fulfills his previous role of distributing festive items. On the island, Tortimer appears as the host of each tour, explaining the rules and regulations for each one, as well as keeping score of the player's progress. Cornimer's head also appears in the Hammer tours, attached to the lawn mower that is bashed in the tour. His ego in previous games has also been greatly toned down.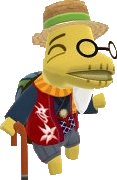 Tortimer's role is once again changed in Animal Crossing: Pocket Camp, in which Tortimer now hosts a garden event for the winter season.
Other appearances
[
edit
]
Tortimer appears as a trophy and in the background of the Smashville stage.
#271 Tortimer
The mayor of the player's town. Usually in his office in the town hall, he emerges on holidays to usher in special festivities. He's a busy fellow who also serves as the record keeper for fishing and bug-catching tournaments. He cuts a very dashing figure in his hat and bow tie. There may be some link between him and Cornimer, who appears at the fall Acorn Festival.
Random
Tortimer appears as a trophy and has a chance of appearing in the background of the Tortimer Island stage exclusively for the 3DS version. In the Wii U version, Tortimer also appears as a spectator in the Smashville and Town and City stages, but doesn't have a trophy.
#431 Tortimer
NTSC-U: A former mayor who is living out his retirement on a tropical island. He's not a hermit, though, and absolutely loves spending time with anyone who goes to visit his tropical paradise. Everyone could learn from his generous spirit. And that aloha shirt looks great!

PAL: Many cultures around the world see the tortoise as a symbol of great age and wisdom, and Tortimer embodies both in spades. A former town mayor, he now lives a slightly quieter life organising island tours and giving out medals. The Hawaiian shirt definitely wasn't part of his mayoral attire.
Random
Spirits
[
edit
]
Tortimer
Support Spirit

Class: ★★★

Ability: Critical-Health Stats ↑↑
* Summon with cores from Old Man Lobber, Koopa Troopa, and any Support core
General description
[
edit
]
Appearance
[
edit
]
Tortimer is a tan, elderly tortoise that wears a black top hat with black, rounded glasses. While not wearing his hat, Tortimer is notably bald. His shell is a multicolored pattern shared with that of Kapp'n, and also wears a bow tie on the front of his shell. His mouth and eyes have notable wrinkles in them. In the Japanese version of Animal Crossing, Tortimer wears a red hat with blue lenses in his glasses.
Personality
[
edit
]
In numerous games and other media, Tortimer seems to have a large ego, to the extent of having his own cult of personality. This is most notably shown in Doubutsu no Mori (film), as Tortimer continuously tells Ai of his authority as mayor by mentioning "me the mayor" multiple times, at the same time many of his egotistical possessions are shown. Tortimer's e-Reader card also claims that he enjoys his job as mayor, further supporting this. However, the extent of his ego is slightly toned down in the games, being reduced to him constantly reminding the player of his authority, such as during Nature Day in City Folk, with the slogan 'Mother Nature and Father MAYOR'. Despite this, Tortimer is also shown in the games to be somewhat greedy, as Cranky villagers will sometimes say that he takes money the player donates to buy expensive things in Animal Crossing: Wild World, such as a plasma TV, while using the town of Boondox to justify the donations. However, these could simply be rumors. Tortimer, as part of his pride, also greatly respects the elderly as well as his species, asking the player at the beginning of each game who they look up to or their favorite animal, respectively. If the player does not choose "grandpa" or "turtle" for each respective question, Tortimer will be seen with a contemptful expression.
Villager info
[
edit
]
In Happy Home Designer

[

edit

]
Happy Home Designer House Info

Tortimer

| | |
| --- | --- |
| Type: | Special Tortoise |
| Client's Vision: | I'll leave it up to you! |
| Required Items: | None |
| Favorite Song: | Aloha K.K. |
| Favorite Saying: | Remember to consider your retirement plan! |
Card profiles
[
edit
]
Animal Crossing-e card

Card back

#005 Tortimer -

Series 1

Gender:
Male
Species:
Tortoise
Sign:
Capricorn
Password:
9AL@2ZZ9Q5Qk3i
X5ExwralPQagsj
Profile:

 
Even in turtle years, Tortimer is pretty old. However old he may be, he's still a great mayor. He makes it to all the town events, and he loves his main duty as mayor, handing out gifts to the villagers.
Animal Crossing amiibo card

Card back

#015 Tortimer -

Series 1

| | |
| --- | --- |
| Type: | Special |
| Star sign: | Capricorn |
| Birthday: | December 31st |
| Dice value: | 6 |
| Hand sign: | Rock |
Gallery
[
edit
]
Artwork
[
edit
]
Sprites & Models
[
edit
]
Screenshots
[
edit
]
Miscellaneous
[
edit
]
The Japanese e-Reader card for Comrade K.K., which features Tortimer.
Names in other languages
[
edit
]
コトブキ / そんちょう


Kotobuki / Sonchō
From 寿 kotobuki (longevity) / village mayor

---

고북


Gobuk
Modification of 거북 (Geobuk/Turtle)

---




寿伯

 

/

 

壽伯


Shòu Bó

Uncle Longevity

---

Тортимер


Tortimer

Tortimer

---

Tortimer

-

---

Törtel

Similar to Tortimer

---

Tórtimer

-

---

Tortimer

-

---

Tortimer

-
コトブキ / そんちょうKotobuki / SonchōFrom 寿 kotobuki (longevity) / village mayor고북GobukModification of 거북 (Geobuk/Turtle)UnknownUnknownUnknown寿伯壽伯Shòu BóUncle LongevityUnknownUnknownUnknownТортимерTortimerTortimerTortimer-TörtelSimilar to TortimerTórtimer-UnknownUnknownTortimer-UnknownUnknownTortimer-UnknownUnknown
Tortimer appears to be able to stay awake all day and night until the day is over, meaning he can potentially stay up very late. This may be why he sleeps at his desk during the day.
In Animal Crossing: Wild World, duck villagers claim that Tortimer's favorite food is Peking Duck, which upsets them.
In Animal Crossing, there is a rumor that Tortimer tells the player, that if he had to pick a successor, it would be the player. This may be what leads up to Animal Crossing: New Leaf, in which the player takes the role of the mayor.