Kazumi Totaka
From Nookipedia, the Animal Crossing wiki


Born
August 23, 1967
Tokyo, Japan
Occupation
Composer, sound director, voice actor
Kazumi Totaka (戸高 一生, Totaka Kazumi, born August 23, 1967) is a video game composer. Totaka has been the sound director for all mainline games in Animal Crossing series, as well as the composer for many of the tracks. He has composed various songs from other Nintendo games, and is known to hide a short melody known as "Totaka's Song" in games he has worked on. This is present in all Animal Crossing games as "K.K. Song".
The character K.K. Slider is a caricature of Totaka, and his full name Totakeke is derived from "Totaka K.", since family names are written first in Japan. While most of K.K.'s songs in the original games were composed by Toru Minegishi, Totaka rearranged them for the live performances.[1]
Totaka is also known for voicing Yoshi in the Mario series, which he has done since the game Yoshi's Story in 1997.
Song credits
[
edit
]
Songs are listed by the first game they appeared in, though they may have reappeared in future games. Credits are not necessarily exhaustive and reflect only what can be sourced.
In Doubutsu no Mori

[

edit

]
In Animal Crossing

[

edit

]
"New Year's Wish"[2] (Animal Crossing and Doubutsu no Mori e+ version)
In Doubutsu no Mori e+

[

edit

]
In Wild World

[

edit

]
In City Folk

[

edit

]
In New Leaf

[

edit

]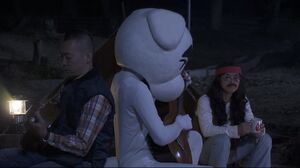 In Happy Home Designer

[

edit

]
In New Horizons

[

edit

]
Totaka was credited for the following tracks on the official soundtrack release for New Horizons:[9]
"2 AM"
"5 AM"
"7 AM"
"8 AM"
"9 AM"[4]
"12 PM"
"2 PM"
"5 PM"
"7 PM"
Rain and snow versions of above hourly themes
"Island Life Orientation 4 (Campfire Evening)"
"amiibo Invitation"
↑ 1.0 1.1 1.2 Totaka was credited with composition of Kapp'n's theme from Wild World, which uses Marine Song 2001 and Kapp'n's normal song in its melody.
References
[
edit
]