Gekijōban Doubutsu no Mori
Jump to navigation
Jump to search

Gekijōban Doubutsu no Mori


Theatrical release poster

Directed by
Jōji Shimura
Produced by
Bunshō Kajiya
Written by
Aya Matsui
Starring
Yui Horie
Misato Fukuen
Fumiko Orikasa
Yū Kobayashi
Naoki Tatsuta
Kenichi Ogata
Shun Oguri
Yūichi Kimura
Music by
Kazumi Totaka
Cinematography
Kōji Yamakoshi
Edited by
Toshio Henmi
Distributed by
Toho (theatrical release)
VAP (DVD release)
Release date(s)
December 16, 2006
July 25, 2007 (DVD)
Running time
87 minutes
Country
Japan
Language
Japanese
Gekijōban Doubutsu no Mori[nb 1] is a 2006 Japanese animated film based on the Animal Crossing series. The film was directed by Jōji Shimura with production by OLM, Inc. and was released in theaters on December 16, 2006, where it earned an estimated total of ¥1.7 billion (US$16,216,731) at the box office as of 2007.[1]
The film features characters and elements from the video games and follows Ai, an 11-year-old human girl, as she moves into a village of animals and meets various friends along the way.
Ai, an 11-year-old human girl, moves to Animal Village during spring. After she arrives, she goes to Town Hall and is told by Pelly to meet Tom Nook at his shop to receive her house key. Once she meets Tanukichi, he gives her work to do in the form of deliveries to the village residents. During her deliveries, Ai meets Rosie, Alfonso, Whitney, and a human boy named Yū. Afterward, she visits the Able Sisters for her last delivery and meets Margie. On her way home, Ai encounters Yū again, who attempts to catch a Spider that had landed on her; the two then introduce themselves and become acquaintances.
After several more deliveries, Ai is tasked with a delivery to Apollo. When she arrives at his house, she learns he is not home. Yū once again appears and causes Ai to fall in a patch of roses—this causes Mr. Resetti to appear and scold her; after learning what happened, he tells Ai to look in The Roost for Apollo. Ai heads to the museum, where she meets Blathers and Celeste, the latter of whom leads her to The Roost. Once there, Ai meets Cesar and Cyrano, and shortly afterward, Apollo arrives. She makes her delivery and heads home when she encounters Margie, whom she quickly befriends. Margie reveals her dream of being a fashion designer and compares accomplishing her dream to eating a cherry pie. Later that night, Ai finds a note in a bottle on the beach that reads, "Above the pine forest, on the night of the Winter Festival, a miracle will occur." She then sees what she believes to be a UFO.
The next night, Ai encounters another note in a bottle, which instructs her to plant pine trees across Animal Village for a miracle to take place during the Winter Festival. The next day, Ai, Margie, and Rosie meet up with Yū and Alfonso, who are looking for fossils. Rosie tells them to look in a nearby cave for fossils, which they visit and find a Seismosaurus fossil, the one fossil missing from the museum's collection; however, the cave collapses, forcing the group to leave. Later, during the Fireworks Festival, Margie realizes her dream, and Ai wishes to have one of her own. Once she returns home, she reads two more letters in bottles, which reveal that an alien has been writing them, hoping to arrive on her planet during the Winter Festival and meet her.
The day after the Fireworks Festival, Ai learns from Rosie that Margie left Animal Village to pursue her dream. Disappointed that she did not let her know before leaving, Ai goes to The Roost, where Whitney comforts her. That night, Ai receives a letter from Margie, who explains why she did not let her know that she was moving—she says she would have been overwhelmed with emotion had she approached her before leaving. Attached to the letter is a drawing of Ai and a note telling her to "eat her own cherry pie," or to follow her dreams.
In the winter, Tortimer, the mayor, announces the beginning of the Winter Festival, where the resident with the best holiday decorations is crowned the winner. Ai visits the cedar trees that she is revealed to have planted earlier in the year to find them fully grown. She then visits Celeste's observatory in the museum and sees a UFO crash in the village. The townsfolk gather at the crash site, and Gulliver, who claims to be an alien, steps out, explaining that five parts of his ship must be found so he can leave. The residents of the village then split up to find the parts; Champ goes to the woods, Apollo, Cyrano, and Cesar go to the mountains, Whitney searches near the ocean, and Ai, Rosie, Alfonso, and Yū head toward the cave with the Seismosaurus fossil. However, the entrance is blocked by a boulder, which is moved with the help of Margie, who has returned to Animal Village for the Winter Festival. The group enters the cave and finds the spaceship part on top of the Seismosaurus. Yū climbs up the fossil and retrieves the part.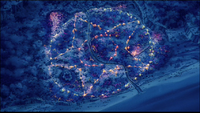 Once the group returns to Gulliver's ship, UFOs fly overhead, and the part they retrieved is revealed to be an alien life form. The alien appears to thank Ai before flying to the other UFOs; it then draws Ai's face as a constellation. Afterward, Tortimer announces Ai as the winner of the Winter Festival for the alien's constellation, and Ai feels for the first time that she is a true resident of Animal Village.
During the film's end credits sequence, several still frames are displayed, showing Animal Village and its residents over the next few months. The stills include Blathers excavating the Seismosaurus fossil and adding it to the museum's collection, Whitney receiving blue roses from someone who is implied to be Apollo, and Nook's Cranny being upgrading to Nook 'n' Go, among others. In a post-credits scene, set one year after Ai moved into Animal Village, Ai narrates a letter written to her mother while running toward the museum to meet Celeste. The camera then pans down to show lilies of the valley growing.
Characters
[
edit
]
Main characters
[
edit
]
Minor characters
[
edit
]
Background characters
[
edit
]
The following characters appear only during the Fireworks Festival and do not have speaking roles.
Production
[
edit
]
Gekijōban Doubutsu no Mori was announced in May 2006 in an issue of Hochi Shimbun,[2] a Japanese online magazine, following the success of Animal Crossing: Wild World. Jōji Shimura, who previously worked on other animated films, directed the film, and staff from the Animal Crossing series assisted production.[2]
In October 2007, Nintendo of America stated there were no plans to localize the film for North America.[3]
Release
[
edit
]
Theatrical
[
edit
]
Gekijōban Doubutsu no Mori was released theatrically in Japan on December 16, 2006 by Toho and became the third highest-grossing film of its opening weekend, earning approximately ¥246 million (US$2,085,729).[4] By the end of 2006, the film had a total revenue of ¥1.526 billion (US$12,915,432),[5] becoming the 30th highest-grossing film that year in Japan, and by the end of its theatrical run in 2007, it had earned approximately ¥1.7 billion (US$16,216,731).[1] Viewers who pre-purchased tickets to the film received vouchers which could be redeemed for one of the six golden tools in Animal Crossing: Wild World.[6]
Home media
[
edit
]
A soundtrack for the film, titled Gekijōban Doubutsu no Mori: Original Soundtrack, was released on CD on December 13, 2006, three days before the film's premiere in theaters. It features 46 tracks from the film as well as five bonus tracks from Animal Crossing: Wild World.
Gekijōban Doubutsu no Mori was released on region 2 DVD in Japan on July 25, 2007 by VAP,[7] retailing for ¥3,990[8] (US$37.12). First-print copies also included an Animal Crossing-themed carrying case.
In 2020 the film was rebroadcast twice on Japanese television networks: once on March 20 to celebrate the release of Animal Crossing: New Horizons,[9] and once on July 29.[10]
Gallery
[
edit
]
Names in other languages
[
edit
]
劇場版 どうぶつの森


Gekijōban Dōbutsu no Mori

Animal Forest: The Movie
References
[
edit
]
External links
[
edit
]
Gekijōban Doubutsu no Mori on other wikis
• Wikipedia