Raccoon
From Nookipedia, the Animal Crossing wiki
Raccoons are a species of character in Animal Crossing. In Japanese, however, the species is referred to as "tanuki" (as well as "neoguri" in Korean) or "raccoon dogs". The raccoon dog has facial markings that bear a resemblance to the raccoons, but is otherwise not closely related, instead belonging in the same biological family as dogs and wolves.
There are three raccoons in the Animal Crossing series so far, and all of them are special characters.
Special characters
[
edit
]
Other information
[
edit
]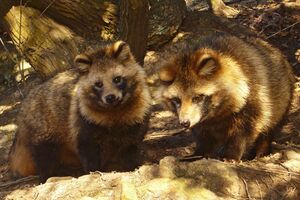 In Japanese folklore, raccoon dogs, or tanuki are often depicted as mythical creatures with shapeshifting powers. Using leaves, they can assume different forms, generally doing so to pull pranks on humans, which is likely why pocketed furniture items are stylized as leaves in the Animal Crossing series. Tanuki cloth is also associated with wealth and money in Japanese culture; this might be the inspiration behind Tom's financial success.