Shampoodle
From Nookipedia, the Animal Crossing wiki

The exterior of Shampoodle in City Folk

The interior of Shampoodle in New Leaf
Music (New Leaf)
https://nookipedia.com/wiki/File:NL_Shampoodle.flac
Function
Barber shop
Services
Haircut
Mii mask[nb 4]
Contact lenses[nb 3]
Staff
Harriet
Opening Hours
8 AM – 11 PM[nb 1]
8 AM – 9 PM[nb 2]
10 AM – 8 PM[nb 3]
Main appearances
Other appearances

Names in other languages

 

ビューティーサロン

 

Unknown

 

Unknown

 

Unknown

 

Unknown

 

Unknown

 

Unknown

 

Unknown

 

Unknown

 

Unknown

 

Unknown

 

Unknown
Shampoodle is a barber shop introduced in Animal Crossing: Wild World, owned and run by Harriet the poodle. Shampoodle allows players to change their hairstyle and eye color from their initial style to a new one, determined by answering a series of questions proposed by Harriet. In Animal Crossing: City Folk and Animal Crossing: New Leaf the player can get a makeover to resemble one of their Miis by using a Mii mask. Each service offered costs 3,000 Bells and only one service can be done per day.
Appearances
[
edit
]
In Animal Crossing: Wild World

[

edit

]
Shampoodle makes its first appearance in Animal Crossing: Wild World, appearing in the back of Nookington's - the final expansion of Tom Nook's store. It is open from 8 AM to 11 PM.
In Animal Crossing: City Folk

[

edit

]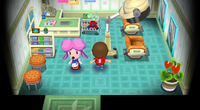 In Animal Crossing: City Folk, Shampoodle has been moved to the city into its own building. It still follows the same basic functions as in Wild World, except now the player can receive a Mii mask which is styled on a Mii from the Mii Channel. The Mii style is free, but only one design can be held at any given time. It should not be confused with a different type, where Nookington's in Wild World opens differently to City Folk, despite Shampoodle now being in the city. It is opposite to Redd's and next to Katrina's. It is open from 8 AM to 9 PM.
Mii mask
[
edit
]
The Mii mask can be worn as a mask by selecting "Hat" when determining the placement of the design. Accessories cannot be worn with the mask, such as glasses, flowers in the hair, hats and so forth.
The first Mii mask is free but subsequent ones cost 3,000 Bells. Changing the Mii itself in the Mii Channel/Maker (depending on the console) will correspondingly alter the Mii in any game that uses it.

In Animal Crossing: New Leaf

[

edit

]
In Animal Crossing: New Leaf, Shampoodle is located on the second floor above Able Sisters on the right side of Main Street. To unlock the store, the player must spend 30,000 Bells in Able Sisters or Kicks and 10 days must pass after Kicks opens. It takes 3 days to open. Also, to wear a Mii mask, players can choose the "makeup" option when Harriet prompts it.
Contact lenses
[
edit
]
Contact lenses can be bought after the player has had 15 haircuts. The haircuts do not all have to be different. Contacts will change the color of the player's eyes based on how they answer the questions Harriet asks; the player chooses between three answers, then from another three.
Answer
Contact color
The vast sky.
Pitch black.
Black
A clear, blue sky.
Dark blue
Like rain was coming.
Blue-green
The large trees.
Their abundant leaves.
Green
Their sturdy trunks.
Brown
Their endless shade.
Black
The endless ocean.
A tropical, blue ocean.
Blue
A cold, wintry ocean.
Blue-green
An ocean of coral.
Green
Gallery
[
edit
]
Exterior
[
edit
]
Interior
[
edit
]
Names in other languages
[
edit
]
Chez Marilín

-

---

Esthétichien

Portmanteau of "esthéticien" (beautician) and "chien" (dog)

---

Shampoo & Champagne

-