Molly
Jump to navigation
Jump to search
"Like water off a duck's back."
— Molly, Animal Crossing: New Leaf
Molly
 

 

カモミ

 

귀오미

 

亚美

 

Molly

 

Molly

 

Deira

 

Monika

 

Molly

 

Молли

Birthday
March 7
Phrase
quackidee

More languages

 

そうかも

 그럴지도
 说不定鸭
 說不定鴨
 canénette
 coin coin
 deverdá
 cuáquidi
 krümel
 topper
 

крякульки

Clothes
Canary Shirt
Saying
Like water off a duck's back.
Main Games
Other Games

Molly is a normal duck villager, first appearing in Animal Crossing: New Leaf. Her name is likely derived from "mallard". Her Japanese catchphrase literally means "perhaps so," but is another play on kamo.
Characteristics
[
edit
]
Appearance
[
edit
]
Molly is a duck that has black oval eyes and a golden yellow beak. There are dark brown markings on top of her beak, forming what looks like a crown. Molly has a white stomach, and yellow striped legs. Her wings and markings on the top of her head are a shade of brown. Her appearance seems to be based on a female mallard.
Personality
[
edit
]
Below is a brief description of the normal personality. For more information, click here.
Molly is a normal villager, meaning she is very kind-hearted, sweet and hospitable. She is very motherly and caring, even to flowers around town as she is often carrying a Watering Can around. She is a self-proclaimed bookworm, often talking about book titles she enjoys reading. She is quite the clean freak, often worrying about the cleanliness of her home. Molly is very kind and neighborly and is easy to befriend due to her generally kind nature.
Preferences
[
edit
]
In New Leaf

[

edit

]
Picture
Like water off a duck's back.
Biography
Siblings
Eldest of nine
Skill
Drawing circles
Goal
Florist
Fear
Ghost
Favorites
Clothing
Official
Sporty
Color
Beige
Coffee
Type
Blue Mountain
Milk
Lots
Sugar
Three spoonfuls
Ideal Gifts for Molly – Beige Official
https://dodo.ac/np/images/0/0e/MollyPicACNL.pngEldest of nineDrawing circlesFloristGhostOfficialSportyBeigeBlue MountainLotsThree spoonfuls
In New Horizons

[

edit

]
Ideal Gifts for Molly – Yellow / Pink Cute and Simple Items
https://dodo.ac/np/images/0/0e/MollyPicACNL.pngUnknownUnknownUnknownUnknownUnknownUnknownUnknownUnknownUnknownUnknown
Molly's home contains many pieces from the Classic Series, including a bookcase, buffet, desk, sofa, chair, bed and table. An arrangement of yellow Dandelions are present, sitting on top of her Classic Table. An instrument sits beside her Classic Chair and a plant is displayed beside her Classic Desk. K.K. Ballad plays on her stereo, while a Green Rug and Lattice Wall are spread inside her home.
In New Horizons

[

edit

]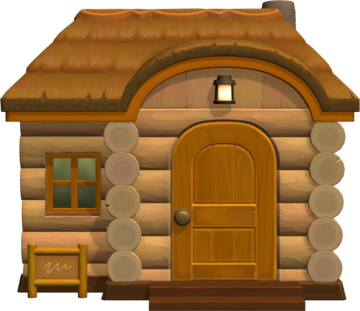 Style:
No style
Items:
Wallpaper:
 

Lattice Wall

Flooring:
 

Light Herringbone Flooring

Music:
K.K. Ballad
Other appearances
[
edit
]
In Pocket Camp

[

edit

]
Animal Crossing: Pocket Camp Character Info

Needed to Invite:

Required Friendship Level: 5


| | | | | |
| --- | --- | --- | --- | --- |
| | | | | |
| Scattered Papers | Small Magazine Rack | Classic Chair | Classic Desk | File Cabinet (L) |

Friendship Rewards:


Canary Shirt
and Sparkle Stone


Sparkle Stone


Large Bookshelf
Craft Unlock
Level 7
Level 9
Level 10


Pic of Molly‎‎
and Sparkle Stone


Sparkle Stone


Sparkle Stone

Level 20
Level 25
Level 30

| | | |
| --- | --- | --- |
| Sparkle Stone | Sparkle Stone | Sparkle Stone |
| Level 35 | Level 40 | Level 45 |

Molly


She's normally cool, calm, and collected...but when the time is right, Molly springs into action! It usually surprises her more than anyone else.

 Preferred theme:
 Primary reward:
 Steel
Card profiles
[
edit
]
Happy Home Designer amiibo Card

[

edit

]
Animal Crossing amiibo card

Card back

#099 Molly -

Series 1

| | |
| --- | --- |
| Type: | Duck |
| Star sign: | Pisces |
| Birthday: | March 7 |
| Dice value: | Four |
| Hand sign: | Rock |
Gallery
[
edit
]
Names in other languages
[
edit
]
カモミ


Kamomi
From kamo, meaning duck

---

귀오미


Gwiomi

Term denoting a cute person; "cutie".

---

亚美




---

Молли


Molli

From English name

---

Molly

Same as English name

---

Monika

-

---

Deira

-

---

Molly

Same as English name

---

Molly

-
カモミKamomiFrom kamo, meaning duck귀오미GwiomiTerm denoting a cute person; "cutie".UnknownUnknown-亚美UnknownUnknownUnknownUnknownUnknownМоллиMolliFrom English nameMollySame as English nameMonika-Deira-UnknownUnknownMollySame as English nameUnknownUnknownMolly-UnknownUnknown