Cleo
Jump to navigation
Jump to search
Cleo
 

 

アイソトープ

 

아이소토프

 

小铀

 

Cléa

 

Susanna

 

Clotilde

 

Birgit

 

Cleo

 

Клео

Birthday
February 9th
Phrase
sugar

More languages

 あそばせ
 훗훗
 游游
 遊遊
 beauté
 dolcetto
 bomboncito
 hop-puá
 plätzchen
 snoepje
 рафинад

Clothes
Silk Bloom Tee

*

Saying
There's something lovable in all of us.


風呂ではみんな素っ裸

Main Games
Other Games

Cleo is a snooty, horse villager from the Animal Crossing series. She is named after Cleo Ridgely, a professional horseback rider and actress. Her catchphrase, sugar, refers to sugarcubes, a treat which horses enjoy eating. "Sugar" is also an affectionate nickname used by individuals in the American south, some of whom, especially females, act refined, posh, and chic. She appeared only in the GameCube games until she returned in Animal Crossing: New Leaf - Welcome amiibo.
Characteristics
[
edit
]
Appearance
[
edit
]

Cleo is a light purple mare (female horse) with a tan mane and an equally tan tuft of hair. She has black, sparkling eyes, which gives her the odd appearance of a peppy villager. She has pink in her ears and mouth, and also has a white muzzle with white tipped feet and hooves. In Doubutsu no Mori, she wears orange blush and her nostrils are bigger.
Personality
[
edit
]
Below is a brief description of the snooty personality. For more information, click here.
Cleo is a snooty villager, enjoying talk about upclass, chic hobbies, such as fashion and elegancy. Outside of these conversations, however, Cleo acts arrogant, condescending, and ignorant to other villagers, including the player. Most notably, she acts this way to Peppy villagers, who have the tendency to annoy her with their upbeat, energetic personality. Lazy and Jock villagers, on the other hand, outright offend her by questioning her appearance and physical fitness, respectively. Ultimately, however, if the player befriends Cleo, she will eventually tone down her attitude, although she will sometimes remain subtly rude.
Preferences
[
edit
]
In New Leaf

[

edit

]
Picture
"There's something lovable in all of us"
Biography
Siblings
Eldest of 7 Kids
Skill
Juggling
Goal
Dermatologist
Fear
Mummy
Favorites
Clothing
Cute
Historical
Color
White
Coffee
Type
Mocha
Milk
Little bit
Sugar
One Spoonful
Ideal Gifts for Cleo – White Cute
https://dodo.ac/np/images/a/ac/CleoPicACNL.pngEldest of 7 KidsJugglingDermatologistMummyCuteHistoricalWhiteMochaLittle bitOne Spoonful
In New Horizons

[

edit

]
Ideal Gifts for Cleo – Light Blue / White Cute and Elegant Items
https://dodo.ac/np/images/a/ac/CleoPicACNL.pngUnknownUnknownUnknownUnknownUnknownUnknownUnknownUnknownUnknownUnknown
In Anim. Crossing

[

edit

]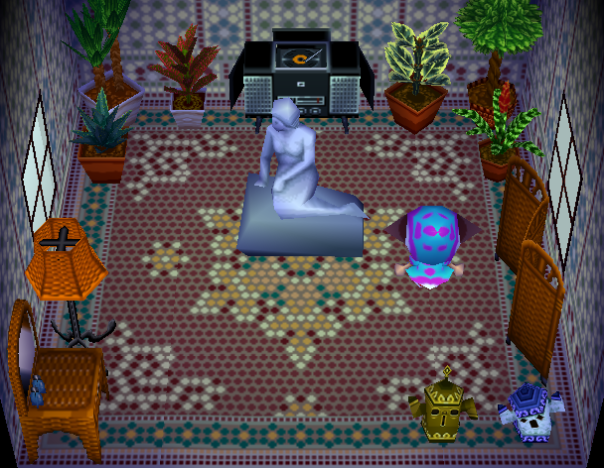 Style:
No style
Items:

 

Mermaid Statue

 

Retro Stereo

 

Cabana Screen

 

Cabana Vanity

 

Cabana Lantern

 

Aloe

 

Weeping Fig

 

Bromelliacecae

 

Snake Plant

 

Pachira

 

Fan Palm

 

Mini Dingloid

 

Mini Lullaboid

Wallpaper:
 

Mosaic Wall

Floor:
 

Mosaic Floor

Music:
K.K. Bossa
RV in Welcome amiibo

[

edit

] Style:
Office
Items:

 

Document Stack

 

File Cabinet (L)

 

Laptop

 

Meeting-Room Table

 

Modern Office Chair

 

Office Phone

 

Rolling Cart

 

Rolling File Cart

 

White Office Desk

Wallpaper:
 

Office Wall

Floor:
 

Panel Carpet Floor

Music:
K.K. Synth
In New Horizons

[

edit

]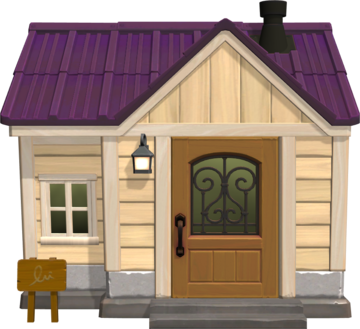 Card profiles
[
edit
]
Animal Crossing e-Reader card

[

edit

]
Animal Crossing-e card

Card back

#161 Cleo -

Series 3

Gender:
Female
Species:
Horse
Clothes:
silk bloom shirt
Sign:
Aquarius
Phrase:
sugar
Password:
#O4o55cBMTNwKO
krHAQg3jHvruZ%
Profile:

 
Cleo thinks tidiness is extremely important, but cannot be bothered to clean anything beyond her own home. Sure, her house is clean and orderly, but has she ever pulled a single weed? Perish the thought.
Welcome amiibo card

[

edit

]
Animal Crossing: New Leaf - Welcome amiibo card

Card back

#48 Cleo

Furniture


Office Wall


Panel Carpet Floor


Document Stack


File Cabinet (L)


Laptop


Meeting-Room Table


Modern Office Chair


Office Phone


Rolling Cart

Gallery
[
edit
]
Artwork
[
edit
]
Sprites & Models
[
edit
]
Screenshots
[
edit
]
Merchandise
[
edit
]
Miscellaneous
[
edit
]
Names in Other Languages
[
edit
]
アイソトープ


Aisotōpu
Isotope

---

아이소토프


Aisotopeu

Similar to Japanese name

---

小铀

 (iQue)
xiǎo yóu

---

Cleo

-

---

Birgit

-

---

Clotilde

-

---

Clea

-

---

Susanna

-
アイソトープAisotōpuIsotope아이소토프AisotopeuSimilar to Japanese name小铀xiǎo yóuUnknownUnknownUnknownUnknownUnknownUnknownUnknownUnknownCleo-Birgit-Clotilde-UnknownUnknownClea-UnknownUnknownSusanna-UnknownUnknown