Soleil
Jump to navigation
Jump to search


Species
Personality
Gender
Hamster
Snooty
Female
Birthday
August 9th
Quote
"Sometimes dreams are merely dreams."
Catchphrase
"tarnation"
Clothing
Swell Tee[nb 1]
Sari (Garnet)[nb 2]
Main appearances
Other appearances
Name in other languages


 シャンティ
 샨티
 Cettina
 Samira

 安安
 Stella
 Soraya
 Soleil

 安安
 Stella
 Soraya
 Солей

Phrase in other languages


 だってば
 파샤샤
 vriiin
 hümpf

 相信我
 gnognotte
 moflete
 korenwolf

 相信我
 ciel
 ñiqui-ñú
 о-хо-хо
This article is about the hamster villager. For the sheep villager whose English name is the same as this villager's French name, see Stella.

Soleil is a snooty hamster villager in the Animal Crossing series. She first appeared in Animal Crossing: New Leaf. Her name is derived from the French word "soleil" which means "sun."
Characteristics
[
edit
]
Appearance
[
edit
]

Soleil is an orange hamster with blonde hair, along with yellow ears and cheeks. Her eyes are green, along with the inside of her ears.
Personality
[
edit
]
Below is a brief description of the snooty personality. For more information, click here.
As a snooty villager, Soleil will first appear rude and arrogant towards the player, often talking about herself and her own experiences. She may also talk about the style and appearance of other villagers, usually other female villagers such as normal, peppy, and other snooty villagers. She will soon warm up to the player, confiding in them about their own feelings but still keeping subtly rude. She will find it hard to get along with other villagers, specifically jock and lazy villagers who have conflicting lifestyles of her own. She may get on with cranky villagers, who also enjoy gossiping about the appearance and lifestyles of others. Like peppy villagers, she reads a magazine called Ms. Nintendique, an unseen magazine featuring in Animal Crossing: Wild World.
Preferences
[
edit
]
In New Leaf

[

edit

]
Picture
Sometimes dreams are merely dreams.
Biography
Siblings
Fourth of six
Skill
Skimming books
Goal
Translator
Fear
Ghost Mask
Favorites
Clothing
Modern
Rock 'n' Roll
Color
Orange
Coffee
Type
Kilimanjaro
Milk
Lots
Sugar
Three spoonfuls
Ideal Gifts for Soleil – Orange Modern
https://dodo.ac/np/images/b/ba/SoleilPicACNH.pngFourth of sixSkimming booksTranslatorGhost MaskModernRock 'n' RollOrangeKilimanjaroLotsThree spoonfuls
In New Horizons

[

edit

]
Ideal Clothing for Soleil – Red / Yellow Cool and Gorgeous Clothing
In New Leaf

[

edit

]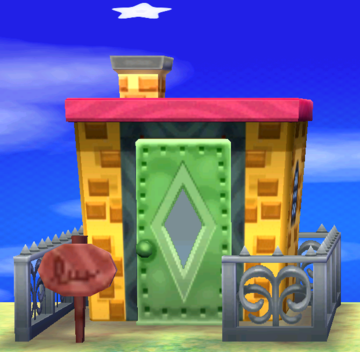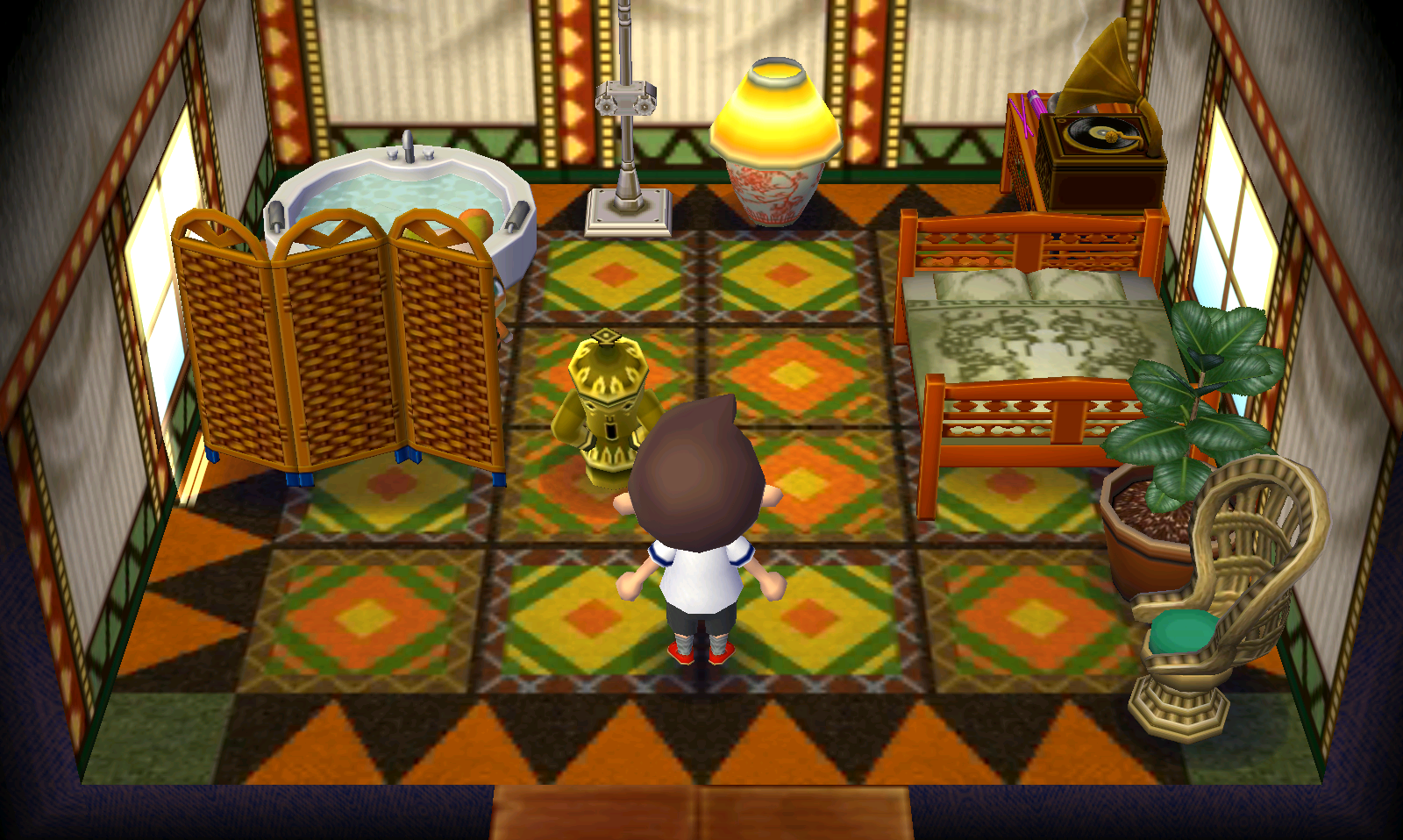 Style:
No style
Items:

 

Whirlpool Bath

 

Exotic Bed

 

Exotic Table

 

Cabana Screen

 

Shower

 

Exotic Lamp

 

Tall Dingloid

 

Rubber Tree

 

Peacock Chair

 

Incense Burner

 

Phonograph

Wallpaper:
 

Tent Wall

Floor:
 

Tent Rug

Music:
K.K. Oasis
In New Horizons

[

edit

]
Other appearances
[
edit
]
In Happy Home Designer

[

edit

]
Happy Home Designer House Info

Soleil

Type:
Hamster
Client's Vision:
A summery stronghold.
Required Items:
Hammock
Birdbath
Chaise Lounge
Favorite Song:
Forest Life
Favorite Saying:
Sometimes dreams are merely dreams.
Card profiles
[
edit
]
Animal Crossing amiibo card

Card back

#296 Soleil -

Series 3

| | |
| --- | --- |
| Type: | Hamster |
| Star sign: | Leo |
| Birthday: | August 9th |
| Dice value: | 2 |
| Hand sign: | Scissors |
Gallery
[
edit
]
Names in other languages
[
edit
]
シャンティ


Shanti

From Shanti, Sanskrit-derived word meaning inner peace.

---

샨티


Shanthi

Same as her Japanese name.

---




安安

 

/

 

安安


Ānān

Possibly from 平安 píng'ān (peace, safety).

---

Солей


Solej

French-based transliteration of Soleil.

---

Soleil

Same as her English name.

---

Samira

Chatterbox at the dinner table

---

Soraya

-

---

Stella

Latin word for star

---

Cettina

-
シャンティShantiFrom Shanti, Sanskrit-derived word meaning inner peace.샨티ShanthiSame as her Japanese name.UnknownUnknownUnknown安安安安ĀnānPossibly from 平安 píng'ān (peace, safety).UnknownUnknownUnknownСолейSolejFrench-based transliteration of Soleil.SoleilSame as her English name.SamiraChatterbox at the dinner tableSoraya-UnknownUnknownStellaLatin word for starUnknownUnknownCettina-UnknownUnknown