Quillson
Jump to navigation
Jump to search
"There is beauty in everything."
— Quillson, Animal Crossing: New Leaf
Quillson
 

 

タックン

 

덕근

 

何童

 

Narcisse

 

Verdonio

 

Cuálter

 

Quentin

 

Quillson

 

Квилсон

| Species | Personality | Gender |
| --- | --- | --- |
| Duck | Smug | Male |

Birthday
December 22nd
Phrase
ridukulous

More languages

 マジかよ
 리얼리
 说真的
 說真的
 arrêêêête
 cua cua
 verdoncho
 cuacoac
 pluster
 smient
 шу-утка

Clothes
Tan Puffy Vest
New Leaf
Checkered Mufflet (White)
New Horizons
Saying
There is beauty in everything.
Main Games
Other Games

Quillson is a smug, duck villager who first appears in Animal Crossing: New Leaf. His name comes from "quill," meaning the lower shaft of a feather, or a pen made from one. His phrase, "ridukulous," is a combination of the words "ridiculous" and "duck."
Characteristics
[
edit
]
Appearance
[
edit
]
Quillson is a green duck with green feathers with a pink/red beak. He has lazy looking eyes and blond hair, with darker blue/gray freckles.
Personality
[
edit
]
Below is a brief description of the Smug personality. For more information, click here.
Quillson is a Smug villager, meaning he will come off as a gentlemen and polite. Smug villagers seem to be a mix between some personalities, and are kind, lively but can come off as conceited. If the player is female, they will occasionally flirt. Smug villagers cannot be a starter villager, and can only move in after the player becomes mayor. They wake up at 8:30 am.
Preferences
[
edit
]
In New Leaf

[

edit

]
Picture
There is beauty in everything.
Biography
Siblings
Middle of seven
Skill
Skimming books
Goal
Musician
Fear
Bugs
Favorites
Clothing
Sporty
Basic
Color
Orange
Coffee
Type
Kilimanjaro
Milk
A little bit
Sugar
One spoonful
Ideal Gifts for Quillson – Orange Sporty
https://dodo.ac/np/images/3/3f/QuillsonPicACNL.pngMiddle of sevenSkimming booksMusicianBugsSportyBasicOrangeKilimanjaroA little bitOne spoonful
In New Horizons

[

edit

]
Ideal Gifts for Quillson – Beige / Orange Elegant and Cool Items
Name
Image
Price
Available From

No results
https://dodo.ac/np/images/3/3f/QuillsonPicACNL.pngUnknownUnknownUnknownUnknownUnknownUnknownUnknownUnknownUnknownUnknown
In New Leaf

[

edit

]
Quillson's house has a few pieces of furniture from the Modern Series, which are the Modern Bed and Modern Sofa. He also has a Surfboard, a Dartboard, a Pink Velvet Stool, and an Arowana. He has two stereo systems which play K.K. Groove.
In New Horizons

[

edit

]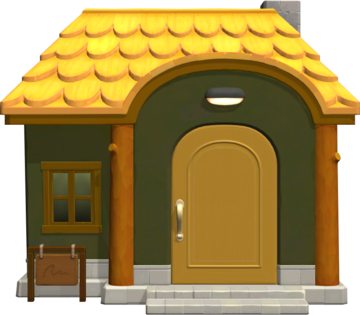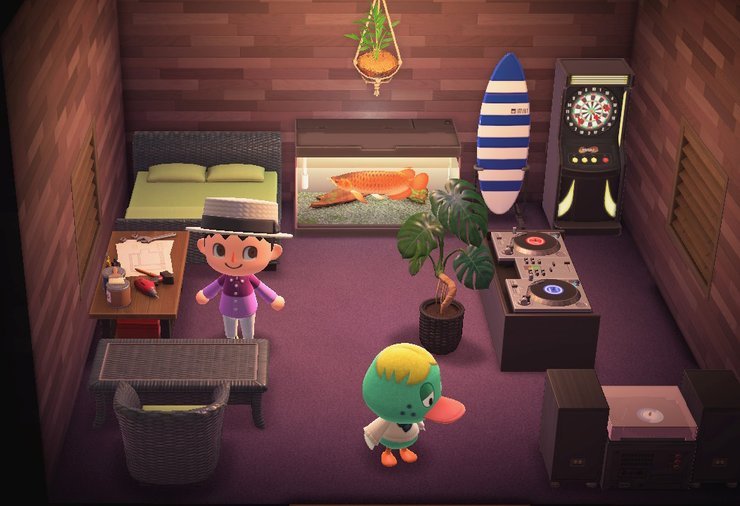 Style:
No style
Items:
Wallpaper:
 

Dark Wooden-Mosaic Wall

Flooring:
 

Simple Purple Flooring

Music:
K.K. Groove
Card profiles
[
edit
]
Happy Home Designer amiibo Card

[

edit

]
Animal Crossing amiibo card

Card back

#041 Quillson -

Series 1

| | |
| --- | --- |
| Type: | Duck |
| Star sign: | Capricorn |
| Birthday: | December 22 |
| Dice value: | 4 |
| Hand sign: | Paper |
Gallery
[
edit
]
Names in other languages
[
edit
]
タックン


Takkun

From the English word "duck."

---

덕근


Deokgeun

---

何童




---

Квилсон


Kvilson

From English name

---

Quillson

Same as English name

---

Quentin

-

---

Cuálter

-

---

Narcisse

French for the narcissus flower; also a character of mythology fond of himself, hence the term narcissistic

---

Verdonio

-
タックンTakkunFrom the English word "duck."덕근DeokgeunUnknownUnknown-何童UnknownUnknownUnknownUnknownUnknownКвилсонKvilsonFrom English nameQuillsonSame as English nameQuentin-Cuálter-UnknownUnknownNarcisseFrench for the narcissus flower; also a character of mythology fond of himself, hence the term narcissisticUnknownUnknownVerdonio-UnknownUnknown