Toby
From Nookipedia, the Animal Crossing wiki
"Yo! What are you up to? Wanna try <activity> with me for a while?"
— Wisp imitating Toby, Animal Crossing: New Leaf - Welcome amiibo


Species
Personality
Gender
Rabbit
Smug
Male
Birthday
July 10th
Favorite saying
"Toby or not Toby? I don't know, I'm asking you."
Catchphrase
"ribbit"
Clothing
Kerokerokeroppi Tank Top[nb 1]
Main appearances
Other appearances

Phrase in other languages

 

けろけろ

 

케로케로

 

kerokero

 

kerokero

 

蛙蛙

 

kérocarot

 

keroppi

 

kikk'r

 

蛙蛙

 

kérocarot

 

keroppi

 

зайцеквак
Toby is a smug rabbit villager in the Animal Crossing series. He first appeared in Animal Crossing: New Leaf - Welcome amiibo. He is one of the Sanrio crossover villagers and is based on the character Kerokerokeroppi.
In New Horizons, Toby has the music hobby and may sing anywhere without the need of a stereo.
Characteristics
[
edit
]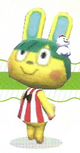 Appearance
[
edit
]
Toby is a yellow rabbit with pale blue on the insides of his ears. His eyes are large and simple, with small black pupils. He has a blue oval-shaped nose and a mouth which is curved into a smile by default. He has dark green hair styled almost like a bowl cut, which runs straight across his forehead, is parted away from his left eye and partially obscures his right eye. He has pale orange cheek blush, as well as the same pale orange coloration on his hands, feet, and tail. His design is based on the Sanrio character Kerokerokeroppi, and his hair is decorated with the white doll that Kerokerokeroppi is often seen carrying around. He initially wears the Kerokerokeroppi Top, which has vertical red and white stripes, and a black bowtie.
Personality
[
edit
]
Below is a brief description of the smug personality. For more information, click here.
Toby is a smug villager, meaning he is well-mannered, polite, and friendly. He is quite flirtatious and has a fair number of unseen hobbies that include collecting plastic bottle caps and constantly talking about trains. He enjoys complimenting other villagers, including the player, and he is generous and quite easy to befriend. He is fairly easy to disappoint when the player refuses to trade in items and if the player fails to complete a favor from him.
Villager information
[
edit
]
In Welcome amiibo

[

edit

]
In Animal Crossing: New Leaf - Welcome amiibo, Toby can only move to the player's town if his amiibo card is scanned.
Birthday
Personality
Catchphrase
July 10
Smug
ribbit
Default clothing
Kerokerokeroppi Top
Default umbrella
Ghost Umbrella
Favorites
Favorite style
Cute
Least favorite style
Ornate
Favorite color

 

Green

Biography
Siblings
Youngest of 5 kids
Skill
Swimming
Goal
Weatherperson
Halloween fear
Bug Mask
Coffee preferences
Type of beans
Mocha
Amount of milk
The regular amount
Amount of sugar
Two spoonfuls
In New Horizons

[

edit

]
While initially absent from Animal Crossing: New Horizons, Toby was added in an update on March 18, 2021, and he can only move to the player's island if his amiibo card is scanned.[1] Additionally, in all versions of the game, the Kerokerokeroppi Poster can be obtained from Nook Shopping after attempting to invite Toby to Photopia via his amiibo card.
Ideal clothing for Toby – Green / Orange Cute and Elegant clothing
Villagers prefer clothing that matches any one of their favorite colors or styles.
For brevity, the following list only shows clothing that matches both favorite colors and one favorite style.
In Welcome amiibo

[

edit

]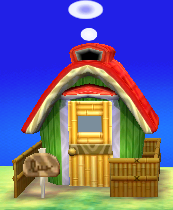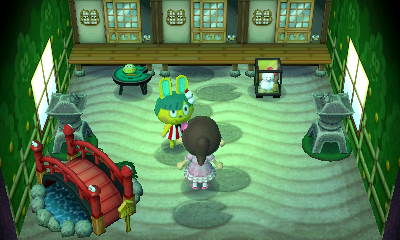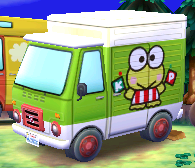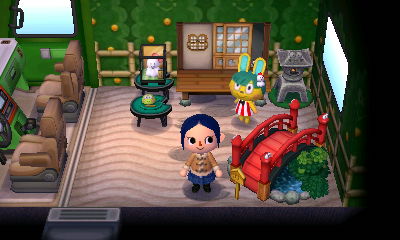 Description:
If Toby put as much time into maintaining his camper as he does into his Kerokerokeroppi collection, he wouldn't have to take it to the shop all the time.
Items:

 

Kerokerokeroppi Cake

 

Kerokerokeroppi Doll

 

Kerokerokeroppi Tray (x2)

 

Shoji Bench

 

Stone Lantern

 

Tranquil Bridge

Wallpaper:
 

Kerokerokeroppi Wall

Floor:
 

Gray Patterned Floor

Music:
 King K.K.
In New Horizons

[

edit

]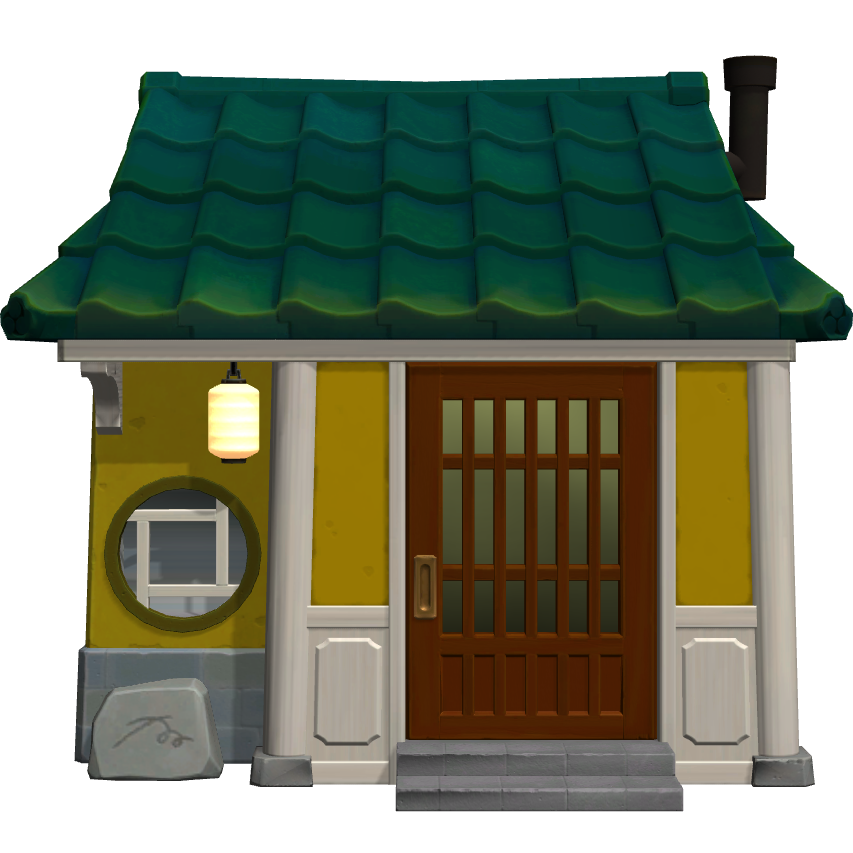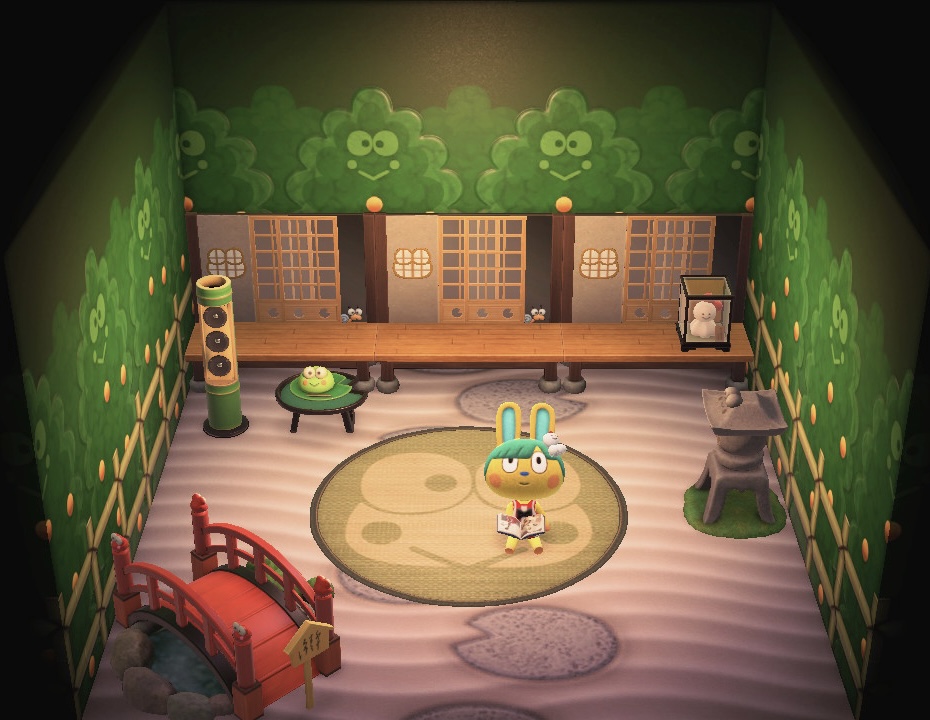 Other appearances
[
edit
]
In Pocket Camp

[

edit

]
Toby was added to Animal Crossing: Pocket Camp on August 9, 2019 as part of Sanrio Characters Collection #3[2] and was available until December 2019.[citation needed] He will become available again in the Sanrio Characters Collection 2021 beginning March 26, 2021.[3]
Birthday
Personality
Catchphrase
July 10
Smug
ribbit
Default clothing
Kerokerokeroppi Top
Biography
Description
If Toby put as much time into maintaining his camper as he does into his Kerokerokeroppi collection, he wouldn't have to take it to the shop all the time.
Preferred theme
Primary reward
Wood
Version added
2.5.2a
Date unlocked

August 9, 2019

How to invite
 Blathers's Treasure Trek
Friendship rewards
Level 7
Kerokerokeroppi Top
Sparkle Stone
Level 9
Sparkle Stone
Level 20
Toby‎‎'s Pic
Sparkle Stone
Level 25 - 50
Sparkle Stone
Card profiles
[
edit
]
Welcome amiibo card

[

edit

]
Gallery
[
edit
]
Names in other languages
[
edit
]
トビー


Tobī
Same as English name

---

토비


Tobi
Same as English name

---




咚比

 

/

 

咚比


Dōng bǐ
Toby

---

Тоби


Tobi
Same as English name

---

Toby

Same as English name

---

Toby

Same as English name

---

Toby

Same as English name

---

Toby

Same as English name

---

Toby

Same as English name
See also
[
edit
]
References
[
edit
]
Crossover villagers