Inkwell
From Nookipedia, the Animal Crossing wiki
"Hey there! Meet the coolest player in your town–yours truly!"
— Wisp imitating Inkwell, Animal Crossing: New Leaf - Welcome amiibo


Species
Personality
Gender
Octopus
Jock
Male
Birthday
June 2nd
Favorite saying
"A sucker is born every minute."
Catchphrase
"splat"
Clothing
Black anchor tee
Umbrella
Flame umbrella
Main appearances


Other appearances

Phrase in other languages
Inkwell is a jock octopus villager in Animal Crossing: New Leaf - Welcome amiibo. Inkwell references Splatoon and is one of several villagers introduced in the Welcome amiibo update that references other Nintendo franchises. His birthday is the same date Splatoon introduced the Ranked Battle feature in an update. Inkwell's name refers to the ink that octopuses produce, a major gameplay element in Splatoon. Likewise, his Japanese name contains sumi, "ink." His catchphrase, "splat," is Splatoon truncated. His favorite saying includes a pun on sucker, a reference to the suckers on the tentacles of his species.
Inkwell can only move to the player's town if either the Inkling Girl, Inkling Boy, or Inkling Squid amiibo is scanned and he is invited to move in from the campground. He cannot be asked to move in from another player's town or campground.
Characteristics
[
edit
]
Appearance
[
edit
]
Inkwell's design is based on an Inkling squid from Splatoon. He is an orange octopus with dark orange stripes on the back of his head and tentacles. The bottom of his tentacles are white. His eyes are right next to each other, almost making him appear as having one large eye with two pupils. He has a large brow and the underside of his eyes has a thick, dark outline.
Personality
[
edit
]
Below is a brief description of the jock personality. For more information, click here.
Inkwell is a jock villager, which means that he will enjoy sports and exercising. He will get along with peppy, big sister, cranky, and other jock villagers, but will conflict with lazy villagers' laid-back lifestyle. He also may have trouble getting along with snooty villagers as well.
Villager information
[
edit
]
In Welcome amiibo

[

edit

]
In Animal Crossing: New Leaf - Welcome amiibo, Inkwell's skill of "defending territory" is a reference to Splatoon gameplay, which typically involves capturing and defending territory in game modes such as Turf War and Splat Zones. His goal of "squid" is a reference to the two competing factions in the first Splatoon game: Octolings, the antagonistic faction that can transform into octopuses, and Inklings, the more peaceful faction who can transform into squids. Inkwell's species as an octopus represents being an Octoling, and his goal of "squid" represents wanting to become an Inkling, as confirmed in his RV description.
Birthday
Personality
Catchphrase
June 2
Jock
splat
Default clothing
Black anchor tee
Default umbrella
Flame umbrella
Favorites
Favorite style
Sporty
Least favorite style
Cute
Favorite color

 

None

Biography
Siblings
Only child
Skill
Defending territory
Goal
Squid
Halloween fear
Mummy mask
Coffee preferences
Type of beans
Blue Mountain
Amount of milk
Lots
Amount of sugar
Three spoonfuls
In Welcome amiibo

[

edit

]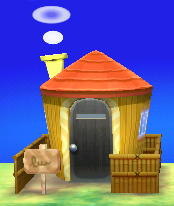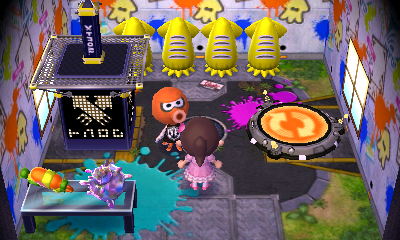 Inkwell's RV shares its colors with Cece and Viché's.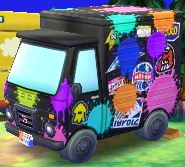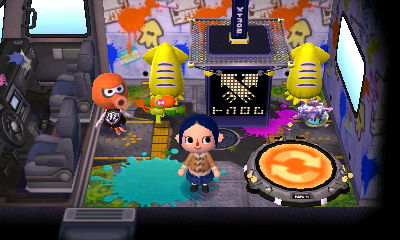 "Order furniture" in Inkwell's RV
The player can only order from campers up to three times per day. The items arrive via mail.
Includes data sourced from the Data Spreadsheet for Animal Crossing: New Leaf, compiled by TimeSword3D, AlexBot2004, AlgebraManiacABC, Chubby Bub, Cuyler, HylianAngel, Kalina70, PanchamBro, SuperHamster, and vmario.
Gallery
[
edit
]
Names in other languages
[
edit
]
スミダクン


Sumidakun
Mr. Sumida (a Japanese surname), also sumi means "ink"

---

멍무리


Meongmuri
-

---

Klecks
-

---

Tintelio

From tinta, the Spanish word for "ink"

---

Pigmento

From the word pigment

---

Polpotto

Portmanteau of polpo, "octopus," and otto, "eight." It could also be loosely translated as "little octopus."
See also
[
edit
]