Snooty
From Nookipedia, the Animal Crossing wiki
This article is about the personality. For the anteater villager, see Snooty (villager).
"She's very calm and grown up. I'm not the only person in town who looks up to her!"
— Isabelle, talking about a snooty villager, Animal Crossing: New Leaf
Snooty[1][2] is a female villager personality type in the Animal Crossing series. Snooty villagers are portrayed as self-centered and arrogant, and in earlier games they are dismissive toward the player.
As of the release of Animal Crossing: New Horizons, there are a total of 67 snooty villagers across the series;[nb 1] 57 appear in New Horizons.
Characteristics
[
edit
]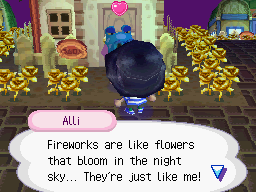 Behaviors
[
edit
]
Snooty villagers are well-spoken and polite, but sometimes appear self-centered and arrogant towards other villagers, including the player. In Animal Crossing: New Leaf, they speak with a lower-pitched and sophisticated, almost charming voice, which sounds similar to the voices used by smug villagers. Animal Crossing: New Horizons gives them a soft and sophisticated voice similar to the normal villagers, but at a lower pitch. If the player talks to them often, they open up and become more talkative, and will sometimes give the player lessons in fashion. However, this doesn't prevent them from making the occasional scathing comment. Snooty villagers usually have upper-class names, or names relating to high-value items and gemstones, making them easy to distinguish when talking to villagers around the town. In Animal Crossing: New Leaf, the arrogant nature of snooty villagers is toned down.
Like peppy villagers, they read "Ms. Nintendique" frequently, coming out with quotations from the magazine such as what their lucky item of the day is, or saying that they bought so much blush that the magazine gave them a shirt, and then they say, "Here, you can have it!" and give it to the player. They will often talk about Gracie and how much they love her clothing.
In Animal Crossing: Happy Home Designer, snooty villagers turn into stereotypical, yet still self-centered housewives. As such, their main interests lean toward housecleaning, cooking (especially cakes) and gossip rather than fashion. While more amiable and polite than usual, snooty villagers still put themselves in high regards; thus, it is not rare to see them comparing their lifestyle with other, unknown neighbors – while still lingering in the thought of having someone who shares their refined tastes. In their spare time, they like reading magazines and play games like sudoku. However, snooty villagers still maintain a sort of reckless and materialistic day-to-day approach to life, which is almost crystal-clear while they go shopping: they can't resist the urge of buying things, and carelessly let their problems slide on the shoulders of their future-selves.
In Animal Crossing, snooty villagers go to sleep at 2:30 AM and wake up at 9:00 AM. In Animal Crossing: Wild World and Animal Crossing: City Folk, they go to sleep at 3:30 AM and wake up at 9:30 AM. In Animal Crossing: New Leaf, they go to sleep at 2:00 AM and wake up at 9:30 AM. In Animal Crossing: New Horizons, they usually go to sleep at 2:30 AM and wake up at 8:30 AM.
Relationships
[
edit
]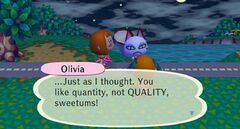 Because of their arrogant behaviors, they will find it difficult to socialize with cranky villagers, due to cranky villagers expressing a bitter distaste about their lifestyle. They may even be the subject of a rumor being spread by them. Lazy villagers also conflict with snooty villagers due to opposite lifestyles: lazy villagers spent their time relaxing, eating, and not worrying about their physical appearance or lifestyle. Jocks often criticize snooty villagers for their lack of fitness, who will be offended by them for insulting their appearance. Peppy villagers frankly complain to snooty villagers about their rudeness, which again offends them. On some occasions, however, a peppy villager may admire a snooty villager for their fashion sense.
Despite this, snooty villagers will get along with smug villagers perfectly, due to common interests and behaviors: smug villagers are also arrogant and boastful, and also have elegant lifestyles. Normal villagers also get along well with them, due to the kind nature of normal villagers, but will still be angered by them if the wrong things are said.
Below are some (not all) quotes made by snooty villagers.
Oh hey! I've been hearing people talk about you. They're saying you don't speak politely. Really, being polite is the easiest thing in the world. Just say "please" a lot. As in, "please share your <dessert> with me, or else!" Or, "please don't spread rumors about me, or else!" Got it, (catchphrase)?"
You know, <player name>, when I was a kid, I wanted to be a pop star. But there was one thing that I didn't have...
Responses will be:
"Good looks?"
"Money?"
"What was it?"
Portraits
[
edit
]
Below is relevant only to Animal Crossing: Wild World.
Snooty villagers will ask the player the following question to trigger their portrait-giving sequence:
"This may sound sudden to but... You do have siblings right?"

Responses will be:

"Why do you ask?"
"Nope"
"I don't know."

By choosing "I don't know", and after a tirade about being mysterious, she will reply by saying:

"What would you say if I gave this to you? This is very rare."

The player can respond by saying this:

"You go, girl?"
All snooty villagers will say that at one point (if talked to enough).
Snooty villagers
[
edit
]
Current
[
edit
]


Dialogue
[
edit
]
Discounting species that exclusively contain male villagers, snooty is tied with jock as the personality with the least amount of species that have never received a villager with said personality, at one species each. The only species without a snooty villager is the octopus.

Additionally, no frog, rabbit, or tiger villagers initially had the snooty personality, but later installments did introduce villagers of those species with said personality. However, Ursala, the only snooty bear in the series, would switch to a big sister personality in Welcome amiibo, meaning no bear villagers have the snooty personality as of New Horizons.

All snooty islanders who returned in later installments would retain their personality, making it the only personality with that distinction.
Names in other languages
[
edit
]
オトナ


Otona
Adult

---

성숙함


Seongsukham
Mature

---

Высокомерная


Vysokomernaya
Arrogant

---

Hochnäsig[3]
Snobbish

---

Presumida[nb 2][4]
Vain

---

Arrogant[5]
Arrogant

---

Altezzosa[6]
Haughty
↑ Beginning in Animal Crossing: New Leaf, two villagers who have the snooty personality in previous games had their personalities changed. If these villagers are counted, there are a total of 69 snooty villagers across the series.
↑ Altanera (Haughty) in the first edition of the book.
References
[
edit
]