Miranda
Jump to navigation
Jump to search
Miranda
 

 

ミランダ

 

미란다

 

米兰达

 

Maëllis

 

Miranda

 

Miranda

 

Tanya

 

Miranda

 

Миранда

Birthday
April 23rd
Phrase
quackulous

More languages

 

なにさ

 괜찮아
 怎么回事
 怎麼回事
 couac
 quaquao
 cua-cuá
 brotbrot
 kwektakel
 

покрясающе

Clothes
Laced Shirt

*


Amethyst Tank

*

Saying
If the world was flooded, it will be easy for the duck.


人を謗るは鴨の味

Main Games
Other Games
Miranda is a snooty duck in the Animal Crossing series that originally appeared in Doubutsu no Mori e+, and later returned in Animal Crossing: City Folk.
Characteristics
[
edit
]
Appearance
[
edit
]

Miranda is a pink duck with a dark pink bob cut, baby blue eye shadow, red blush, and pink wings with white tips. She has orange feet, and her eyes have a twinkle to them.
Personality
[
edit
]
Below is a brief description of the snooty personality. For more information, click here.
As a snooty villager, Miranda will appear uptown, classy, and chic. With this, however, she will appear rude, belittling, and snobbish when talking to the player or other villagers in the town, usually criticizing their dress sense or fashion. When talking to the player enough times, she will befriend them but still remain subtly rude. As with all snooty villagers, she has an interest in clothes over other hobbies. She will have problems socializing with other villagers, usually lazy villagers by disagreeing with their choice of lifestyle or getting offended by a jock villager, who has questioned her physical fitness. She may compliment players wearing an in-season GracieGrace clothing.
Preferences
[
edit
]
In City Folk

[

edit

]
Favorites
Clothing
Gaudy
Fresh
Furniture Genre
Trendy/Dignified
Furniture Series
Classic
Furniture Color
Yellow
Ideal Furniture for Miranda – Yellow Trendy/Dignified
https://dodo.ac/np/images/7/74/MirandaPicACNL.pngUnknownUnknownUnknownUnknownGaudyFreshYellowUnknownUnknownUnknown
In New Leaf

[

edit

]
Picture
If the world was flooded, it will be easy for the duck.
Biography
Siblings
Older twin
Skill
Subsistence living
Goal
Model
Fear
Mummy Mask
Favorites
Clothing
Ornate
Sporty
Color
Yellow
Coffee
Type
Blend
Milk
None
Sugar
None
Ideal Gifts for Miranda – Yellow Ornate
https://dodo.ac/np/images/7/74/MirandaPicACNL.pngOlder twinSubsistence livingModelMummy MaskOrnateSportyYellowBlendNoneNone
In New Horizons

[

edit

]
Photo
If the world is flooded, it will be easy for the duck.
Favorites
Style
Elegant
Gorgeous
Color
Blue / Purple
Ideal Gifts for Miranda – Blue / Purple Elegant and Gorgeous Items
https://dodo.ac/np/images/7/74/MirandaPicACNL.pngUnknownUnknownUnknownUnknownUnknownUnknownUnknownUnknownUnknownUnknown
In Doubutsu no Mori e+

[

edit

] Style:
No style
Items:

 

Mega Bovoid

 

Retro Stereo

 

Cabana Lamp

 

Pine Table

 

Pine Chair

 

Pine Chair

 

Toad Umbrella

 

Cactus

 

Round Cactus

 

Daffodil

Wallpaper:
 

Lattice Wall

Floor:
 

Checkered Tile

Music:
K.K. Salsa
In City Folk

[

edit

] Style:
No style
Items:

 

Pine Table

 

Pine Chair

 

Retro Stereo

 

Large Oomboid

 

Round Cactus

 

Cactus

Wallpaper:
 

Lattice Wall

Floor:
 

Checkered Tile

Music:
K.K. Salsa
In New Leaf

[

edit

] Style:
No style
Items:

 

Harp

 

Corn Plant

 

Whirlpool Bath

 

Rococo Bed

 

Rococo Table

 

Rococo Vanity

 

Sconce

 

Red Lilies

 

Phonograph

 

Classic Sofa

 

Rope Partition

 

Vintage Telephone

Wallpaper:
 

Lattice Wall

Floor:
 

Palace Floor

Music:
K.K. Sonata
In New Horizons

[

edit

]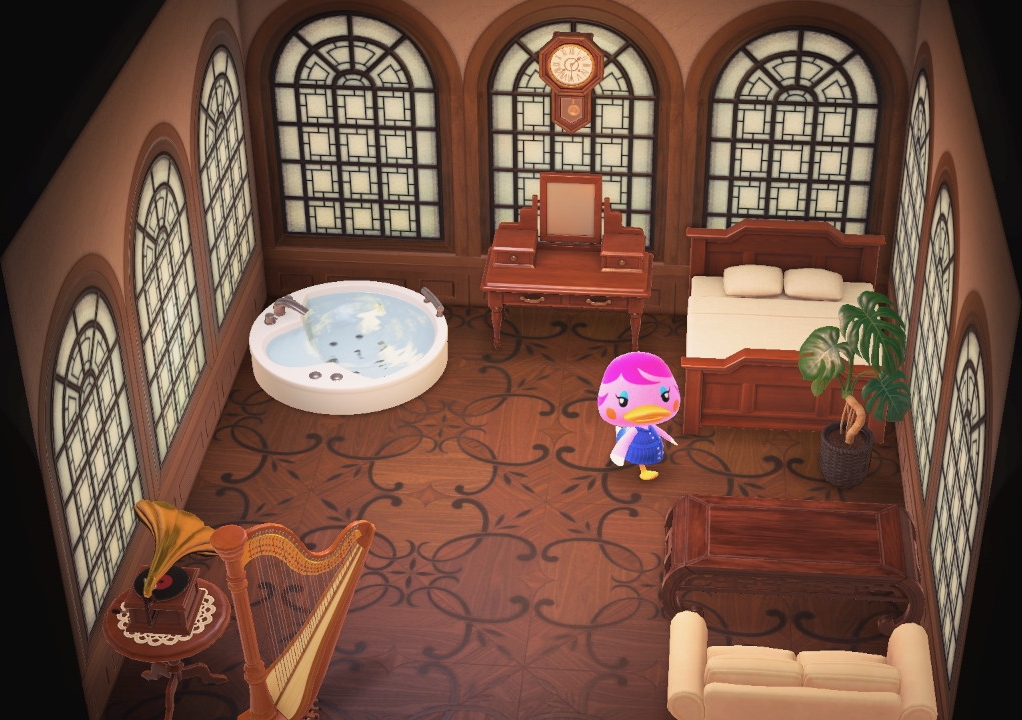 Other appearances
[
edit
]
In Happy Home Designer

[

edit

]
Happy Home Designer House Info

Miranda

| | |
| --- | --- |
| Type: | Snooty Duck |
| Client's Vision: | A stay-fit home |
| Required Items: | Wii Balance Board, Flat-Screen TV |
| Favorite Song: | DJ K.K. |
| Favorite Saying: | If the world was flooded, it would be easy for a duck. |
Card profiles
[
edit
]
Animal Crossing amiibo Card

[

edit

]
Animal Crossing amiibo card

Card back

#222 Miranda -

Series 3

| | |
| --- | --- |
| Type: | Duck |
| Star sign: | Taurus |
| Birthday: | April 23rd |
| Dice value: | 6 |
| Hand sign: | Rock |
Gallery
[
edit
]
Names in other languages
[
edit
]
ミランダ


Milanda

Miranda

---

미란다


Milanda

Miranda

---

米兰达




---

Миранда


Miranda

From English/Japanese name

---

Miranda

Same as English/Japanese name

---

Tanya

-

---

Miranda

-

---

Maëllis

Maellis

---

Miranda

-
ミランダMilandaMiranda미란다MilandaMirandaUnknownUnknown-米兰达UnknownUnknownUnknownUnknownUnknownМирандаMirandaFrom English/Japanese nameMirandaSame as English/Japanese nameTanya-Miranda-UnknownUnknownMaëllisMaellisUnknownUnknownMiranda-UnknownUnknown