Diva
Jump to navigation
Jump to search
Diva
 

 

アイーダ

 

아이다

 

小睫

 

Violette

 

Viola

 

Morania

 

Dörte

 

Diva

 

Дива

Birthday
October 2nd
Phrase
ya know

More languages

 ハーン
 흐응
 蛤
 cuicuisse
 crabum
 crocró
 platsch
 jeweetwel
 знаешь

Clothes
Amethyst Tank
Saying
Eyes are the windows to the soul.
Main Games
Other Games
Diva is a sisterly, frog villager in the Animal Crossing series. She first appeared in Animal Crossing: New Leaf. Her English name originates from a term for a celebrated female opera singer, which is nowadays more commonly used for women in theater, cinema, and popular music.
Characteristics
[
edit
]
Appearance
[
edit
]
Diva is a purple frog with dark purple hair and prominent eyelashes. She has pink eyes, light purple lipstick and sky blue eye shadow. Diva also has dark purple hands and feet.
Personality
[
edit
]
Below is a brief description of the sisterly personality. For more information, click here.
As a sisterly villager, Diva will act like a big sister to the player. While she can be blunt and is not afraid to speak her mind, she is also concerned about the player and will help them out on many things, such as giving advice or giving them medicine if the player has a bee sting. She is tomboyish, but gets along well with most villagers, especially lazy villagers and jock villagers. She will not get along well with snooty or cranky villagers, however, due to their habit of spreading gossip.
Preferences
[
edit
]
In New Leaf

[

edit

]
Picture
Eyes are the windows to the soul.
Biography
Siblings
Middle of three kids
Skill
Home repair
Goal
Hair stylist
Fear
Ghost Mask
Favorites
Clothing
Ornate
Basic
Color
Purple
Coffee
Type
Kilimanjaro
Milk
None at all
Sugar
None at all
Ideal Gifts for Diva – Purple Ornate
https://dodo.ac/np/images/6/6d/DivaPicACNL.pngMiddle of three kidsHome repairHair stylistGhost MaskOrnateBasicPurpleKilimanjaroNone at allNone at all
In New Horizons

[

edit

]
Ideal Gifts for Diva – Purple / Light Blue Gorgeous and Elegant Items
https://dodo.ac/np/images/6/6d/DivaPicACNL.pngUnknownUnknownUnknownUnknownUnknownUnknownUnknownUnknownUnknownUnknown
In New Leaf

[

edit

]
Diva's house contains furniture from the Rococo Series, including two Rococo Sofas, a Rococo Table and a Rococo Dresser. The Rococo Dresser and the Rococo Table have a Genie's Lamp sitting on top of both. She also owns a Harp, a Corinthian Post, a Weeping Fig, a Whirlpool Bath and two Mummy's Caskets. Her wallpaper is the Palace Wall and her carpet is the Saharah's Desert. K.K. Bazaar plays on her Phonograph.
In New Horizons

[

edit

]
In Animal Crossing: New Horizons, Diva's house is themed after Ancient Egypt, with models of several monuments and hieroglyphic wallpaper.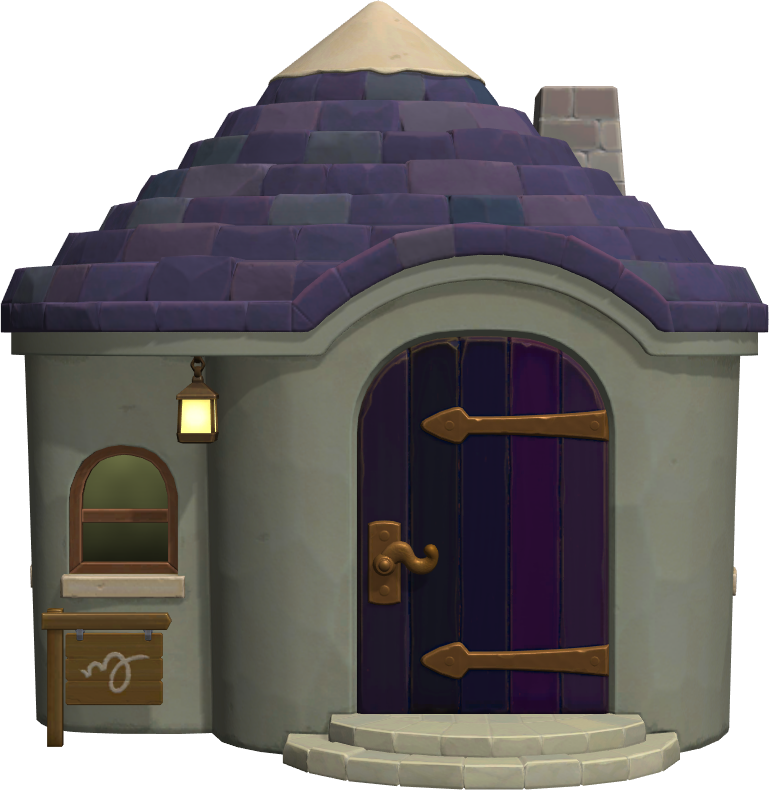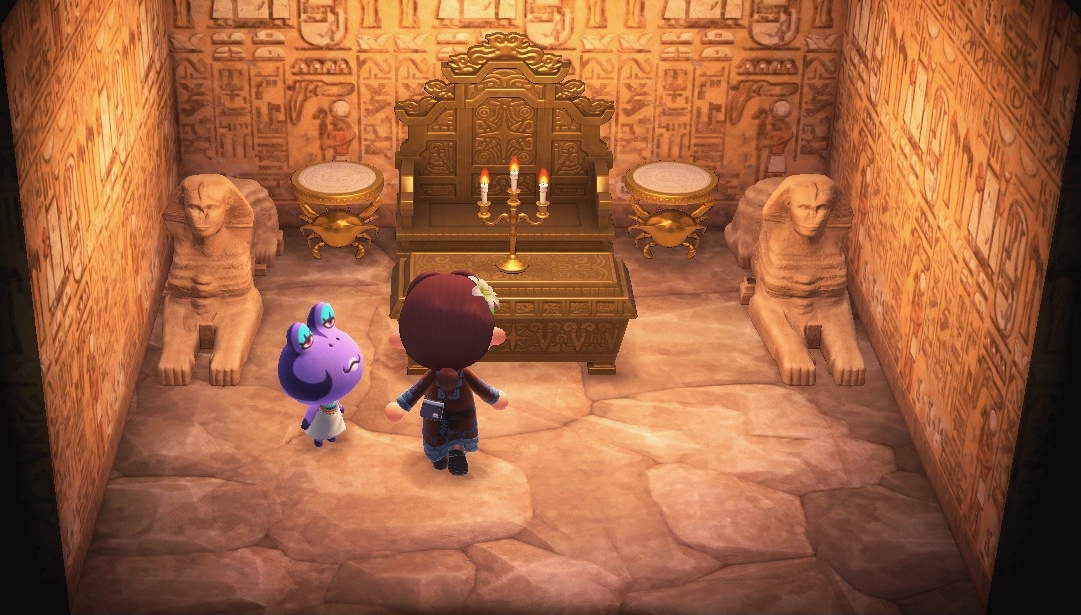 Style:
No style
Items:
Wallpaper:
 

Ancient Wall

Flooring:
 

Rocky-Mountain Flooring

Music:
K.K. Oasis
Other appearances
[
edit
]
In Happy Home Designer

[

edit

]
Happy Home Designer House Info

Diva

Type:
Frog
Client's Vision:
A place with good vibes.
Required Items:
Tribal mask,
Mouth of Truth
Favorite Song:
K.K. Milonga
Favorite Saying:
Eyes are the window to the soul.
In Pocket Camp

[

edit

]
Appearance since October 16th, 2018
Animal Crossing: Pocket Camp Character Info

Needed to Invite:

Required Friendship Level: 7


| | | | | |
| --- | --- | --- | --- | --- |
| | | | | |
| Rococo Chair | Tribal Mask | Desk Mirror | Creepy Crystal | Rococo Wardrobe |

Friendship Rewards:


Amethyst Tank
and Sparkle Stone


Sparkle Stone


Magic Circle Rug
Craft Unlock
Level 7
Level 9
Level 15


Pic of Diva‎‎
and Sparkle Stone


Sparkle Stone


Sparkle Stone

Level 20
Level 25
Level 30

| | | |
| --- | --- | --- |
| Sparkle Stone | Sparkle Stone | Sparkle Stone |
| Level 35 | Level 40 | Level 45 |

Diva


It's hard to fluster someone like Diva. Likely you could go as far as to wear a pair of pants on your head, and she wouldn't blink an eye.

 Preferred theme:
 Primary reward:
 Wood
Card profiles
[
edit
]
Animal Crossing amiibo Card

[

edit

]
Animal Crossing amiibo card

Card back

#256 Diva -

Series 3

| | |
| --- | --- |
| Type: | Frog |
| Star sign: | Libra |
| Birthday: | October 2nd |
| Dice value: | 4 |
| Hand sign: | Paper |
Gallery
[
edit
]
Names in other languages
[
edit
]
アイーダ


Aīda
Reference to Verdi's opera Aida, which is set in Ancient Egypt and is known for spectacular scenery and costume. This might also be the inspiration of her house.

---

아이다


Aida

From Japanese name

---




小睫

 

/

 

小睫


Xiǎo jié

"Eyelashes"

---

Дива


Diva

From English name

---

Diva

Same as English name

---

Dörte

Alternative form of Dorothea in Low German; equivalent to Dorothy in English

---

Morania

From "Morado" (purple) and "Rania" (female name)

---

Violette

French for violet

---

Viola

Italian for violet
アイーダAīdaReference to Verdi's opera Aida, which is set in Ancient Egypt and is known for spectacular scenery and costume. This might also be the inspiration of her house.아이다AidaFrom Japanese nameUnknownUnknownUnknown小睫小睫Xiǎo jié"Eyelashes"UnknownUnknownUnknownДиваDivaFrom English nameDivaSame as English nameDörteAlternative form of Dorothea in Low German; equivalent to Dorothy in EnglishMoraniaFrom "Morado" (purple) and "Rania" (female name)UnknownUnknownVioletteFrench for violetUnknownUnknownViolaItalian for violetUnknownUnknown