Orville
From Nookipedia, the Animal Crossing wiki
"Hey hey hey! Welcome to your one and only gateway to the skies, the <island name> Airport. How can I help you out today?"
— Orville, Animal Crossing: New Horizons


Species
Gender
Dodo
Male
Birthday
October 2nd
Favorite saying
"Free as a bird."
Role
Airport
Main appearances


Other appearances
Orville is a dodo in Animal Crossing: New Horizons who works at the Airport as the ground crew. His and Wilbur's names are likely references to the Wright brothers, the inventors of the first successful airplane.
Characteristics
[
edit
]
Appearance
[
edit
]
Like Wilbur, Orville is a dodo with blue feathers, a yellow face, slightly oval-shaped white eyes with black irises, a large beak with a large brown upper tip and a brown lower lip, a nose being a part of his beak's upper part, a brown inner-mouth with a light-brown tongue, white fingers, a tail with three white and bluish-cyan feathers, and yellow feet with stripes (colors being orange and brownish-orange) and dark-brown nails.
Clothing
[
edit
]
Like Wilbur, Orville wears a pilot's uniform, which consists of a white shirt, a red tie, and a black belt with a small pouch. He also wears a black headset.
Personality
[
edit
]
Like Wilbur, Orville is a hard-working flight worker.
Appearances
[
edit
]
In New Horizons

[

edit

]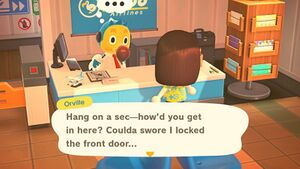 On the first day after the player has landed and marked their new home at their island, Orville will tell the player that they are unable to fly anywhere or open gates until the following next day. He then allows the player to fly or open gates. The player will have to go through things before flying or opening the gate like in previous titles, they also have the option to have a Dodo Code to share with players locally, online with friends or worldwide if shared. He will also give the player a first time read about local and online play and warnings before proceeding. Resident players who first joined the island can have access to fly to other islands or open their gate. He also will allow players to visit Harv's Island or use a Nook Miles Ticket to visit Mystery Islands.
Orville also handles sending letters to residents and villagers on the island, the player's future self and friends, replacing Pete, Pelly, and Phyllis's roles respectively. The player must at least have their friend visited their island or the player travels to visit their friend's island in order to send letters to their registered friends via friend list. They can only send two letters to the same friend per day.
Other appearances
[
edit
]
In Super Smash Bros. Ultimate

[

edit

]
Orville appears as spirit alongside Wilbur in Super Smash Bros. Ultimate.
Category
Class
Slot cost
Support Spirit
Ace (★★★)
1 (⬢)
Ability
Undamaged Attack & Speed ↑
Acquisition
Battle via Spirit Board (during the event "Animal Crossing Spirits! Yes, Yes!"; available normally once obtained or since July 21, 2020)
Battle information
Enemy fighters
Orange Falco
White Falco
Type
Grab
Power
9,500
Stage
Pilotwings
Rules
Item: Cucco
Conditions
The enemy has increased attack power
The enemy is easily distracted by items
Music
Plaza / Title Theme - Animal Crossing: City Folk / Animal Crossing: Wild World
Villager information
[
edit
]
In New Horizons

[

edit

]
Birthday
Gender
Species
October 2
Male
Dodo
NookPhone
   Black
Happy Home Paradise traits
Umbrella
DAL umbrella
Hobby
Fitness
Book
Sports
In Happy Home Paradise

[

edit

]
Orville
Client's vision
Vacation-Home Concept
Unlocked items

Furniture:
Card profiles
[
edit
]
amiibo card
[
edit
]
#404 Orville -

Series 5
| | |
| --- | --- |
| Star sign: | Libra |
| Birthday: | October 2 |
Gallery
[
edit
]
When being invited via amiibo, in both American and European Spanish locales, Orville states that his name is "Rafa Rodríguez."
Names in other languages
[
edit
]
モーリー


Mōrī
From モーリシャスドードー Mōrishasu dōdō (Raphus cucullatus; literally "Mauritian dodo"), a member of the dodo family.

---

모리


Mori
From his Japanese name and 모리셔스 Morisyeoseu (Mauritius).

---

莫里


Mòlǐ
From his Japanese name and 莫里斯 Mòlǐsī (Maurice of Nassau, namesake of Mauritius and hence the dodo family).

---

莫里


Unknown

---

Орвилл


Orvill
Transliteration of his English name.

---

Orville

Same as his English name.

---

Bodo
Similar to dodo.

---

Rafa
From Raphus cucullatus.

---

Morris

Similar to his Japanese name.

---

Dodobaldo

From dodo and baldo (bold).