Farley
From Nookipedia, the Animal Crossing wiki
"<Player>... One as caring as you can easily be trusted with an axe that never breaks. May you use it to continue in your meticulous care for the environment of <town name>. It is filled with my utmost gratitude for your efforts."
— Farley, Animal Crossing


Species
Gender
Unknown
Male
Star sign
Virgo
Role
Golden axe
Main appearances


Other appearances
Farley is a special character in Animal Crossing and Doubutsu no Mori e+. He is a spirit of the wishing well[1] who appears briefly after the town has maintained a perfect Field Rank for 15 days and gives the player the golden axe. Due to his single brief appearance, little is revealed about him.
Farley is one of two special characters, along with Franklin, who was introduced in Animal Crossing and does not appear in Doubutsu no Mori or Doubutsu no Mori+. In Animal Crossing: City Folk, Serena plays a similar role to Farley, appearing at the fountain and giving the player the golden axe.
Characteristics
[
edit
]
Appearance
[
edit
]

Farley is a short, humanoid figure covered almost entirely by his long white hair, with the only visible parts of his body being his arms and round, bulbous nose. He wears a teal hat with a magenta flower sticking out of it, and he carries a wooden staff.
While his species is unknown, he seems to be visually similar to a Nisse, a type of gnome. Much like Farley, gnomes in folklore often have a fondness for nature as well.
Farley is one of two characters in Animal Crossing who has a unique voice from all other characters. The other character who shares this trait is Joan.
Possible role
[
edit
]
This section contains unconfirmed information or speculation.
Based on Farley's dialog, the fact that a statue of him appears on the wishing well, and Animal Crossing: The Official Nintendo Player's Guide calling him "the well spirit," Farley's job may be to watch over the environment of the town, unbeknownst to its residents. He may also be the disembodied voice that speaks to the player when interacting with the wishing well. He appears to have magical abilities, and this could explain why scanning villager E-Reader cards at the Wishing Well in Doubutsu no Mori e+ causes them to move in.
Appearances
[
edit
]
In Animal Crossing and Doubutsu no Mori e+

[

edit

]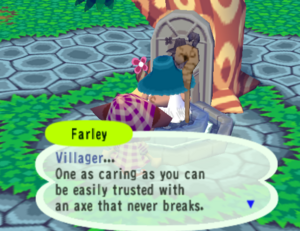 In Animal Crossing and Doubutsu no Mori e+, if the player chooses the "How are things?" option at the wishing well after the town has had a perfect Field Rank for 15 consecutive days, Farley appears and gives the player the golden axe as a token of his gratitude. He then disappears and can never be encountered again by that player.
Only appearing for a short time in a single encounter, Farley has the least amount of dialogue of any character in Animal Crossing:
"<Player>...
One as caring as you can
be easily trusted with
an axe that never breaks.
May you use it to continue
in your meticulous care for
the environment of
<Town>.
It is filled with my utmost
gratitude for your efforts."
Card profiles
[
edit
]
Animal Crossing e-Reader card

[

edit

]
#197 Farley -

Series 3

Gender:
Male
Sign:
Virgo
Profile:
Farley is shrouded in mystery. No one seems to know where this character comes from or whatever sort of creature it is, but one thing is for sure: you will only meet Farley if your town is a great place to be.
Password:
niszTrbHxPr@Qi
vDMZZeJcQq&emB
Gallery
[
edit
]
Names in other languages
[
edit
]
いずみじいや


Izumijīya
From 泉 (izumi), meaning fountain, and 爺や (jīya), meaning an old man/servant

---

Mamo
-

---

Floro
Related to flora

---

Larzac

-

---

Gandolfo

Possibly from Gandalf, a wizard in The Hobbit and The Lord of the Rings
References
[
edit
]