Wishing well
From Nookipedia, the Animal Crossing wiki

The wishing well in Animal Crossing.

Function
Checking the Field Rank
Removing favor items
Gathering place for events
Staff
Farley (perfect town)
Opening Hours
All day
Main appearances


Other appearances

Names in other languages

 

おやしろ

 

城隍庙

 

Unknown

 

Fuente de los deseos

 

Pozzo dei desideri

 

N/A

 

N/A

 

N/A

 

N/A

 

N/A

 

Unknown

 

N/A
The wishing well is a location in the Animal Crossing series that appears in every first-generation Animal Crossing game. Interacting with the wishing well gives the player options, while the surrounding area acts as a hub for events.
Appearances
[
edit
]
In Animal Crossing

[

edit

]
In Animal Crossing, interacting with the wishing well allows the player to check the town's Field Rank, as well as "apologize" to remove a favor item from their pockets if the villager the item belongs to has moved away. During events, Tortimer visits the wishing well, and for some events, props such as tables are set up in the area and villagers visit. If the town retains a perfect Field Rank for 15 days, selecting "How are things" makes Farley appear to give the player the Golden Axe.[nb 1]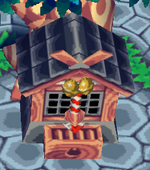 In Doubutsu no Mori and Doubutsu no Mori+, the wishing well offers the same options as in Animal Crossing but is based on a Shinto shrine rather than a wishing well, and it is known as the shrine. In these versions, villagers gather in front of the shrine on New Year's Day and take turns ringing its bells, reflecting a tradition in real-world Japanese New Year's celebrations.
In Dòngwù Sēnlín, the shrine has a slightly different design from the Nintendo 64 version, now featuring different textures and missing the wooden extrusions from the roof and the bells from the front.
In Doubutsu no Mori e+

[

edit

]
In Doubutsu no Mori e+, the international wishing well design is retained and two features are added to it: the ability to access minigames if a Game Boy Advance is connected, and the ability to invite villagers to move to town via their e-Reader card.
Gallery
[
edit
]
Names in other languages
[
edit
]
おやしろ


Oyashiro
Shrine

---

城隍庙

 (iQue)
Chénghuángmiào
City God Temple

---

Fuente de los deseos

Wishing well

---

Pozzo dei desideri

Wishing well
↑ In Doubutsu no Mori+, Farley does not appear and the player simply receives the Golden Axe from the shrine. In Doubutsu no Mori, there are no golden tools and thus there is no reward from the shrine.