Reaction
From Nookipedia, the Animal Crossing wiki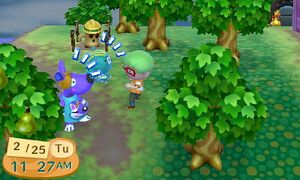 Reactions (known as expressions in Wild World and emotions in City Folk and New Leaf) are expressions used by both the player and non-player characters in the Animal Crossing series. In all games, villagers and special characters display Reactions during dialog, and the player displays them in certain scripted scenarios. Beginning in Animal Crossing: Wild World, the player can learn Reactions and use them at any time.
In Wild World, Animal Crossing: City Folk, and Animal Crossing: New Leaf, emotions are learned from Dr. Shrunk, who teaches them by telling a joke involving one of the emotions. In Animal Crossing: New Horizons, Reactions are learned primarily from villagers, who can teach them during conversation.
Villagers' Reactions
[
edit
]
Aside from expressing Reactions when in conversation, villagers may also show a Reaction when walking about town.
A dark purple cloud with a swirl means the villager is either sad or sick (indoors only until New Horizons).
An exclamation mark above a villager's head appears either when they are realizing something or, if not talking to anyone, wanting to talk to the player.
If steam is coming out of a villager's head, they are angry.
When they are singing and music notes appear, that means the villager is happy.
Villagers may also clap when a player catches a rare fish or insect or sometimes when fireworks go off in Wild World and City Folk. They react in shock if the player catches a piece of trash.
In New Leaf and New Horizons, villager sometimes may show the 'thought' emotion and stop in place requesting they are not spoken to, as they are too deep in thought. This emotion usually happens when the player talks too much to the villager and takes a while for them to "reset" and will be "social" again.
When hit with the toy hammer in New Leaf, they react with a shocked emotion.
Conversations with villagers and players sometimes cause a villager's emotion to change from normal to happy, sad, or angry. Conversations cannot be started if a villager is angry or sad - the villager will tell the player they do not feel like talking. In Animal Crossing, peppy villagers will sometimes cheer themselves up when players talk to them.
Villagers can use the mayor's emotions while using the amiibo Camera in Welcome amiibo. Additionally, villagers can use emotions they cannot normally use here, such as smug villagers using the Angry and Outrage emotions. Similarly in New Horizons, villagers invited to Photopia on Harv's Island can use the player's reactions in photo shoots, all acting out their respective assigned reactions with a button press. Outside of camera mode, invited villagers will respond with their assigned reaction when interacted with.
Learning Reactions
[
edit
]
In Wild World

[

edit

]
In Animal Crossing: Wild World, the player can get emotions from Dr. Shrunk in a random encounter with him when he is walking around their village. Players can only store 4 emotions.
In City Folk

[

edit

]
In Animal Crossing: City Folk, Dr. Shrunk is found in the city's theater, where emotions can be learned for 800 Bells. He is very rarely replaced by Frillard, who teaches emotions unknown to Dr. Shrunk. A player can retain up to four emotions at a time. If a fifth emotion is to be learned, one of the previous four must be forgotten.
In New Leaf

[

edit

]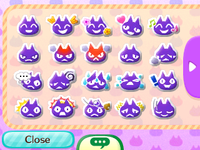 In Animal Crossing: New Leaf, Dr. Shrunk can be found every day in Club LOL. If the player visits him after 12 PM and before the club's opening at 8 PM, he will offer to perform for the player in exchange for some fruit or a food item. Being a former stage comedian, Dr. Shrunk's performances consist of him telling a joke and demonstrating the related emotion for the player to learn. Upon learning an emotion, the player can access it for use from their joke book, which is given to them by Dr. Shrunk after his first performance. Unlike the previous game, the player can store more than four emotions, up to a total number of 40.
In New Horizons

[

edit

]
In Animal Crossing: New Horizons, villagers can teach the majority of all Reactions to the player randomly. The player can learn one Reaction per day, with certain Reactions only available from villagers with certain personalities and some requiring high friendship with the villager. Reactions can only be learned if any of these requirements are met.
44 Reactions have been available since version 1.0.0, and as of version 2.0, 44 more Reactions have been added. These Reactions include two, Haunt and Scare, that were added in the 1.5.0 Fall Update,[1] nine—Sit Down, Wave Goodbye, Take a Picture, Sniff Sniff, Work Out, Yoga, Here You Go, Excited, and Ta-da—that were added in the 1.6.0 Free Winter Update,[2] four—Feelin' It, Let's Go, Viva, and Confetti—that were added in the 1.7.0 Free Update,[3] and 29—Posture Warm-Up, Arm Circles, Side Bends, Body Twists, Wide Arm Stretch, Upper-Body Circles, Jump, Double Wave, Stretch, Jammin', Listening Ears, Say Cheese, Behold, Eager, Flex, Work It, Act Natural, Hula, Grooving Hop, Groove Right, Groove Left, Soak It In, Side-to-Side, Island Stomp, Airplane, Twisty Dance, Shimmy, Turnip Patch, and Arm-Swing Dance—that were added in the 2.0 Free Update. Unlike in previous titles, Reactions stay active as long the player does not touch the controls; this is most likely for taking photos with Camera app.
The following is a table that describes how each Reactions can be obtained.
In Happy Home Designer

[

edit

]
In Animal Crossing: Happy Home Designer, emotions can be unlocked by completing a client's house. There are 48 emotions, with 8 emotions new to the game.
In amiibo Festival

[

edit

]
In Animal Crossing: amiibo Festival, emotions can be used from the GamePad during the Board Game mode. Each character starts with one emotion, with five additional ones being unlocked as they level up.
In Pocket Camp

[

edit

]
In Animal Crossing: Pocket Camp, some emotions can be triggered by tapping the player or villager using the Campsite Camera in the campsite or cabin.
List of Reactions
[
edit
]
This is a list of Reactions that the player can learn throughout the Animal Crossing series.
Gallery
[
edit
]
References
[
edit
]