Club LOL
From Nookipedia, the Animal Crossing wiki
Club LOL, stylized as Club 101, is a location on Main Street in Animal Crossing: New Leaf. It is run by Dr. Shrunk, who allows the player to learn emotions. Additionally, K.K. Slider performs on Saturday nights, and also performs as DJ KK on all other nights.
Unlocking
[
edit
]
To unlock Club LOL, the player needs to have upgraded Timmy and Tommy's store to T&T Mart or higher and must have a 100% approval rating. Once these requirements are complete, Dr. Shrunk will appear outside of the player's home the next day and ask the player to obtain six signatures from villagers in support of opening a new live venue. Once the signatures have been obtained, the player must go back to Dr. Shrunk, who will be on Main Street, and return the signature sheet to him. The club will then open after five days.
Services
[
edit
]
Dr. Shrunk's jokes
[
edit
]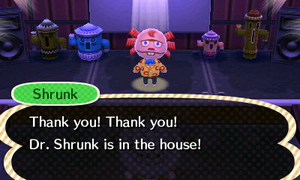 Similar to The Marquee in City Folk, players can visit the club and learn new emotions from Dr. Shrunk. To do so, the player must visit Club LOL between 12:00 PM and 8:00 PM and give Shrunk a snack such as a piece of fruit. Shrunk will then go on stage and tell the player one of his jokes; afterwards, the corresponding emotion will be added to the player's joke book for later use. Shrunk will only teach the player one new emotion per day. However, the player can have every emotion in their possession at once due to the Joke Book's mechanics.
During this time when K.K. Slider is not performing, the player can go on stage and swap the Gyroids.
K.K. Slider
[
edit
]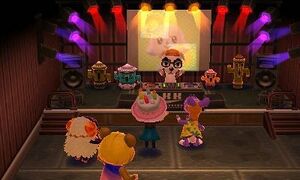 K.K. Slider performs nightly at Club LOL after 8:00 PM. On Saturday nights, he performs with his guitar, and he will give the player an album containing a version of the song he played. He will also take the player's song requests.
On other nights, K.K. Slider performs as DJ KK. Most of his music is electronic and resembles the genre of electronic music. This music tends to be remixed versions of his songs or other songs from NES games. When playing remixes of his own songs, the screen behind him will flash the album art. He will occasionally play the town tune, flash the Town Pass Card photo of the mayor, and display the town flag on the screen. When the player visits Club LOL on these nights, they can dance to the music using the D-Pad, and the screen can display the player's face. Villagers will sometimes visit the club and dance to the music. If the player speaks with them, they will temporarily stop dancing.
Gallery
[
edit
]
Names in other languages
[
edit
]
CLUB 444 (クラブ シショー)


Kurabu Shishō
Club Mentor; 444 ("shi-shi-yo") is read as "Shishō", Dr. Shrunk's Japanese name

---

Club Kalauer

Club Haha

---

Club Jajá

Club Haha

---

Club MDR

MDR from mort de rire, meaning dying of laughter