T&T Emporium
From Nookipedia, the Animal Crossing wiki
T&T Emporium is a store in Animal Crossing: New Leaf owned by Timmy and Tommy. It is the fifth and final incarnation of the Nooklings' store, and it appears on Main Street. It is a three-story department store that features GracieGrace, has the Garden Shop completely merged into the store, and features a larger selection of items than the previous incarnations. The first floor features miscellaneous items and the Garden Shop, now known as the gardening corner, the second floor features housewares, and the third floor contains GracieGrace.
T&T Emporium is upgraded from T.I.Y. after the player spends at least 100,000 Bells at the latter, has had T.I.Y. open for at least thirty days, and has completed four successful Gracie fashion checks. There are no upgrades after T&T Emporium. Once T&T Emporium opens, Timmy and Tommy use their full names, Timothy and Thomas, when sending letters or posting messages on the bulletin board.
Selection
[
edit
]
First floor
[
edit
]
The first floor of T&T Emporium is operated by Tommy and sells twelve miscellaneous items, including three tools, two Fortune Cookies, one Melody Paper, one Wrapping Paper, one Medicine, and two K.K. Slider songs. During certain events the Fortune Cookies will be replaced with event-themed items, such as Fireworks Fountains or Candy.
The gardening corner, operated by Leif, is at the bottom-right corner of the first floor and features items that were previously featured in the Garden Shop, as well as some new items. Items sold at the Garden Corner include an axe, a watering can, two flower bags, two bush starts, one Sapling or Cedar Sapling, one Fertilizer, one Persimmon or Bamboo Shoot, and one exclusive garden-themed furniture item.
Second floor
[
edit
]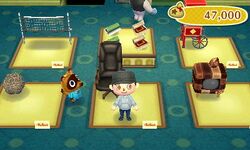 The second floor of T&T Emporium, known as the interior-design floor, is operated by Timmy and sells eleven houseware items, including seven furniture items (two of which are always wall-mounted), two wallpapers, and two floorings. One of the furniture items may be replaced with a spotlight item on certain days.
Third floor
[
edit
]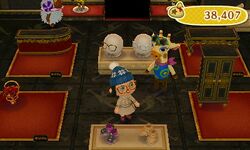 The third floor of T&T Emporium is GracieGrace, operated by Gracie, and sells five exclusive furniture items, one exclusive wallpaper, and exclusive one carpet from a series that changes each season. It also features ten exclusive clothing items. During the sales at the end of each month, a sign that reads "SALE" appears outside T&T Emporium.
Gallery
[
edit
]
Names in other languages
[
edit
]
まめつぶデパート


Mametsubu Depāto
Mametsubu Department Store

---

콩돌밤돌 백화점


Kongdolbamdol Baeghwajeom
Kongdolbamdol Department Store

---

Nook & Nooks Einkaufswelt

Nook & Nook's Shopping World

---

Galerías T&N

T&N Galleries

---

Galeries Mélimélo

Mélimélo Galleries

---

Magazzini Marco e Mirco

Marco and Mirco Warehouses