List of K.K. Slider songs
From Nookipedia, the Animal Crossing wiki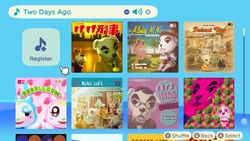 The following is a complete list of songs performed by K.K. Slider throughout the Animal Crossing series. K.K. Slider will perform live in town every Saturday night, though the venue differs between games. When spoken to, he will give the player the option of requesting a specific song or letting him choose. After watching one of K.K.'s performances, he will freely give the player a bootleg recording (also known as an aircheck) that can be stored inside a stereo in order to listen to the song in their house. These recordings differ drastically from the live version of the songs; whereas the live versions are performed simply with guitar and vocals, the airchecks are fully-realized arrangements.
In each game, K.K. Slider has a handful of secret songs that are request-only, and counted as part of his catalog. If given a request that is not part of his setlist, he will play one of three random songs that cannot be obtained; these unobtainable songs become secret songs in the next installment.
Doubutsu no Mori e+ features airchecks of the live versions of songs, which can be obtained from villagers with a high enough friendship, as well as new songs that can only be obtained with e-Reader cards. These became regularly-obtainable songs in Animal Crossing: Wild World. In Animal Crossing: City Folk, all of the K.K. songs were remastered, using uncompressed instrument samples.
In Animal Crossing: New Leaf, cover art is introduced for each song, with cover designs of original songs taken from the art used for their e-Reader cards. The player can mount the covers on the walls of their house as decoration. This game also introduces purchasable airchecks, priced at 3,200 Bells each.
For Animal Crossing: New Horizons, nearly all album covers from New Leaf have been redesigned, both noticeably and subtly. In most cases, the indecipherable text that appeared in New Leaf has been replaced with each song's proper name, using the language most appropriate to its genre (for example, "K.K. Jongara" uses its Japanese name, "Café K.K." uses its French name, and "K.K. Steppe" uses its Cyrillic name).
In New Leaf and New Horizons, DJ KK plays unique arrangements of K.K. Slider songs. Both games also feature music boxes, which play gentle arrangements of the themes.
List of songs
[
edit
]
The total number of songs, as of New Horizons's 2.0 update, amounts to 107, plus three secret songs only available from invalid requests.
Gallery
[
edit
]
Most of K.K. Slider's songs in Doubutsu no Mori were composed by Toru Minegishi, who is known for creating music for the Mario, The Legend of Zelda, and Splatoon series. Sound designer Kazumi Totaka arranged the live versions in two weeks. He would write out the arrangements on his train ride to work in order to meet strict deadlines.[1]
When using a Karaoke System in Animal Crossing: New Horizons, the screen on the furniture item will turn on and output a set of four images. The image set correlates to the mood of the song that's playing. The request-only songs, which don't otherwise have moods, are given specific image sets.
References
[
edit
]