Super T&T
From Nookipedia, the Animal Crossing wiki

The exterior of Super T&T

Music (New Leaf)
https://nookipedia.com/wiki/File:NL_Super_T%26T.flac
Staff
Timmy and Tommy
Opening Hours
9 AM – 8 PM[nb 1]
Number of items available
18
Expenditure for upgrade
50,000 Bells spent at Super T&T
Days passed before upgrade
21
Main appearances


Other appearances

Names in other languages

 

スーパーまめつぶ

 

N/A

 

Super Mélimélo

 

Súper T&N

 

Marco e Mirco Market

 

N/A

 

콩돌밤돌 슈퍼

 

N/A

 

Super Mélimélo

 

Súper T&N

 

SchNeppchenmarkt

 

N/A
Super T&T is a store in Animal Crossing: New Leaf owned by Timmy and Tommy. It is the third incarnation of the Nooklings' store, and it appears on Main Street. Super T&T is similar in appearance to Nookway from Animal Crossing, Wild World, and City Folk. The store features more items than its previous incarnation, T&T Mart, while featuring shorter hours.
Super T&T is upgraded from T&T Mart after the player spends at least 25,000 Bells at the latter, has had T&T Mart open for at least ten days, and has had the Garden Shop open for at least ten days. After the player has spent at least 50,000 Bells at the store and the store has been open for at least twenty-one days, Super T&T will close for one day and upgrade to T.I.Y.
Selection
[
edit
]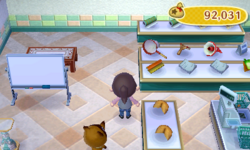 Super T&T sells eighteen items each day, including four furniture items (one of which is always wall-mounted), two wallpapers, two floorings, three tools, one Medicine, one Wrapping Paper, two sets of stationery, and one Melody Paper. During certain events the Fortune Cookies will be replaced with event-themed items, such as Fireworks Fountains or Candy.
Timmy and Tommy alternate running the shop throughout the week; Timmy works from Friday to Sunday and Tommy works from Monday to Thursday.
Gallery
[
edit
]
Isabelle announcing the opening of Super T&T
Names in other languages
[
edit
]
スーパーまめつぶ


Sūpā Mametsubu
Super Mametsubu

---

콩돌밤돌 슈퍼


Kongdolbamdol Syupeo
Super Kongdol Bamdol

---

SchNeppchenmarkt

A portmanteau of "Schlepper" and "Bargain Market"

---

Súper T&N

Super T&N

---

Super Mélimélo

Super Melimelo

---

Marco e Mirco Market

Marco and Mirco Market