Object
From Nookipedia, the Animal Crossing wiki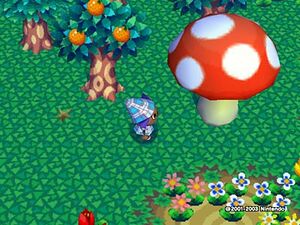 Objects are structures that can be constructed around the player's town in Doubutsu no Mori e+. Objects can be constructed through Tom Nook, who will ask which acre to build one in. After a location is selected and the construction cost is paid, the object will appear in place of a Signpost in the selected acre. Players could also order decorations from the Object Delivery Center on the game's official website, which would generate a password to give to Tom Nook until its discontinuation in 2019.
Three random objects are initially available from Tom Nook; all others must be obtained from the website. The footprints, egg and mushroom decorations could only be obtained from the website, and will never appear in the initial selection, meaning they are no longer obtainable through normal means. Only one object can be built per day.
List of objects
[
edit
]
Object
Construction cost
Size
Footprints
 19,000 Bells
Well
 14,000 Bells
Gas lamp
 14,000 Bells
Mushroom
 24,000 Bells
Public clock
 18,000 Bells
Stonehenge
 26,000 Bells
Egg
 32,000 Bells
Geoglyph
 20,000 Bells
Pipes
 17,000 Bells
Floral clock
 28,000 Bells
Wind turbine
 18,000 Bells
Fountain
 30,000 Bells
Helipad
 15,000 Bells
Windpump
 27,000 Bells
Guidepost
 13,000 Bells
Object Delivery Center
[
edit
]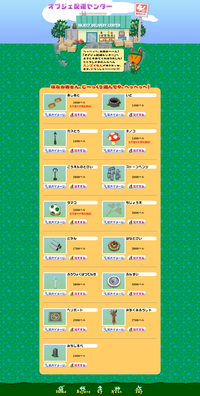 The Object Delivery Center was an Adobe Flash-based service hosted on the Doubutsu no Mori e+ official site that allowed players to generate codes for objects. This was the only way to obtain the Footprints, Egg, and Mushroom, and the only way to obtain objects in any one town that are not one of the three starting ones.
The site guided users through the process of selecting an acre and setting the player and town names. A code would then be generated, which could be told to Tom Nook to purchase the object. The endpoint used by the site to generate the codes was shut down in 2019, making codes unobtainable. Links to the objects were removed from the site, though they can still be accessed through direct URLs, and the Flash application can still run up to the code generation step.
Gallery
[
edit
]
Both the egg and the mushroom decorations are references to the Mario series, with the Egg resembling a Yoshi egg, and the Mushroom resembling a Super Mushroom.
See also
[
edit
]
External links
[
edit
]