DS Suitcase
From Nookipedia, the Animal Crossing wiki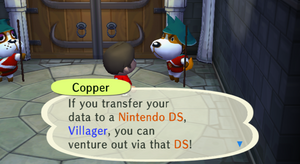 DS Suitcase is a way of visiting another town in Animal Crossing: City Folk by using a Nintendo DS to transfer their player data to a different Wii. Unlike in online multiplayer, where the visitor(s) and resident play simultaneously, in DS Suitcase only the visiting player plays. This works similarly to Memory Card travel in the first-generation Animal Crossing games.
The mode's name refers to how the Nintendo DS is used as a "suitcase" for the player's data, so that it can be transferred to another Wii. Thus, this traveling method involves using two Wii consoles, two saved games, and one Nintendo DS.
Functionality
[
edit
]
The player can send their data to a Nintendo DS via DS Download Play by speaking to Copper at the checkpoint. Once the data has been sent, the player walks through the gates and the game returns to the title screen.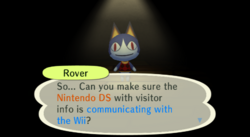 On the Wii that the player is visiting, the player can select the DS Suitcase option from Rover to send the saved player data from the DS to the Wii. After the data has been sent, the player can play in the town. The player can speak to Copper to transfer their data back to the DS and save any changes made to the town, and it can be sent back to the original Wii by selecting the "I'm back!" option from Rover.
If the Nintendo DS is powered off while it is carrying the data, or the Wii the player is visiting is powered off while it is carrying the data, the player loses everything that was in their pockets.
Gallery
[
edit
]
See also
[
edit
]