Amenity
From Nookipedia, the Animal Crossing wiki
Amenities are crafted fixtures in Animal Crossing: Pocket Camp that players can place into their campsite.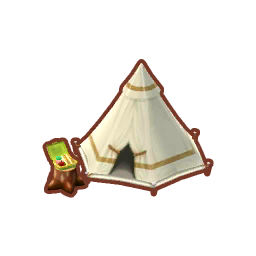 Each amenity has one of ten themes: generic, cool, cute, natural, sporty, rustic, hip, harmonious, elegant, modern, or civic. Each of these themes has three tiers of amenities. The first tier of amenities allows villagers that prefer that theme to reach Friendship Level 10, and the amenities themselves can be upgraded to level 3, changing their appearance at the cost of items. Once a tier-1 amenity reaches level 3, the tier-2 amenity of the same theme can be built; these amenities can reach level 5 and make the max Friendship Level to 15. Tier-3 amenities can only be built once the level-2 amenity of the same theme has reached level 5. Once constructed, villager friendship caps off at the maximum level of 45. While tier-3 amenities can be upgraded, the only reward for doing so is an aesthetic change. Once built, amenities grant the player experience and increase the friendship of a selection of villagers at the campsite. Generic has only 1 amenity that can't be leveled up.
Each campsite can hold up to two amenities in two amenity slots; these can be changed at any time through the Decorate menu.

This page could be improved with the addition of images.

This page could be improved with the addition of images.