Fourth Wall
Jump to navigation
Jump to search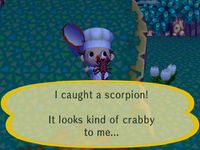 Breaking the Fourth Wall is a term used when a character knows that they are in a video game and points it out. The fourth wall has been broken by several characters in the Animal Crossing series.
The term 'fourth wall' is from the 'missing wall' in a theater, that is, the wall separating the audience from the actors. In video gaming, the 'fourth wall' is the screen of the console.
Characters in Animal Crossing who break the fourth wall

[

edit

]
Mr. Resetti breaks the fourth wall several times. For example, when the player creates their character in Animal Crossing: City Folk, saves and then restarts the game, Resetti will appear, thanking the player for buying City Folk or Let's Go To The City. When resetting without saving, Resetti may also talk about how people cannot just reset in real life like they can in video games. If the player moves their character from Animal Crossing: Wild World, he refers to that game, too.
The player breaks the fourth wall when they talk to the screen. An example is when a player catches a fish or bug or sea creature or gets stung by a Bee, (Wasp in New Horizons) and face the screen, followed by a catch quote commenting on it.

When the character buys coffee at The Roost and sips it, the player turns to the screen and remarks about the coffee, often about the taste, quality, or type.

In New Horizons, there is a dialogue with the lazy villagers where they will acknowledge their presence as a video game characters, referring to the different types of wood, how fast trees grow, and the generous house payments. This causes the player character to panic a bit, but the lazy villager passes it all off as a joke, thinking it's all just nonsense, as the player character looks on with curiosity.

This article may require cleanup to meet Nookipedia's quality standards.

This article may require cleanup to meet Nookipedia's quality standards.