Town initiative
From Nookipedia, the Animal Crossing wiki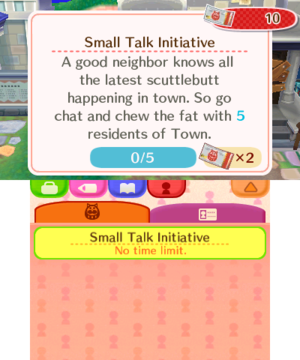 Town initiatives are a feature in Animal Crossing: New Leaf introduced in the Welcome amiibo update. They are gameplay objectives that can be completed to be rewarded with MEOW Coupons, which are dispensed from the CAT Machine outside of the town hall. The available initiatives can be viewed on the TPC, which displays two weekly initiatives and two daily ones. The initiatives that will be made available to the player are determined by factors such as the current season, day of the week, and the enacted town ordinance.
Weekly initiatives
[
edit
]
Weekly initiatives must be completed by the following Monday and will always award 3 MEOW Coupons once completed. Note that it is not possible to be assigned the Clean Water Initiative if the Beautiful Town Ordinance is in effect.
| Name | Description |
| --- | --- |
| Art Appreciation Initiative | Every collector knows their pieces'll end up in a museum eventually. That time has come. Donate a work of art to the town's museum. |
| Bug Boss Initiative | Bug catchers get no respect. It's time so show the world what you're capable of! So don't hold back. Go out there and catch 20 bugs. |
| Cicada Research Initiative | Cicadas are mysterious creatures. Crack the mystery wide open by collecting 3 cicada shells. |
| Clear Water Initiative | The water's a place for fish and fun, not trash and tires! Remove 1 piece of litter from the sea and rivers of the town. |
| Dive Deep Initiative | Fortune favors the brave... and those willing to explore the ocean's depths to find 10 underwater treasures. |
| Equity Building Initiative | It's time to diminish that debt! Pay off your home loan already. (See terms and conditions of your contract for more details.) |
| Fortune Seeker Initiative | Catching a lucky break is no accident. You need the right accessories. Buy 3 fortune cookies, and you'll be good to go. |
| Fossil Record Initiative | The earth beneath you is full of undiscovered relics...but not for long! Present 5 fossils to the museum in town. |
| Game On Initiative | Have some time to kill? Play 3 rounds of Animal Crossing Puzzle League OR Desert Island Escape. |
| Garden Grooming Initiative | Who likes weeds? Um, nobody. Prove your weeding prowess by pulling out ? weeds in town. |
| Giant Snakehead Initiative | Great things are in store forthose who can catch their very own giant snakehead... So go catch one already! |
| Host the Most Initiative | If you're proud of your town, open up your station gates and let 1 guest from out of town through! |
| Interior Design Initiative | Give your walls a fresh coat of paint... or wallpaper. Better yet? Ask Saharah to redecorate your place for you. |
| Island Time Initiative | Rain or shine, sun or snow, it's always vacation season. Embrace your inner tourist and go on an island tour 1 time. |
| Look Fabulous Initiative | What's more fun than changing your look?! OK, a lot of things, but get a new do at the hair salon for a coupon-shaped reward! |
| Nibble Fish Initiative | Feeling fresh? Then it's the perfect time to go out and catch a freshwater nibble fish. |
| Outside Options Initiative | Realtors who care, share. Find an exterior in another town's real estate office, and ask yours to make it available in your town. |
| Pro Design Initiative | Fashion's not just for the professionals anymore. Start your own trend and create a pro design. |
| Public Works Initiative | Philanthropists are better than good--they're amazing. Donate 10,000 Bells to public works in town. |
| Rainmaker Initiative | Quench nature's thirst! Water the flowers in your town 20 times. |
| Reel 'Em Initiative | Some say fishing is the most noble of sports. So forget the top hat, and catch 20 fish instead. |
| Retail Therapy Initiative | Feeling down? Looking for a little excitement? Then treat yourself! Go crazy and buy something that costs at least 50,000 Bells. |
| Ride the Rails Initiative | Going somewhere? Then you might as well get credit for it. Travel to 1 other town by train. |
| Salmon Initiative | They're back! Celebrate the return of the salmon by catching 10 of them. I hope this doesn't stop them from returning next year... |
| Ship It Initiative | Everyone knows the finest goods travel by air. Have your purchases shipped right to your door when you buy 3 items from a catalog. |
| Stockpile Sweets Initiative | There's never a bad time for a sugar rush. So buy 3 candies and let the sugar-crazed exploits begin. Hee hee hee! |
| Strike It Rich Initiative | You know that secret rock in town that dispenses Bells when you tap it? ...Oh. Well, now you do! Tap it 8 times for an extra-special prize. |
| TPC Refresh Initiative | Have you seen your TPC photo lately? You're not fooling anyone. Update your TPC with a more recent image. |
| Tree Hugger Initiative | It doesn't have to be Arbor Day to celebrate your love of trees. Do mother nature a favor and plant 3 tree or shrub saplings. |
Daily initiatives
[
edit
]
Daily initiatives reset every day, and award 1 or 2 Meow Coupons.
| Name | Description | MEOW Coupons |
| --- | --- | --- |
| Coupon Kickoff Initiative[nb 1] | Redeem/claim your MEOW Coupons at the CAT machine. |  2 Coupons |
| Fashion Forward Initiative[nb 2] | Why hide your bold fashion choices in a closet when they make for great décor? Hang an item of clothing right on your wall. |  2 Coupons |
| Axe Collector Initiative | Axe technology is constantly improving. Be sure to pick up the latest model at your local store. |  1 Coupons |
| Banded Dragonfly Initiative | Want to become an instant bug-catching legend? Catch a banded dragonfly. |  2 Coupons |
| Barista Booster | There's nothing like waking up every day to some extra cash! Pick up a part-time job at The Roost. |  1 Coupons |
| Beekeeper Initiative | It's time to take action against bee stings and all that they stand for! Now go catch a bee and give it a stern talking-to. |  2 Coupons |
| Birdwing Butterfly Initiative | Next time you're traveling to the summer islands, net a birdwing butterfly and snag yourself this fine reward. |  2 Coupons |
| Bug Boost Initiative | Even bugs like to be admired every once and awhile. Let your insect pals take center stage, and donate at least one to your local museum. |  1 Coupons |
| Cash for Clutter Initiative | Out with the old and in with the new! Clear out an unwanted item by selling it at Re-Tail. |  1 Coupons |
| Curb Appeal Initiative | Your home's outside should look as good as its inside. Order a new exterior from Nook's Homes. |  2 Coupons |
| Dream Sharing Initiative | Dreaming no longer has to be an individual sport! Join the team, and share your dreams at the Dream Suite. |  1 Coupons |
| Fashion Forward Initiative | Why hide your bold fashion choices in a closet when they make for great décor? Hang an item of clothing right on your wall. |  1 Coupons |
| Fertile Land Initiative | Using fertilizer is like feeding your plant a delicious, vitamin-packed smoothie. Bury some in the soil, and watch them drink it right up. |  1 Coupons |
| Fish it Forward Initiative | A fish thrives in its natural habitat. Luckily, it will also thrive when you donate it to the town's museum! |  1 Coupons |
| Flower Power Initiative | The town should always be in bloom! Plant some flower seeds around town. |  1 Coupons |
| Fossil Boss Initiative | Fill the town museum by donating a relic from the past. I mean, what else are you gonna do with a dinosaur head? |  1 Coupons |
| Giant Isopod Initiative | If you're looking for a way to impress your friends, here's an idea! Dive into the ocean and catch a giant isopod. |  2 Coupons |
| Good Fit Initiative[nb 3] | Some folks dress for success, but why not dress to look great? Get started by spending over 500 Bells at Able Sisters! |  1 Coupons |
| Green Thumb Initiative | The town's local delicacy is always in high demand. Plant a few more fruit trees around town. |  2 Coupons |
| Happiest Homes Initiative | Visit 3 of the newly listed homes in the HH Showcase. It's a greate way to snoop around strangers' houses without being really creepy. |  1 Coupons |
| Horseshoe Crab Initiative | Horseshoe crabs aren't as lucky as their inanimate counterpart, but if you're lucky, you'll catch one on a night dive. |  2 Coupons |
| HQ Stag Beetle Initiative | Catch a golden stag, a rainbow stag, or a cyclommatus stag. |  2 Coupons |
| In Good Gracie Initiative[nb 4] | Have your fashion sense approved by the fashionista who made spots, like, a thing. Pass Gracie's fashion check. |  2 Coupons |
| Invest in Yourself Initiative | Send a message that tells your future self that you care--stash at least 5,000 Bells in the envelope. |  2 Coupons |
| Island Import Initiative | When you can't go to the islands, bring the islands to you! Or at least bring 10 things from the islands, using the Items Drop-Off Box. |  1 Coupons |
| Joke's On You Initiative | Don't be that person who laughs at the wrong moment. Be polite and learn Dr. Shrunk's jokes within the allocated time frame. |  1 Coupons |
| Keee Ha Mo-ata Initiative | The future is full of unknowns, but it doesn't have to be! Get your fortune read by Katrina. |  1 Coupons |
| King Salmon Initiative | Looking for a reason to visit the mouth of a river? Then catch a king salmon. |  2 Coupons |
| Koi Initiative | They can be coy, those koi. Catch one by fishing in the morning or evening. |  2 Coupons |
| Letter Initiative | Send a letter with an item to a villager living in your town. |  1 Coupons |
| Local Music Initiative[nb 5] | Feelin' blue? Let the music of K.K. Slider soothe your weary soul. Stop by his concert at 8 p.m. tonight. |  1 Coupons |
| Lucky Item Initiative | You'll need a little luck to complete this initiative. A lucky item, that is. Wear today's lucky item for your sweet coupon reward. |  2 Coupons |
| Mole Cricket Initiative | Go catch a mole cricket. And here's a helpful tip: listen closely to the ground beneath you. |  2 Coupons |
| Mushroom Initiative | A mushroom is the most enigmatic of fungi. Find one that's hiding something dark and deep within...like a table. |  1 Coupons |
| Oarfish Initiative | It's unclear how useful oarfish would be foe canoeing. Why don't you catch one and give it a try? |  2 Coupons |
| Orchid Mantis Initiative | The orchid mantis is so vain. Catch one by searching flowers that match the color of its extravagant legs. |  2 Coupons |
| Pay it Forward Initiative | When words aren't enough, say it with a gift. Send someone in your town a letter with a little something extra. |  2 Coupons |
| Payback Time Initiative | Pay 5,000 Bells back on time, and accountants will create a holiday in your honor! OK, not really, but they'll still appreciate it. |  2 Coupons |
| Pike Initiative | Let's catch a pike! Good thing these fish rarely show up during the day. I wouldn't want to see those teeth sparkle in the sun too often! |  2 Coupons |
| Pyrotechnic Pro Initiative | The "oohs" and "aaahs" will abound when you light up the sky with a custom fireworks display. |  1 Coupons |
| Recycling Initiative | Sell an item at Re-Tail. |  1 Coupons |
| Rock On Initiative | Having a bad day? Need to release some of that pent-up frustration? Then go ahead and SMASH SOME ROCKS! |  1 Coupons |
| Saddled Bichir Initiative | Seeing a saddled bichir is like getting a blast from the past. Catch one of these rare living fossils by fishing the rivers at night. |  2 Coupons |
| Shark Initiative | Go catch a shark of any species. I hear they're way less scary up close... |  2 Coupons |
| Small Talk Initiative | A good neighbor knows all the latest scuttlebutt happening in town. So go chat and chew the fat with 5 residents of town. |  1 Coupons |
| Souvenir Sales Initiative | On your next visit to the islands, buy a souvenir. Memories fade, but cheesy knickknacks gather dust forever! |  2 Coupons |
| Stringfish Initiative | Do not fear the giant, looming shadow beneath the river's surface. Catch the legendary stringfish behind it! |  2 Coupons |
| Tropical Garden Initiative | Why travel across the sea for tropical produce when you can grow it locally? Plant a banana or coconut tree on your town's beach. |  1 Coupons |
| Tuna Initiative | Uh-oh! Your mayo misses its best friend, Tuna! Catch one from the ocean and reunite this classic combo. |  2 Coupons |
| Turnip Profit Initiative[nb 6] | The bigger the risk, the bigger the reward. Purchase 100 turnips. |  1 Coupons |