Pike
From Nookipedia, the Animal Crossing wiki
| | | |
| --- | --- | --- |
| | Pike |   |

Real-world info
Name: Esox lucius
(northern pike)
Family: Esocidae (pikes)
Main appearances
Other appearances
Names in other languages
パイク
강꼬치고기
Luccio nordico
Hecht
The pike[nb 1] is an uncommon river fish in the Animal Crossing series introduced in Animal Crossing: City Folk. It is a large, green-yellow fish with white spots and yellow fins, and it is available from fall to early winter.
Catch details
[
edit
]
In City Folk

[

edit

]
In New Leaf

[

edit

]
In Pocket Camp

[

edit

]
In New Horizons

[

edit

]
Donating to the museum
[
edit
]
Blathers will comment on the player's donation as follows dialogue.
In City Folk

[

edit

]
"Hootie hoo... Why, you've managed to catch quite a massive fish, haven't you? Commendable! The pike, a relative of the salmon, can grow to...a whopping 52 inches (130 centimeters) or more in length! If I met one of these during a dip in the water, I do believe I'd launch into thrashing panic mode!"
It can be found in the middle-right tank in the aquarium exhibit.
In New Leaf

[

edit

]
"Pike are only found in cold water, so they cannot live in warmer parts of the world. They can grow over three feet (90 cm) long and as such are a very popular fish with anglers. Pike have a slightly protruding jaw and large mouths with sharp teeth, making them powerful predators. They use these teeth for tearing apart not only other fish but also birds and other aquatic creatures."
In New Horizons

[

edit

]
When donating to Blathers or selecting "Tell me about this!" in New Horizons, he will provide the following information about the fish:
"The pike has always reminded me a bit of salmon, although a pike can grow rather larger. These brutes can grow to over four feet long...sometimes MUCH over! Hoo hoo! It is carnivorous and preys not only on other fish, but also mammals and some waterfowl...If I were to meet one in the water, I would have a most difficult time keeping my wits about me."
Once donated to the museum, the pike can be found in the recessed fish tank in the first fish room with the snapping turtle and koi.
Fishing Tourney
[
edit
]
During a Fishing Tourney, when given a pike, Chip will say the following dialogue.
In City Folk

[

edit

]
"And you'd better believe... You haven't lived until you try my pike and potatoes! Nyuuuk nyuk nyuk nyuk!"
In New Leaf

[

edit

]
"Well now, with pike, frying works quite well. But you'd also do good to turn 'em into fish sticks! Right now, though, I'll just snack on this guy as is, all natural! YUM and YUM!"
Gallery
[
edit
]
Real-world information
[
edit
]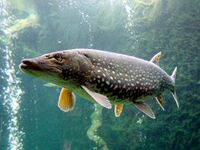 The Esox Lucius, or Northern Pike, is one of the two living species of the Esox family; the other one being the Muskellunge or Musky. They can live up to 30 years of age. A pike's diet consists mainly of small shoal fish, insects, amphibians, and small mammals (such as moles and mice). Even small or young birds can be a target. They have also been known to be cannibalistic, sometimes feeding on smaller pike. Pike can be found in North America and Europe.
Names in other languages
[
edit
]
パイク


Paiku
Pike

---

강꼬치고기


gangkkochigogi
Pike

---

白斑狗鱼


Báibān gǒu yú
Great Northern Pike

---

白斑狗魚


Unknown

---

Щука


Shchuka
Pike

---

Snoek

Pike

---

Hecht

Pike

---

Lucio

Pike

---

Brochet

Pike

---

Luccio nordico

Northern Pike