Giant trevally
From Nookipedia, the Animal Crossing wiki
| | | |
| --- | --- | --- |
| | Giant trevally |   |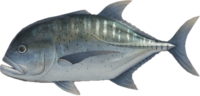 Real-world info
Name: Caranx ignobilis
(giant trevally)
Family: Carangidae (jacks)
Main appearances
Other appearances
Names in other languages
ロウニンアジ
白面弄鱼
Carangue grosse tête
Jurel gigante
Carango gigante
Гигантский каранкс
무명갈전갱이
浪人鰺
Carangue grosse tête
Jurel gigante
Stachelmakrele
Reuzenhorsmakreel
The giant trevally (ロウニンアジ, Rōnin'aji) is a fish that was introduced in Animal Crossing: New Leaf. It is found exclusively on Tortimer Island year round in Animal Crossing: New Leaf, or at the pier in Animal Crossing: New Horizons. It sells for a high 4,500 Bells.
Catch details
[
edit
]
In New Leaf

[

edit

]
| | |
| --- | --- |
| Time of year | All year |
| Time of day | All day |
| Peak times | N/A |
| Location | Tortimer Island |
| Shadow size | Very large |
| Fish size | 180 cm |
| Selling price |  4,500 Bells |
| Furniture size | |
In Pocket Camp

[

edit

]
In New Horizons

[

edit

]
Donating to the museum
[
edit
]
In New Leaf

[

edit

]
The information board in front of the tank that houses the giant trevally says the following:
"Though you wouldn't guess it because of their size, giant trevallys are actually a type of mackerel. Unlike normally slim and sleek mackerels, giant trevallys have wide, silver bodies. Surprisingly, though, these fish cannot tolerate the cold, so they tend to live in warmer places. Their jaw strength is great enough to bite off a person's finger, so be very careful when fishing for them!"
In New Horizons

[

edit

]
When donating to Blathers or selecting "Tell me about this!" in New Horizons, he will provide the following information about the fish:
"The giant trevally, as befits its name, can reach six feet in length and 180 pounds! Its size and strength have made it a favored opponent for anglers since time immemorial. They are also ingenious hunters, sometimes taking advantage of other predators to distract their prey. There have even been documented cases of them attacking—gulp—birds."
Once donated, the giant trevally can be found in the north-east room of the fish exhibit, in the large central tank with the porthole windows. It will often swim near the glass wall, and sometimes will try to pierce the anchovy school, scattering them for a moment—it shares this behavior with many of the large fish also in this tank.
Fishing Tourney
[
edit
]
In New Leaf

[

edit

]
During a Fishing Tourney, when given a giant trevally, Chip will say the following:
"With giant trevally, anything goes! Sashimi, grilled, fried... It's all tasty! Maybe even smoked in a sandwich! Course I'll just be eating this guy as is. No reservations here! YUM!"
Gallery
[
edit
]
Real-world information
[
edit
]
The giant trevally is a large fish located in the tropical waters of the Indo-Pacific region. It has a typical silver color, but males may turn black as they grow older.
Names in other languages
[
edit
]
ロウニンアジ


rōnin-aji
Giant trevally (lit. "wanderer mackerel")

---

무명갈전갱이


mumyeong-galjeongaeng-i

---

白面弄鱼


báimiànnòngyú / làngrén shēn
Giant trevally (Traditional: lit. "wanderer mackerel")

---

浪人鯵


Unknown

---

Гигантский каранкс


Gigantskiy karanks
Giant trevally (lit. "giant Caranx")

---

Reuzenhorsmakreel

Giant trevally (lit. "giant horse mackerel")

---

Pferdemakrele (NL)
Stachelmakrele (NH)
Horse mackerel
Carangid

---

Jurel gigante

Giant trevally (lit. "giant horse mackerel")

---

Carangue grosse tête

Giant trevally (lit. "big-headed carangid")

---

Carango gigante

Giant carangid