Nibble fish
From Nookipedia, the Animal Crossing wiki
| | | |
| --- | --- | --- |
| | Nibble fish |   |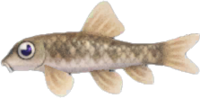 Real-world info
Name: Garra rufa
(doctor fish)
Family: Cyprinidae (carps and minnows)
Main appearances
Other appearances
Names in other languages
ドクターフィッシュ
温泉医生鱼
Poisson docteur
Pez doctor
Garra rufa
Рыба-доктор
닥터피시
溫泉醫生魚
Poisson docteur
Pez doctor
Saugbarbe
Knabbelvisje
The nibble fish is a river fish in the Animal Crossing series introduced in Animal Crossing: New Leaf. It can be found from 9 AM to 4 PM from late spring to early fall.
Catch details
[
edit
]
In New Leaf

[

edit

]
In New Horizons

[

edit

]
Donating to the museum
[
edit
]
In New Leaf

[

edit

]
After a nibble fish is donated, a sign in the museum will display information about this fish.
"The official name given to this warm-water-dwelling species of fish is "Garra rufa." They are omnivorous, as they both eat algae and scrape the skin off other fish. All you'd have to do to feed them is stick your hand in the tank; they would live off your dead skin. That's why they're called nibble fish. They exfoliate but don't have any teeth, so it doesn't hurt at all!"
In New Horizons

[

edit

]
When donating to Blathers or selecting "Tell me about this!" in New Horizons, he will provide the following information about the fish:
"Nibble fish are best known for their use in a certain...skin treatment. This treatment has been apparently been used for thousands of years. I have never...experienced said treatment...because they eat your dead skin with their little toothless mouths! Can you imagine anything so repellent?! Please don't ask me any follow-up questions. Hoo."
When donated, the nibble fish is displayed in the small freshwater fish tank in the fish exhibit with the betta.
Fishing Tourney
[
edit
]
In New Leaf

[

edit

]
During a Fishing Tourney, when given a nibble fish, Chip will say the following:
"Nibble fish. Those are fantastic if you know how to cook 'em! But you gotta know what you're doing! A poorly cooked fish is just a sad thing to see. Oh well. Down it goes!"
Gallery
[
edit
]
Real-world information
[
edit
]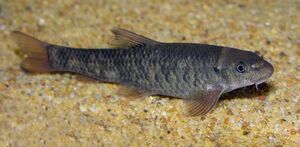 Commonly known as doctor fish, Garra rufa are used in some methods of spa treatment, and have even been known to alleviate symptoms of psoriasis.
Names in other languages
[
edit
]
ドクターフィッシュ


dokutāfisshu
Doctor fish

---

닥터피시


dakteopisi
Doctor fish

---

温泉医生鱼


wēnquán yīshēngyú
Hot spring doctor fish

---

溫泉醫生魚


Unknown

---

Рыба-доктор


Ryba-doktop
Doctor fish

---

Knabbelvisje

Nibble fish

---

Saugbarbe

---

Pez doctor

Doctor fish

---

Poisson docteur

Doctor fish

---

Garra rufa

From scientific name