Herabuna
From Nookipedia, the Animal Crossing wiki

Real-world info
Name: Carassius cuvieri
(Japanese white crucian carp)
Family: Cyprinidae (carps and minnows)
Main appearances
Other appearances
Name in other languages
The Herabuna[nb 1] is a freshwater fish in the Animal Crossing series introduced in Doubutsu no Mori. It is unique in that it in Animal Crossing, it only appears in the Japanese version, making it the only Japan-exclusive fish in the series. The Herabuna is also the only fish to appear in Animal Crossing but not in Doubutsu no Mori e+. In international versions of Animal Crossing, it is replaced with the statistically similar Brook Trout. The Herabuna is similar in size and design to the Crucian Carp, but it differs in that it is taller and has a more prominently arched back.
Catch details
[
edit
]
In Doubutsu no Mori+

[

edit

]
Donating to the museum
[
edit
]
In Doubutsu no Mori+

[

edit

]
Gallery
[
edit
]
Real-world information
[
edit
]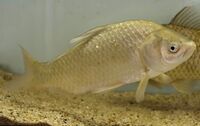 The Japanese white crucian carp, as it is known in America, is a freshwater dwelling fish that originated in Japan. Now spread through most of Asia, it was thought to be a species of wild goldfish. The herabuna is a larger version of the Japanese white crucian carp, that is "farmed" for use in fishing, although it is mainly for catch and release activities.
More information on this topic is available at Wikipedia.