Arowana
From Nookipedia, the Animal Crossing wiki
| | | |
| --- | --- | --- |
| | Arowana |   |
Real-world info
Name: Osteoglossinae
(modern arowanas)
Family: Osteoglossidae (arowanas)
Main appearances
Other appearances
Names in other languages
アロワナ
아로와나
Arowana
Arowana
骨舌鱼
Arowana
Arowana
Arowana
骨舌魚
Arowana
Arowana
Аравана
The arowana (アロワナ, arowana) is a freshwater fish in the Animal Crossing series introduced in Doubutsu no Mori. It is tied with the arapaima as the second-most valuable freshwater fish in the Animal Crossing series, selling for 10,000 Bells, and it is beaten only by the dorado and the stringfish, which each sell for 15,000 Bells.
A variant of the arowana, the ivory arowana, appears exclusively in Animal Crossing: Pocket Camp as an event fish.
Catch details
[
edit
]
In Animal Crossing

[

edit

]
In Wild World

[

edit

]
In City Folk

[

edit

]
In New Leaf

[

edit

]
In New Leaf, an arowana appears as part of the default furniture layout for Quillson.
In Pocket Camp

[

edit

]
In New Horizons

[

edit

]
Just like New Leaf, New Horizons includes an arowana as Quillson's default furniture layout.
Donating to the museum
[
edit
]
As with all fish caught in the Animal Crossing series, the arowana can be donated to the museum in each game by talking to Blathers, who also will give some information on it.
In Animal Crossing

[

edit

]
Blathers will say this upon donation:
"Another rare fish! You, old bean, are an angler for the ages! The bards will sing your praises! Thanks to generous individuals such as yourself, Player, the museum is growing by leaps and bounds. Your dragon fish has now found a home away from home. I promise, it will be very happy in its new digs!"
In Wild World

[

edit

]
Blathers will accept the donation willingly. His words are as follows:
"I've never heard of a dish made with arowana... However, I find it hard to believe they're inedible. People eat ANYTHING. Still, they're probably more profitable to sell for viewing than for eating."
It appears in the middle tank in the aquarium.
In City Folk

[

edit

]
"...It's said that arowana have retained the same appearance for nearly 100 million years! That's far longer than people or owls have been around... Hoo, the sights they must have seen... There's a bit of mystery about them, is there not? A fitting appearance for the king of tropical fish!"
It appears in the tank on the right in the aquarium.
In New Leaf

[

edit

]
An information board in the aquarium will display this description of the arowana:
"Arowanas are ancient fish that have remained basically unchanged for 100 million years. They are known for their large scales and the hair that sticks out from their lower lips. They have a remarkable jumping ability and can leap over a yard above the surface of the water. Males protect their babies by keeping them in their mouths and releasing them once they reach a certain size."
In New Horizons

[

edit

]
When donating to Blathers or selecting "Tell me about this!" in New Horizons, he will provide the following information about the fish:
"It would seem your angling expertise knows no bounds! This beauteous arowana fetches a pretty Bell, though I'd venture to say that its true price is beyond measure. The arowana is an excellent jumper. Some have been seen leaping six feet out of the water, eh wot! Alas, it has also been on the endangered-species list for some time. It's up to us to do all we can to help preserve such magnificent creatures for the years to come."
The arowana can be found in the jungle tank in the far right of the first exhibit room with the saddled bichir and arapaima.
Fishing Tourney
[
edit
]
During a Fishing Tourney, when given an arowana, Chip will say the following dialogue.
In City Folk

[

edit

]
"What do I recommend? An arowana burger and a tall glass of iced chowder! Nyuuuk nyuk nyuk nyuk!"
In New Leaf

[

edit

]
"Now arowana, that'll make for some fine sashimi! You know how to make good sashimi? No? You should learn! Well, I'm just gonna scarf it raw, as you'd expect. Here goes! YUM!"
Gallery
[
edit
]
Real-world information
[
edit
]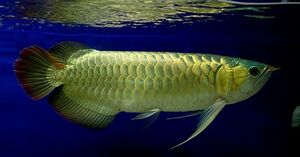 Arowanas, also known as aruanas or arawanas, are a freshwater fish of the family Osteoglossidae, sometimes known as "bonytongues". They can obtain oxygen from the air by sucking it into their swim bladder, which is lined with capillaries akin to lung tissue. In aquariums, Arowanas tend to school in groups of five to eight; any fewer may show an excess of dominance and aggression. Osteoglossids are basal (primitive) fish from the lower Tertiary and are placed in the actinopterygiid order Osteoglossiformes. There are ten described living species: three from South America, one from Africa, four from Asia, and the remaining two from Australia. Osteoglossidae is the only exclusively freshwater fish family found on both sides of the Wallace Line. This may be explained by the fact that Asian arowanas (S. formosus) diverged from the Australian Scleropages, S. jardinii and S. leichardti, about 140 million years ago, making it likely that Asian arowanas were carried to Asia on the Indian subcontinent.
More information on this topic is available at Wikipedia.
Names in other languages
[
edit
]
アロワナ


arowana
Arowana

---

아로와나


arowana
Arowana

---

骨舌鱼


gǔshéyú
Translation of scientific name ("bony tongued fish")

---

骨舌魚


Unknown

---

Аравана


Aravana
Arowana

---

Arowana

Arowana

---

Arowana

Arowana

---

Arowana

Arowana

---

Arowana

Arowana

---

Arowana

Arowana