Rainbowfish
Jump to navigation
Jump to search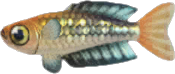 Real-world info
Name: Rhadinocentrus ornatus
(ornate rainbowfish)
Family: Melanotaeniidae (rainbowfishes)
Main appearances
Other appearances
Name in other languages
 レインボーフィッシュ

 彩虹鱼

 Poisson arc-en-ciel

 Pez arcoíris

 Pesce arcobaleno

 Радужница
 레인보우피시

 彩虹魚

 Poisson-arc-en-ciel

 Pez arcoíris

 Regenbogenfisch

 Regenboogvis
The Rainbowfish is a fish introduced in Animal Crossing: New Horizons. It can be found in rivers from May to October (in the Northern Hemisphere) between 9 AM to 4 PM, and it sells for 800 Bells.
Catch details
[
edit
]
In New Horizons

[

edit

]
Time of Year
North: May – Oct
South: Nov – Apr
Time of Day
9 AM – 4 PM
Location
River
Shadow Size
X-Small
Rarity
Total Catch
0
Selling Prices
 Nook's Cranny:  800 Bells
 C.J.:  1200 Bells
Tank Size
Donating to the museum
[
edit
]
As with all fish in Animal Crossing series, the Rainbowfish can be donated to the island's museum by talking to Blathers, the curator. He will say the following when given a Rainbowfish:
In New Horizons

[

edit

]
"The rainbowfish is a tropical fish known for its metallic colors and beautiful fins. There are over 50 different species, each unique and pleasing color. I must say, it does make me wish for feathers of a more exciting hue than "underbaked brownie.""
Gallery
[
edit
]
Real-world information
[
edit
]
Names in other languages
[
edit
]
レインボーフィッシュ


reinbō fisshu

-

---

레인보우피시


reinboupisi

-

---




彩虹鱼

 

/

 

彩虹魚


cǎihóngyú

-

---

Радужница


Raduzhnitsa

-

---

Regenboogvis

Rainbowfish

---

Regenbogenfisch

-

---

Pez arcoíris

-

---

Poisson-arc-en-ciel

-

---

Pesce arcobaleno

-
レインボーフィッシュreinbō fisshu-레인보우피시reinboupisi-UnknownUnknownUnknown彩虹鱼彩虹魚cǎihóngyú-UnknownUnknownUnknownРадужницаRaduzhnitsa-RegenboogvisRainbowfishRegenbogenfisch-Pez arcoíris-UnknownUnknownPoisson-arc-en-ciel-UnknownUnknownPesce arcobaleno-UnknownUnknown