Frog (fish)
From Nookipedia, the Animal Crossing wiki
This article is about the fish. For the villager species, see Frog (species).
| | | |
| --- | --- | --- |
| | Frog |   |
Real-world info
Name: Dryophytes japonicus
(Japanese tree frog)
Family: Hylidae (tree frogs and relatives)
Main appearances
Other appearances
Names in other languages
青蛙
Grenouille
Rana
Kikker
青蛙
Grenouille
Rana
Лягушка
The frog is a common pond fish in the Animal Crossing series introduced in Animal Crossing. It has a distinctive croak heard when the player is approaching it. It appears all day from May to August.
Catch details
[
edit
]
In Animal Crossing

[

edit

]
In Wild World

[

edit

]
In City Folk

[

edit

]
In New Leaf

[

edit

]
In Pocket Camp

[

edit

]
In New Horizons

[

edit

]
Donating to the museum
[
edit
]
The frog can be donated to the museum as with other fish and insects. Blathers, the curator, will even give some information on the frog.
In Animal Crossing

[

edit

]
"Greeeeeee! Gree! Gree! That's my best Sonoran green toad impression, wot! We do keep frogs and toads here. Well, then, let's get our amphibious friend settled. All the damp comforts of a home. Guaranteed."
The frog sits on a lily pad on the top-right tank in the aquarium upon donation.
In Wild World

[

edit

]
"This forgotten pond,
observed by a lonely frog,
drains slow, as my youth.

That was a haiku, eh wot? Rather an incomprehensible one, but one nonetheless. Many find frogs repulsive, but they're so prevalent, even poets sing of them!"
The frog sits on a lily pad on the back tank of the first room in the aquarium upon donation.
In City Folk

[

edit

]
"Fascinating... Were you aware that frogs make slight adjustments to their croaks to communicate? Hoo, they say many things to each other! For example, "ouch," "flee," "I like you ♥," and so forth. With enough practice, maybe I can learn to speak with our amphibian friends! ...Hoo-ribbit! Hoo-ribbit!"
The frog appears in the middle-left tank on a lily pad floating on the surface. It makes no movements, other than croak and move with the lily pad.
In New Leaf

[

edit

]
"These former tadpoles prefer to live near ponds and other damp and swampy places. They dwell on land, so they have lungs and skin as opposed to a set of gills. They like to stick close to water because they require a nice, moist lifestyle. Frogs are moist because they emit a liquid to protect their skin from dryness. If too much moisture evaporates from their thin skins, they could have trouble breathing. It's better not to handle frogs, as some species are poisonous, even to the touch!"
In New Horizons

[

edit

]
When donating to Blathers or selecting "Tell me about this!" in New Horizons, he will provide the following information about the fish:
"I understand that frogs converse with fellow frogs through a number of varied calls, as it were. Ribbit! My prince has arrived! Gribbit riiibbit! This pond is tragic! Ribbity rib't! I think you're splendid! Hoo hoo, of course I have no clue what they're saying, but I like to think if I practice enough, I might!"
The frog can be found in the large recessed tank in the freshwater room of the fish exhibit, sitting on a lily pad above the tadpoles.
Fishing Tourney
[
edit
]
During a Fishing Tourney, when given a frog, Chip will say the following dialogue.
In City Folk

[

edit

]
"Ya know, fried frog tastes just like fried chicken. Or is it the reverse... Nyuuuk nyuk nyuk nyuk!"
In New Leaf

[

edit

]
"Now frogs, they're some pretty tasty little snacks. Get some fried frog legs and that's a meal! I don't have time to fry this little guy up though, so it's time to make do with what we've got. YUM YUM!"
Gallery
[
edit
]
In Animal Crossing, upon catching the frog, the player makes a comment about the frog being warty, despite frogs having no warts. It is likely that it was confused with a toad.
The frog and octopus are the only species that appear as both villagers and catchable creatures. This is alluded to in the frog's catch quote in Animal Crossing: New Horizons.
Real-world information
[
edit
]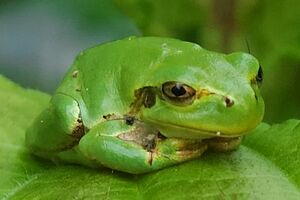 The Japanese tree frog is very common and is of least concern on the IUCN Red List.
Names in other languages
[
edit
]
カエル


Kaeru
Frog

---

개구리


Gaeguri

---

青蛙


Qīngwā

---

Лягушка


Lyagushka

---

Kikker

---

Frosch

---

Rana

Frog

---

Grenouille

Frog

---

Rana

Frog

Cite error: <ref> tags exist for a group named "nb", but no corresponding <references group="nb"/> tag was found