Giant isopod
From Nookipedia, the Animal Crossing wiki
| | | |
| --- | --- | --- |
| | Giant isopod |   |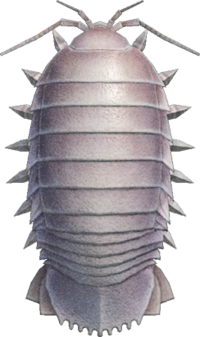 Real-world info
Name: Bathynomus giganteus
Family: Cirolanidae
Main appearances
Other appearances
Names in other languages
ダイオウグソクムシ
大王具足虫
Bathynome géant
Isópodo gigante
Isopode gigante
Гигантская изопода
자이언트 이소포드
大王具足蟲
Isopode géant
Isópodo gigante
Riesenassel
Reuzenpissebed
The giant isopod[nb 1] is a sea creature (fish in Pocket Camp) in the Animal Crossing series introduced in Animal Crossing: New Leaf.
While initially absent from Animal Crossing: New Horizons, the giant isopod was added in the 1.3.0 Free Summer Update.
Catch details
[
edit
]
In New Leaf

[

edit

]
| | |
| --- | --- |
| Time of year | All year (only on Tortimer Island) |
| Time of day | All day |
| Peak times | N/A |
| Shadow size | Medium |
| Shadow movement | Uniform |
| Sea creature size | 30 cm |
| Selling price |  9,000 Bells |
| Furniture size | |
In Pocket Camp

[

edit

]
In New Horizons

[

edit

]
Time of year
North: Jul – Oct
South: Jan – Apr
Time of day
9 AM – 4 PM; 9 PM – 4 AM
Shadow size
Medium
Shadow movement
Very fast
Spawn requirement
Catch 80 total sea creatures
Selling price
 12,000 Bells
Furniture size
Donating to the museum
[
edit
]
In New Leaf

[

edit

]
After the giant isopod is donated to the museum, it can be found in the small tank in the middle in the first room of the sea exhibit.
"Giant isopods are related to the pill bugs, and they can grow up to 20 inches long. They are scary looking but still come across as humorous for some odd reason. Despite their roly-poly builds, they are surprisingly fast swimmers, making them rather agile. They have big appetites, gaining the title 'sea cleaners' mostly because they eat dead fish on the sea floor."
In New Horizons

[

edit

]
When donating to the museum, Blathers will say the following:
"Growing up to neatly 20 inches, the sea-dwelling giant isopod is the world's largest cousin of the pill bug. Twenty inches?! Twenty times as revolting, I say! Making matters worse for those of us who find the pill bug repulsive rather than "cute"... The giant isopod can swim shockingly fast and is known for its voracious appetite. In fact, it's most happy when dining on the carcasses of animals that have sunk to the bottom of the sea! This behavior has earned it a nickname..."the vacuum cleaner of the deep." Why must nature play such awful pranks on me?"
Once donated, the giant isopod is located in the abyss tank along with the sea pig and vampire squid.
Fishing Tourney
[
edit
]
In New Leaf

[

edit

]
During a Fishing Tourney, when given a giant isopod, Chip will not score the sea creature but will say the following:
"Man, giant isopods, right? They hardly got any meat on 'em. Plus they stink! You just can't eat 'em! So, yeah, obviously I'm gonna pass on this little treat here. I mean, why bother with something stinky?"
Gallery
[
edit
]
Names in other languages
[
edit
]
ダイオウグソクムシ


daiō-gusokumushi
Giant isopod (lit. "Great king armour bug")

---

자이언트 이소포드


jaieonteu isopodeu
From English name

---

大王具足虫


dàwáng jùzúchóng
From Japanese name

---

大王具足蟲


Unknown

---

Гигантская изопода


Gigantskaya izopoda
Giant isopod

---

Reuzenpissebed

Giant isopod

---

Riesenassel

Giant isopod

---

Isópodo gigante

Giant isopod

---

Bathynome géant

Translation of scientific name

---

Isopode géant

Giant isopod

---

Isopode gigante

Giant isopod