Sea grapes
From Nookipedia, the Animal Crossing wiki
| | | |
| --- | --- | --- |
| | Sea grapes |   |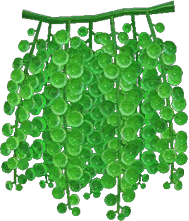 Real-world info
Name: Caulerpa lentillifera
Family: Caulerpaceae
Main appearances
Other appearances
Names in other languages
ウミブドウ
海葡萄
Algue raisin de mer
Uva de mar
Vite di mare
Морской виноград
바다포도
海葡萄
Algue raisin de mer
Uva de mar
Kriechsprossalge
Zeedruiven
Sea grapes are a type of sea creature in the Animal Crossing series, introduced in Animal Crossing: New Leaf.
While initially absent from Animal Crossing: New Horizons, sea grapes were added in the 1.3.0 Free Summer Update in July 2020.
Catch details
[
edit
]
In New Leaf

[

edit

]
Time of year
Jun – Sep 15
All year (Tortimer Island)
Time of day
All day
Peak times
Aug:
4 AM – 9 PM
Shadow size
Small
Shadow movement
Stationary
Sea creature size
20 cm
Rarity
Common
Selling price
 600 Bells
Furniture size
In New Horizons

[

edit

]
Time of year
North: Jun – Sep
South: Dec – Mar
Time of day
All day
Shadow size
Small
Shadow movement
Stationary
Spawn requirement
Appears from the start of the game
Selling price
 900 Bells
Furniture size
Donating to the museum
[
edit
]
In New Leaf

[

edit

]
Upon donating the sea grapes to the museum, it can be found in the large pool in the first room of the sea exhibit, along with many other species of sea creatures. It is found in the corner of the pool nearest to the entrance. The exhibit has this to say about the Sea Grapes:
"Sea grapes are small spheres attached to slender stems on branches, similar to normal grapes. However, despite looking like and being called "grapes," they aren't much like the land-based variety. They grow in warm oceans and are very susceptible to cold conditions, meaning refrigeration is difficult."
In New Horizons

[

edit

]
When donating to the museum, Blathers will say the following:
"Sea grapes are a marine algae that look much like their landlocked namesake. That is, they are green pearl-like orbs that cluster tightly along underwater vines. And sea grapes, like regular grapes, are a popular snack food too...albeit of the saltier variety. Fans of the briny delicacy enjoy the way the shiny pearls POP when chewed. It makes one wonder whether sea grape juice might have some appeal? 'Twould leave the drinker with sour grapes, I suppose."
The sea grapes are located in the coral reef tank in the museum.
Fishing Tourney
[
edit
]
In New Leaf

[

edit

]
During a Fishing Tourney, when given sea grapes, Chip will not score the sea creature but will say the following:
"Sea grapes are just great. They pop in your mouth like bubble wrap! Me, I prefer them without dressing fresh from the water! You feel me? YUM!"
Gallery
[
edit
]
Real-world information
[
edit
]
Sea grapes, Caulerpa lentillifera, are a type of edible green algae native to the Indo-Pacific. It is eaten by people across the region, from Bali, Indonesia to Okinawa, Japan. It is also cultivated in the Philippines, capable of producing 12-15 metric tonnes per hectare of pond used.
More information on this topic is available at Wikipedia.
Names in other languages
[
edit
]
ウミブドウ


umi-budō
Sea grape(s)

---

바다포도


badapodo
Sea grape(s)

---

海葡萄


hǎipútáo
Sea grape(s)

---

Морской виноград


Morskoy vinograd
Sea grape

---

Zeedruiven

Sea grapes

---

Kriechsprossalge

Creeping sprout algae

---

Uva de mar

Sea grape

---

Algue raisin de mer

Sea grape algae

---

Vite di mare

Sea grapes