Abalone
From Nookipedia, the Animal Crossing wiki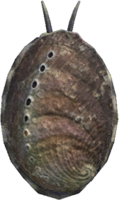 Real-world info
Name: Haliotis
Family: Haliotidae
Main appearances
Other appearances
Name in other languages
The Abalone is a type of sea creature in the Animal Crossing series introduced in Animal Crossing: New Leaf.
While initially absent from Animal Crossing: New Horizons, the Abalone was added in the 1.3.0 Free Summer Update.
Catch details
[
edit
]
In New Leaf

[

edit

]
Time of year
All year (also available on Tortimer Island)
Time of day
4 PM - 9 AM
Peak times
May - Sep 15:
9 PM - 4 AM
Shadow size
Medium
Shadow movement
Uniform
Sea creature size
18 cm
Selling price
 400 Bells
Furniture size
In New Horizons

[

edit

]
Time of year
North: Jun – Jan
South: Dec – Jul
Time of day
4 PM – 9 AM
Shadow size
Medium
Shadow movement
Medium
Spawn requirement
Catch 20 total sea creatures
Selling price
 2,000 Bells
Furniture size
Donating to the museum
[
edit
]
In New Leaf

[

edit

]
Upon being donated museum, the Abalone can be found in the large pool in the first room of the Sea exhibit, along with many other species of sea creatures. It is found close to the entrance of the large saltwater exhibit. The exhibit has this to say about the Abalone:
"Abalones grow less than an inch a year, so it takes several years for them to grow to full size. They are related to ear shells and have been used in celebrations and offerings since ancient times."
In New Horizons

[

edit

]
When the player is donating to the museum, Blathers will say the following:
"My feathers, but the abalone is a most deceptive sea snail, wot wot! After seeing its dull brown shell from the outside, one would think it quite plain. But take a gander inside, and you'll see that the abalone's home is a shimmering beauty to behold! The inner layer of the shell is made of "nacre," or "mother-of-pearl," and, hoo, what a dazzling iridescent hue! Let this be a lesson! You mustn't judge a sea snail by the outside of its shell. Judge by the inside of its shell instead."
Once donated, the Abalone can be seen in the coast tank with the Turban Shell and Seaweed.
Gallery
[
edit
]
Names in other languages
[
edit
]
アワビ


awabi
-

---

전복


jeonbok
-

---




鲍鱼

 

/

 

鮑魚


bàoyú
-

---

Абалон


Abalon
-

---

Abalone

-

---

Seeohr

Abalone, lit. "sea ear"

---

Abulón

Abalone

---

Ormeau

-

---

Abalone

-