Mantis shrimp
From Nookipedia, the Animal Crossing wiki
| | | |
| --- | --- | --- |
| | Mantis shrimp |   |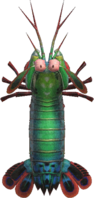 Real-world info
Name: Oratosquilla oratoria
Family: Squillidae
Main appearances
Other appearances
Names in other languages
シャコ
虾蛄
Crevette-mante
Langosta mantis
Gambero mantide
Рак-богомол
갯가재
蝦蛄
Crevette-mante
Langosta mantis
Fangschreckenkrebs
Mantisgarnaal
The mantis shrimp is a type of sea creature (type of fish in Pocket Camp) in the Animal Crossing series introduced in Animal Crossing: New Leaf.
Catch details
[
edit
]
In New Leaf

[

edit

]
| | |
| --- | --- |
| Time of year | All year (also available on Tortimer Island) |
| Time of day | 4 PM – 9 AM |
| Peak times | N/A |
| Shadow size | Small |
| Shadow movement | Erratic |
| Sea creature size | 12 cm |
| Selling price |  1,250 Bells |
| Furniture size | |
In Pocket Camp

[

edit

]
In New Horizons

[

edit

]
While initially absent from Animal Crossing: New Horizons, the Mantis Shrimp was added in the 1.3.0 Free Summer Update.
Time of year
North: All year
South: All year
Time of day
4 PM – 9 AM
Shadow size
Small
Shadow movement
Medium
Spawn requirement
Catch 20 total sea creatures
Selling price
 2,500 Bells
Furniture size
Donating to the museum
[
edit
]
In New Leaf

[

edit

]
Once the player donates a mantis shrimp to the museum, it can be found in the large pool in the first room of the sea exhibit, along with many other species of sea creatures. It is found in the corner near the big rock close to the entrance of the large saltwater exhibit.
"Mantis shrimps have long, sickle-shaped legs and thick carapaces covering both their bodies and tails. They strike captured prey with claws powerful enough to crack the shells of even the toughest crabs. They are a popular dish with fans of seafood, though females with eggs are worth more than males."
In New Horizons

[

edit

]
When donating to the museum, Blathers will say the following:
"Think carefully before you mock the mantis shrimp for its diminutive size. I warn you, it's itching for a fight! A pugilist through and through, this brightly hued fellow packs a punch unparalleled on land or sea. Not only are its forelimbs shaped like clubs and scythes, its arms are naturally spring-loaded too! Thus the mantis shrimp's high-speed blows crack open crab and oyster shells with ease. And should you grab it with your hands, you might discover why it's called "the thumb splitter" too!"
Once donated, the Mantis Shrimp can be seen in the coral reef tank alongside the Lobster and the Gigas Giant Clam.
Fishing Tourney
[
edit
]
In New Leaf

[

edit

]
During a Fishing Tourney, when given a mantis shrimp, Chip will not score the sea creature but will say the following:
"Mmm, mantis shrimp. I'm totally up for these guys. Deep fried or boiled, these little morsels are delicious. Of course, I'm not going to say no if they're served raw, either! YUM!"
Gallery
[
edit
]
Names in other languages
[
edit
]
シャコ


shako
Mantis shrimp. Closely related to Chinese name

---

갯가재


gaetgajae
Oratosquilla oratoria

---

虾蛄


xiāgū
 Mantis shrimp. Closely related to Japanese name.

---

蝦蛄


Unknown

---

Рак-богомол


Rak-bogomol
Oratosquilla oratoria

---

Mantisgarnaal

Mantis shrimp

---

Fangschreckenkrebs

Mantis shrimp

---

Langosta mantis

Mantis shrimp

---

Crevette-mante

Mantis shrimp

---

Gambero mantide

Mantis shrimp