Clam
From Nookipedia, the Animal Crossing wiki
This article is about the sea creature. For the item, see Manila clam.
| | | |
| --- | --- | --- |
| | Clam |   |

Real-world info
Name: Unknown
Family: Unknown
Main appearances
Other appearances
Names in other languages
ハマグリ
N/A
palourde
almeja oriental
vongola
N/A
백합
文蛤
palourde
almeja oriental
Venusmuschel
N/A
The clam is a type of sea creature in the Animal Crossing series, introduced in Animal Crossing: New Leaf.
In March 2020, it became available as a limited-time item in Animal Crossing: Pocket Camp, where it is categorized as a shell rather than a sea creature.
Catch details
[
edit
]
In New Leaf

[

edit

]
In New Leaf, it is used for the Shellfish Cream Soup recipe during the Harvest Festival.
Time of year
Sep – Apr
Time of day
All day
Peak times
Jan – Feb:
9 AM – 4 PM
Shadow size
Small
Shadow movement
Erratic
Sea creature size
4 cm
Selling price
 300 Bells
Furniture size
In Pocket Camp

[

edit

]
The clam appears as a shell in Animal Crossing: Pocket Camp and was available to collect for a limited time as part of the Clam Collector Goals event, from March 10 to March 13, 2020. During the event, the shell would appear on the beach at Saltwater Shores, where it could be picked up. After the event, remaining clams can stay in the player's inventory, where they can still be sold, used for animal requests, or listed in the player's Market Box. The sell price for this shell is

 100 Bells. For villager requests, it is part of rarity tier 1, which earns the player

 100 Bells and 2

Friendship Points if the shell is used to fulfill a request.
Donating to the museum
[
edit
]
In New Leaf

[

edit

]
An information board in the aquarium will list information about the clam.
"Bivalves shaped like chestnuts, they live in shallow waters and hide in sand when predators approach. They secrete a viscous liquid that gets pulled along by the current and enables long-distance travel. They are popular both roasted in the shell and cooked in a variety of soups and chowders."
Fishing Tourney
[
edit
]
In New Leaf

[

edit

]
During a Fishing Tourney, Chip will still accept sea creatures, but they will not be scored. Chip will say this when given a clam:
"Now with your clams, you can stew 'em or grill 'em or steam 'em. Me, I'm a fan of a good chowder. But then again, I'm perfectly happy to just swallow them whole, shell and all! I'm tough like that!"
Gallery
[
edit
]
Real-world information
[
edit
]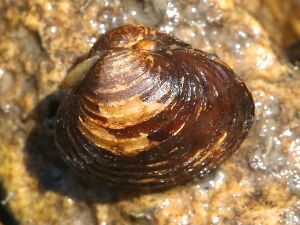 Clam is a common name for several kinds of bivalve molluscs. The word is often applied only to those that are edible and live as infauna, spending most of their lives halfway buried in the sand of the seafloor or riverbeds. Clams have two shells of equal size connected by two adductor muscles and have a powerful burrowing foot. They live in both freshwater and marine environments; in salt water they prefer to burrow down into the mud and the turbidity of the water required varies with species and location; the greatest diversity of these is in North America.

More information on this topic is available at Wikipedia.
Names in other languages
[
edit
]
ハマグリ


Hamaguri
-

---

Venusmuschel

Venus Shellfish

---

Palourde

-