Vampire squid
From Nookipedia, the Animal Crossing wiki
| | | |
| --- | --- | --- |
| | Vampire squid |   |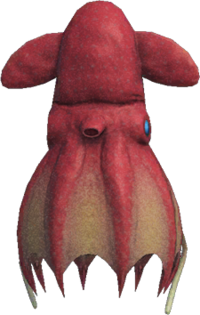 Real-world info
Name: Vampyroteuthis infernalis
Family: Vampyroteuthidae
Main appearances
Other appearances
Names in other languages
コウモリダコ
吸血鬼乌贼
Vampire des abysses
Calamar vampiro
Calamaro vampiro
Адский кальмар-вампир
흡혈오징어
吸血烏賊
Vampire des abysses
Calamar vampiro
Vampirtintenfisch
Vampierinktvis
The vampire squid is a sea creature in Animal Crossing: New Horizons introduced in the 1.3.0 Free Summer Update.
Catch details
[
edit
]
In New Horizons

[

edit

]
Time of year
North: May – Aug
South: Nov – Feb
Time of day
4 PM – 9 AM
Shadow size
Medium
Shadow movement
Very fast
Spawn requirement
Catch 80 total sea creatures
Selling price
 10,000 Bells
Furniture size
Donating to the museum
[
edit
]
In New Horizons

[

edit

]
"Beware the vampire squid, I say! This eight-armed deep-sea monster is out to drink your blood! Hoo hoo, haha! I only jest! Ahem! The vampire squid does, in fact, live deep in the ocean where almost no light pervades. But while it looks like it could nibble on your neck...it nibbles on bits of dead plankton and algae instead. By all accounts, the vampire squid is a gentle sort who squirts bioluminescent goo at foes. So how did it get the eerie official name "Vampryoteuthis infernalis? That means "vampire squid from heck," you see. The problem is the squid's "cloak." Its arms are webbed with velvet-red skin and lined with toothy spikes! Plainly put, this genial squid looks for all the world like a vampire who went for a swim."
Gallery
[
edit
]
Names in other languages
[
edit
]
コウモリダコ


kōmoridako
Vampire squid, lit. "bat octopus"

---

흡혈오징어


heuphyeorojing-eo
Vampire squid, lit. "bloodsucking squid"

---

吸血鬼乌贼


xīxuěguǐ wūzéi / xīxuě wūzéi
Vampire squid. Lit. "vampire squid" / "bloodsucking squid"

---

吸血烏賊


Unknown

---

Адский кальмар-вампир


Adskiy kal'mar-vampir
Infernal vampire squid

---

Vampierinktvis

Vampire squid

---

Vampirtintenfisch

Vampire squid

---

Calamar vampiro

Vampire squid

---

Vampire des abysses

Vampire squid, lit. "vampire of the abyss"

---

Calamaro vampiro

Vampire squid