Seaweed
From Nookipedia, the Animal Crossing wiki
| | | |
| --- | --- | --- |
| | Seaweed |   |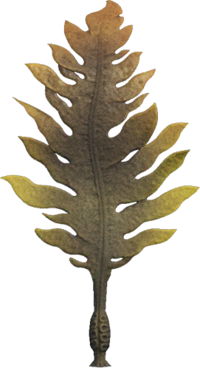 Real-world info
Name: Undaria pinnatifida
Family: Alariaceae
Main appearances
Other appearances
Names in other languages
ワカメ
裙带菜
Wakame
Alga wakame
Alga wakame
Морские водоросли
미역
裙帶菜
Wakamé
Alga wakame
Wakame-Alge
Zeewier
Seaweed (ワカメ, Wakame) is a type of sea creature in the Animal Crossing series, introduced in Animal Crossing: New Leaf. In New Leaf, it is used in the Oyster Salad recipe for the Harvest Festival.
While initially absent from Animal Crossing: New Horizons, seaweed was added in the 1.3.0 Free Summer Update in July 2020.
Catch details
[
edit
]
In New Leaf

[

edit

]
Time of year
Nov – Jul
All year (Tortimer Island)
Time of day
All day
Peak times
Dec – Jun:
9 AM – 4 PM
Shadow size
Large
Shadow movement
Stationary
Sea creature size
80 cm
Selling price
 200 Bells
Furniture size
In New Horizons

[

edit

]
Time of year
North: Oct – Jul
South: Apr – Jan
Time of day
All day
Shadow size
Large
Shadow movement
Stationary
Spawn requirement
Appears from the start of the game
Selling price
 600 Bells
Furniture size
Use in cooking
[
edit
]
Seaweed is used as a cooking ingredient in the cooking recipes for the following items:
Recipes in Animal Crossing: New Horizons
Includes data sourced from the Data Spreadsheet for Animal Crossing New Horizons, compiled and edited by 6480, noizhub, Ricky, chaiinchomp, saberslime, robotic_scarab, mollumisc, sunmarsh, kyrokey, obstinateRixatrix, jackiwi, Zalex, SuperHamster, kait, hyuum, Azarro, Czarcasm, cinnamon_swirlix, astronomyfortwo, Welcius, glowtopia, BriKun, Alyrei, dodocodes.com, StevieCoops, sneeze, Shiny190, TwistedPeach, LavaToaster, capstone, vmario, rocklamp, Alexis, Aeon, and PanchamBro.
Donating to the museum
[
edit
]
In New Leaf

[

edit

]
Upon the players' donating the seaweed to the museum, it can be found in the large pool in the first room of the sea exhibit, along with many other species of sea creatures. It is found in the corner near the big rock close to the entrance of the large saltwater exhibit. The exhibit has this to say about the Seaweed:
"Seaweed can be over three feet long. When its spores attach to rocks, they take root and grow. Seaweed is naturally brown, but turns to the dark-green color we associate it with when cooked. It tends to spoil easily when picked, so various preservation methods have been developed as a necessity. Such methods of preservation are sprinkling ash and drying it out, or boiling it and adding salt."
In New Horizons

[

edit

]
When the seaweed is donated to the museum, Blathers will say the following:
"Let it be known that seaweed is a misnomer of the highest order! That is, it is not a noxious weed so much as it is a marine algae most beneficial to life on land and sea. Seaweed, you see, provides essential habitat and food for all manner of marine creatures. And it creates a great deal of the oxygen we land lovers love to breathe too, hoo! And yet, I can't help but shudder when the slimy stuff touches my toes during a swim. Hoot! The horror!"
The seaweed is located in the shallow sea fish tank with the walk-through tunnel, to the left of the stairs.
Fishing Tourney
[
edit
]
In New Leaf

[

edit

]
During a Fishing Tourney, when given seaweed, Chip will not score the sea creature but will say the following:
"You wanna know something cool? Seaweed is getting eaten all over the globe these days! Of course, I'm always snacking on it since it's just so chock full of tasty minerals! YUM!"
Gallery
[
edit
]
Real-world information
[
edit
]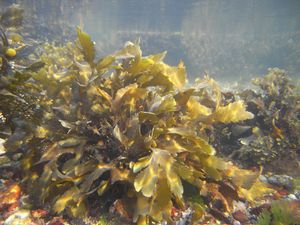 Although seaweed resemble plants, they are actually brown algae. The type of seaweed found on beaches and kelp in the ocean are included as brown algae. Worldwide, there are 1500–2000 known species of brown algae. Some species of brown algae, including kelp, can reach 60 meters in length and form underwater forests. Brown algae produce alginic acid, which is extracted for use versatile roles such as waterproofing, fireproofing, gelling agents, thickening agents for ice cream, smoothies, and cosmetics; making impressions for dentistry, prosthetics, and life-casting; and many more. Certain types of brown algae are edible, most notably, nori, which is to wrap rice and meat in sushi. Brown algae reproduce by spores and gametes, and they are most closely related to yellow-green algae.
Names in other languages
[
edit
]
ワカメ


wakame
Wakame

---

미역


miyeok
Wakame

---

裙带菜


qúndàicài
Wakame, lit. "skirtband vegetable"

---

裙帶菜


Unknown

---

Морские водоросли


Morskiye vodorosli
Seaweed, lit. "sea algae"

---

Zeewier

Seaweed

---

Wakame-Alge

Wakame algae

---

Alga wakame

Wakame algae

---

Wakame

From Japanese name

---

Wakamé

From Japanese name

---

Alga wakame

Wakame algae