Oyster
From Nookipedia, the Animal Crossing wiki
Not to be confused with Pearl Oyster.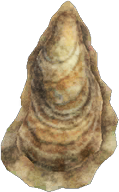 Real-world info
Name: Unknown
Family: Ostreidae
Main appearances
Other appearances

The Oyster is a type of sea creature in the Animal Crossing series, introduced in Animal Crossing: New Leaf. In New Leaf, Oysters are used in the Oyster Salad recipe during the Harvest Festival.
While initially absent from Animal Crossing: New Horizons, the Oyster was added in the 1.3.0 Free Summer Update.
Catch details
[
edit
]
In New Leaf

[

edit

]
Time of year
Sep – Feb
Time of day
All day
Peak times
Nov – Dec:
9 AM - 4 PM
Shadow size
Small
Shadow movement
Stationary
Sea creature size
8 cm
Rarity
Common
Selling price
 400 Bells
Furniture size
In New Horizons

[

edit

]
In New Horizons, an Oyster can be used as an ingredient in the gratin dish on Turkey Day in the Northern Hemisphere.
Time of year
North: Sep – Feb
South: Mar – Aug
Time of day
All day
Shadow size
Small
Shadow movement
Slow
Spawn requirement
Appears from the start of the game
Selling price
 1,100 Bells
Furniture size
Donating to the museum
[
edit
]
In New Leaf

[

edit

]
When donated to the museum, it is found in the primary, large tank in the first room of the fish exhibit. It is in the northeastern section of the tank and it is stationary. The information board says the following:
"Oysters are sometimes referred to as "the milk of the sea" because of their high nutritional value. Young oysters come from eggs, attach themselves to hard places in the ocean, and then grown. They change gender, allowing them to reproduce regardless of their neighbor's genders."
In New Horizons

[

edit

]
When donating to the museum, Blathers will say the following:
"Oysters are marvelous mollusks and, in many ways, the social butterflies of the seas. That is, these bivalves tend to live attached to rocks in large groups known as oyster beds. These reef-like structures provide home and habitat for a delightful variety of creatures. Mussels, barnacles and sea anemones have all been known to set up house. Meanwhile, small fish and crabs hide from predators and even raise their young among the snuggling oysters. With all the hubbub, an oyster bed sounds like the last place one would get some sleep!"
The Oyster is located in the saltwater tank in the museum.
Fishing Tourney
[
edit
]
In New Leaf

[

edit

]
During a Fishing Tourney, when given a Oyster, Chip will not score the sea creature but will say the following:
"Now, for oysters, naturally you can go raw or grilled or even fried. It is ALL good, you know? Me, I'll always eat 'em whole, just like I did when I was a pup! YUM!"
Gallery
[
edit
]
Names in other languages
[
edit
]
オイスター


oisutā
Oyster