Pale chub
From Nookipedia, the Animal Crossing wiki
| | | |
| --- | --- | --- |
| | Pale chub |   |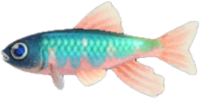 Real-world info
Name: Zacco platypus
(pale chub)
Family: Cyprinidae (carps and minnows)
Main appearances
Other appearances
Names in other languages
オイカワ
溪哥
Chevaine
Cacho
Zacco
Светлый закко
피라미
溪哥
Chevaine
Cacho
Döbel
Japanse drakenvis
The pale chub is a common fish found in rivers. It can be found in all of the Animal Crossing series games in rivers between 9 AM – 4 PM all-year round. It is an inexpensive fish that sells for 200 Bells at Nook's Cranny.
Catch details
[
edit
]
In Animal Crossing

[

edit

]
In Wild World

[

edit

]
In City Folk

[

edit

]
In New Leaf

[

edit

]
In Pocket Camp

[

edit

]
In New Horizons

[

edit

]
Donating to the museum
[
edit
]
When handing the pale chub Blathers in the museum, he will say the following before thanking the player for the donation:
In Animal Crossing

[

edit

]
"Oh? Is that a fact? It's sometimes called a mountain trout? But it's not a trout! What rot! Well, regardless, I'll see that it gets the proper care. You have my word on it!"
In Wild World

[

edit

]
"You know, I'm sure these are technically edible... Even so, I don't think there are too many people who actually DO eat them, wot? I suppose if one were to batter them with some delectable spices..."
In City Folk

[

edit

]
"The pale chub is a freshwater fish. During its spawning season, it turns a vivid blue, wot wot? But all the eggs do have similarities... Telling what sort of beastie laid the egg is difficult, wot wot? Rather fascinating how a fish normally so plain can put forth such an effort when love is on the line... Perhaps I might stand to adopt that fish philosophy myself, and quite soon!"
In New Leaf

[

edit

]
Upon donation to the museum, the information board in front of the tank says:
"These fish are related to carp, with distinguishing features such as long ventral fins and protruding mouths. They have good jumping abilities, which allow them to jump up and grab bugs hanging around the water. They are known as very active fish with rather scrappy attitudes, making them tenacious survivors. During mating season, the male's stomach turns pink and its back turns blue. Females love this."
In New Horizons

[

edit

]
When donating to Blathers or selecting "Tell me about this!" in New Horizons, he will provide the following information about the fish:
"The pale chub is a river fish with simple back-and-silver coloring. Interestingly, the males' coloring becomes most vibrant when he's trying to attract a mate! Though normally plain, these fellows really know how to look stylish when they want to. Perhaps I could learn a thing or two from the pale chub..."
Once donated to the museum, the pale chub can be found in the second layer of the waterfall tank with the tilapia and dace.
Fishing Tourney
[
edit
]
During a Fishing Tourney, when given a pale chub, Chip will say the following dialogue.
In City Folk

[

edit

]
"I'm serious, there's nothing like a good pale chub tempura! That bitterness just grabs your tongue and... Num! So good! A burly tempura! Nyuuuk nyuk nyuk nyuk!"
In New Leaf

[

edit

]
"You know, pale chubs make good tempura if you're up for it. Oooh, or you can marinate 'em! But I'm not all that fussy about fishies. I'm happy to scarf down all I can! YUM YUM!"
Gallery
[
edit
]
Real-world information
[
edit
]
Zacco platypus, also known as the pale chub is a type of freshwater minnow. It is listed as harmless and not in any danger. It can be found in Korea, China, and northern Vietnam. In Japan, the pale chub is also called Oikawa. It lives in fast-flowing rivers and streams, and it feeds off of insect larvae and algae, and smaller fish. During mating season, the male Pirani changes color rapidly to impress a suitable female. They actively feed during the evening or when the weather is overcast.
More information on this topic is available at Wikipedia.
Names in other languages
[
edit
]
オイカワ


Oikawa
Pale chub

---

피라미


Pirami
Pale chub

---

溪哥


Xīgē
Pale chub

---

Светлый закко


Svetlyy zakko
Pale chub

---

Japanse drakenvis

Japanese dragonfish

---

Döbel

Chub

---

Cacho

Chub

---

Chevaine

Chub

---

Zacco

Part of scientific name

Cite error: <ref> tags exist for a group named "nb", but no corresponding <references group="nb"/> tag was found